New York is a great hotel city. In fact, with grand edifices dating back to the 30's and the most cutting-edge style palaces of today, the choice has got to be the best on the planet. Step down off your low-cost flight and you can stay in some of the world's most iconic accommodation.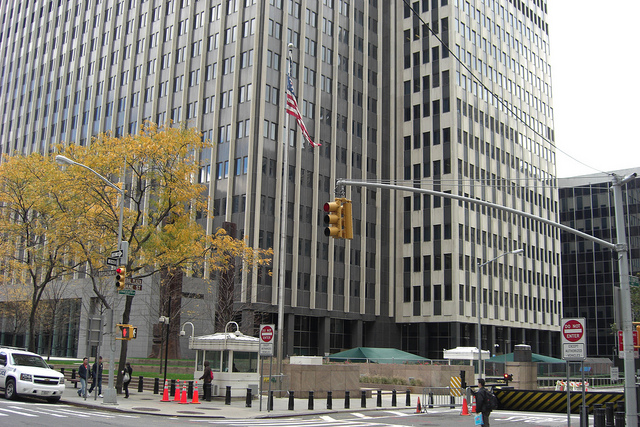 The Edison in mid-Manhattan is an example of the hotels that typify timeless New York style. Built in 1931, it became famous in the era of glamorous ballrooms and big jazz bands. The Edison Ballroom was a prime venue of the day, and you can still sample its elegant surroundings today.
The beautiful Art Deco style of the hotel is complemented by well-chosen period furniture – it's like stepping back in time without sacrificing all your modern comforts. Don't miss out on the famous Art Deco lobby with its grand murals of New York scenes. Another place of interest for lovers of the Godfather movies is Sophia's Restaurant. It's where some of that mafia masterpiece was shot.
If you pop into the Edison's coffee shop, you might see a celebrity or two. Considered New York's best place to meet and drink coffee, the renowned playwright Neil Simon is reputedly a regular. Incidentally, those who know refer to the coffee shop as the 'Polish tea room'.
The Waldorf Astoria is another hotel in the very heart of the city, a landmark on New York's elegant Park Avenue. It is known worldwide as a truly grand hotel. In fact, its architectural and art is so admired that there are daily tours of this towering building.
Marilyn Monroe was a regular here, as was Paris Hilton. Cole Porter's piano stands in the lobby.
Occupying an entire city block, the Waldorf Astoria has its own railway platform as part of Grand Central Station. On an equally impressive scale, the murals by French artist Louis Rigal in the lobby are breathtaking. Also, look down at the floor to appreciate the 148,000 marble pieces installed in 1939 depicting the cycle of life from birth to death.
Oh, and a visit to the Waldorf Astoria is not complete without tasting the salad that was invented right here: a delicious combination of apples, walnuts, celery, grapes and mayo.
The New Yorker Hotel is the third of a trio of hotels rich in history and nostalgia. Muhammad Ali, John F Kennedy and Fidel Castro are just a few of the famous names who called it home. More recently, Hilary Clinton ran part of her presidential campaign from the New Yorker. In its day, this was the largest hotel in the city, with 2500 rooms and the biggest barber-shop in the world, boasting 42 chairs.
Re-opened in 1994, and restored to its original splendour, the New Yorker's Art Deco style will make you feel like a glamorous guest from a bygone era.
If you want to sample something modern, the Paramount Hotel has made history in its own way. One of the original designer hotels of the 80's, it was a 1928 hotel brought up to date with impeccable style by French designer genius Phillipe Starcke, in partnership with Studio 54 nightclub founder Ian Schrager.
Very fashionable throughout, it features a gourmet coffee shop run by New York's most respected deli name, Dean and Deluca. To up the feel-good factor even more, the Paramount offers in-room massage.
The Novotel on Times Square is stylish too, part of a modern chain that delivers good value for money for such a convenient location. About to undergo a major renovation, it's 480 rooms are always popular.
The New York Yotel is packing them in too. Stay on a budget, but don't sacrifice a touch of luxury or style at this great midtown Manhattan option. Modelled on the slick and sleek upper deck designs of first class air travel, the rooms are compact, but rather bijou. All your creature comforts are delivered with a Japanese eye for detail and the very latest technology. The clever robot that packs away your left luggage is typical of this hip hotel.
Classic or modern, hip or historic, enjoy your New York hotel, and do let us know any tips you picked up on your stay. We'd like to hear your thoughts.
For the latest deals on flights and holidays to New York use the links below.
New York Holidays
London Heathrow to New York
Manchester to New York
London Gatwick to New York
Newcastle to New York
Glasgow to New York