A holiday is about relaxing, seeing new things and having fun. But if you're travelling with children, it means that both you and they will be in unfamiliar environments. There may be crowds, the rooms you stay in may include hazards you haven't considered, like unsafe electrics or balconies, and your little ones won't be familiar with the way "home". Also, sea, sand, interesting places to see and opportunities to relax – which may be sorely missing the rest of the year – can tempt you into relaxing your guard.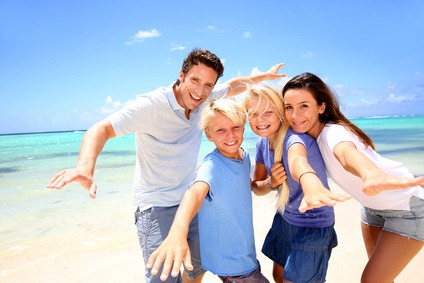 This doesn't mean that responsible parents never take young children on holiday. A family holiday is a chance to spend time together, reinvigorate your relationships and broaden your kids' experiences. So how can you keep them safe?
Do your research
Travelling safely with kids takes a little more work than just heading off into the blue with a backpack, as you might have done on your own in the past. Make sure you read up about the destinations you'll be visiting so that you have some idea of what to expect. Research the best places to stay, given your family's needs and interests, and pre-book them. Find out and record the locations of reputable medical facilities near where you'll be staying, and make a note of emergency contact numbers you can use while you're there.
A useful organization for parents travelling with kids is the International Association for Medical Assistance to Travellers, or IAMAT. This is a non-profit organization that provides health advice, as well as lists of doctors and reputable medical facilities in countries around the world. You can become a member for free.
Get travel insurance
You should purchase a travel insurance policy that will cover you and your family for medical emergencies, for the full time that you'll be away. If you'll be travelling within Europe, also ensure that you and your children each have a European Health Insurance Card, or EHIC. As UK citizens, this qualifies you for state medical care in EU countries.
Teach your children how to stay safe
It's not a good idea to frighten young children, but you can teach them some basic strategies without doing this. For example, whenever you arrive in a new place – like an airport, a crowded beach or a shopping area – look around together and agree on a landmark where you'll all meet if you accidentally lose sight of one another. Also let children know that if they are separated from you, they should look for another mom with children to ask for help. Older children can be told to approach security guards.
Don't harp on the subject of "stranger danger" just before and when you're on holiday. Instead make sure you address this important topic with your children early on, at home and as a separate issue from going on holiday. They should know never to trust strangers, and to shout and yell things like "you're not my daddy or mommy, help, leave me alone" if anyone ever tries to grab them. Then when you go on holiday, you can simply remind them of the rules they already know, instead of frightening them.
Finally, it's an excellent idea to make sure that your kids always wear ID bracelets, specifying your contact details. When you're out and about, also always have children carry cards or labels specifying the number and address of whatever place you're staying. You can safety-pin these inside their clothes, and tuck them into children's backpacks.
Pack a proper medical kit
It's a good idea to ask your doctor for advice about what medicines and first-aid equipment to take with you. This will depend partly on health risks specific to the regions you'll be visiting. Even with children, the standard travellers' rule of "packing light" still applies – but medical kits are an exception. Take what you might need.
Child-proof the rooms you stay in
Especially with very young children, it's important to scan any room for dangers and take steps to "child-proof" it as soon as you arrive. Use this handy checklist to scan for and manage common types of hazards.
In the room
1. Check for any sharp corners on furniture. You can easily pad these with a folded washcloth and some masking tape.
2. Organise furniture to suit your safety needs and place pillows or blankets in areas where small children could fall – for example, below a high bed or sofa.
3. Ensure power cables are well out of reach of small hands. Duct tape can be useful for securing these.
4. Make sure plug sockets are covered with appropriate plug covers.
5. If using a cot, check that it's secure and that loose objects are out of reach.
6. Check that the floor is clear of small objects and hazards.
7. Pack elastic bands or pipe cleaners so you can make your own make-shift door locks.
8. Check out the balconies and windows. Remove chairs from a balcony so your child can't climb on them and check that railings are safe and secure. Also explain the dangers to little ones.
11. Many hotels can offer safety equipment, such as safety gates, for hire or know of local companies that can provide this. Do your homework before you go.
12. Some hotels offer child safety packs, including items such as child safety gates, ID bracelets and baby monitors – make sure you ask when you arrive.
In the bathroom
1. Water temperatures in hotels are often much hotter than at home. Always check the temperature of the bath and warn little ones that the tap water may be hot.
2. Ensure electrical items, such as shavers, are well out of reach.
3. Your hotel bathroom may not have as much storage space as at home, so remain vigilant about medications, razors and other toiletries being kept out of reach.
Relax and enjoy
Once you've taken all the reasonable precautions, focus on making sure that you and your kids relax, spend time together and have some fun!