Singapore is an incredible destination in Southeast Asia that manages to perfectly blend the cultures of Malaysia, China, India and Europe into one densely populated metropolis. The vast majority of visitors who come to Singapore plan to tour the colonial architecture of the city, visit the many historical landmarks, shop along the bustling Orchard Road and enjoy some of the incredible street food in the city. Though less known among international visitors, Singapore's night life scene is also thriving. There are a number of up-scale cocktail bars that are popular with locals, travellers and expatriate residents, and you can always find a watering hole that fits into your style and budget. Here are five of the best cocktail bars in Singapore along with what makes each so special.
1. The Library
This incredible cocktail bar in Singapore is a hidden gem in the city. Located on Keong Saik Road, The Library is filled with dozens of bookshelves, and it requires a password to get inside. Once you are inside, odds are good that you will be staying for a while. Don't expect typical Martinis in clear glasses at The Library, and be prepared for drinks that comes in worn copper mugs or even beakers and test tubes. The Shrub-A-Dub-Dub cocktail, for instance, comes in a tiny bathtub with a side of rubber ducky. The quirky clients and fun atmosphere of The Library means that this bar is routinely rated as one of the best in Singapore.
47 Keong Saik Road Singapore
2. Maison Ikkoku
Although the cocktails on offer at Maison Ikkoku are fantastic, what turns this destination into a top bar in the city has to do with its view. The outdoor terrace of Maison Ikkoku overlooks the Grand Sultan Mosque, which means that guests can sip a drink and feel as if they are being transported to an exotic destination centuries in the past. The Singapore Long Island Tea might feel refreshing thanks to the main ingredient of warm tea, but don't be surprised when the vodka, gin and rum catch up to you.
20 Kandahar Street Singapore 198885
Tel +65 6294 0078
www.maison-ikkoku.net
3. 28 Hong Kong Street
Despite the lack of sign-age at the entrance of this cocktail bar, it is pretty simple to find. Just follow the name of 28 Hong Kong Street and you will be there. The bar's vibe is contemporary cool, and you can tell that most of the guests are there simply to see and be seen. Whether or not you care about the socialites in attendance, you can have a spectacular cocktail here mixed by bartender Michael Callahan. Try his revamped version of the Singapore Sling, which is a far cry from the syrupy mixture the city was once known for.
28 Hongkong Street Singapore 059667
www.28hks.com
4. Jigger & Pony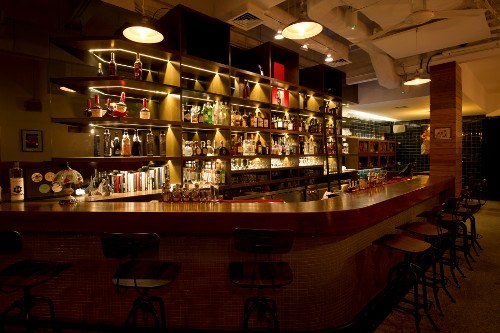 If you just want a classic, perfectly made cocktail in an elegant setting, then this is the bar for you. Jigger & Pony goes the extra mile with their ingredients, and you will find five different types of ice behind the bar so that each drink receives the least amount of dilution and the perfect amount of chill.
101 Amoy Street Singapore 069921
www.jiggerandpony.com
5. Absinthe Artisan
As you might guess from the name, the Absinthe Artisan boasts a cocktail menu that is heavy on the absinthe. If you have never tasted the liquor before, then you might be interested in attending the Thursday night tasting at the bar. You will learn how to pour out absinthe and drip water and sugar through a slotted spoon into the drink, and you can also learn which flavours compliment the drink best. The cocktails at Absinthe Artisan are incredibly creative, and the bar is especially popular with Europeans who want to experience absinthe in a new format.
60A Boat Quay, Singapore 049848
www.absinthe-artisan.com
Each of these five cocktail bars in Singapore is a great place to grab a drink and experience the trendy side of the city.