When most people think of Bangkok, things that come to mind include the city's abundance of temples, incredible architecture, vibrant culture and amazing cuisine. Although Bangkok is not as well known for shopping as other Asian cities like Hong Kong or Singapore, there are still countless opportunities to visit floating markets, shopping malls and traditional markets during the day.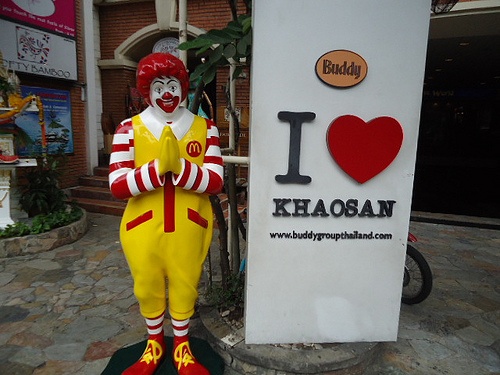 What you might not expect, however, is that some of the best shopping in Bangkok happens after dark. Night markets are incredibly popular in Bangkok, and they cater to everyone from the night owls leaving the bars at midnight to the early risers buying flowers and produce before dawn. If you want to experience the incredible atmosphere of midnight shopping in Bangkok, then visit one or more of these top night markets in the city.
Khao San Road: Most travellers to Bangkok only visit one night market during their stay in the city, and it is often the one on Khao San Road. This area is incredibly popular with young international tourists, and it is known both as a headquarters for travellers on a budget and a vibrant expatriate night-life scene. In years past, the night market aspect of Khao San Road was focused on getting drunk visitors to part with their money and buy cheap or tacky souvenirs. Today, however, that dynamic has completely changed. Many vendors have full-time jobs during the day and simply come to sell their wares after dark, and you can find some handmade crafts, local art, unique souvenirs and delicious local cuisine from hawkers.
Pak Khlong Talad: If you are less interested in the late-night partying in Bangkok and you are more intrigued about the early hours before dawn, then you will want to head to the incredible night market known as Pak Khlong Talad. This is a traditional Thai market that is open 24 hours each day, but the best time to go is at three or four in the morning. At this time, local farmers bring in freshly cut flowers and begin selling them to locals and florists. You will see locals crafting beautiful necklaces and arrangements from these flowers, which then get sold one by one throughout the day. The sights, overwhelmingly floral smells and unusual chaos at such an early hour make this market one of the top night destinations in all of Bangkok.
Ratchayothin: This night market is popular with young local Thais, which makes sense as it is located between a large bustling bar and a big movie theater. Although you might not want to make a special trip specifically to tour the Ratchayothin Night Market, it is definitely worth a visit if you happen to be in the area for a drink, to catch a movie or to meet up with friends. You will find trendy clothes, jewelry, shoes and accessories, and everything is affordable and new. The market is open throughout the week, but Mondays are nearly empty due to a unenforced ban on vendors. The market starts to open at four in the afternoon, but expect the biggest crowds around midnight.
Saphan Phut Night Bazaar: This night market is similar to many of the larger traditional markets that you can find throughout Bangkok during the day. Much of what is for sale is secondhand, which means that prices are shockingly low. Although the Saphan Phut Night Bazaar may not be the ideal place to pick up souvenirs from your trip to Thailand, it is a great place to indulge in some great local food and take in views of the Chao Phraya River.
No trip to Bangkok would be complete without a visit to one of these exciting night markets in the city.
For the latest deals on flights to Bangkok use the links below.