We've just launched a Cathay Pacific 10-day Super Sale starting this morning and ending on 15th Jan 2012.
These are really amazing flight prices and currently some of the cheapest in the market!
Book your seat onboard a Cathay Pacific flight today and take advantage of the low prices and great deals in this 10 Day Super Sale! With flights to Australia from £689 and £493 to the Far East. Have a look at the fantastic offers available with flights to Perth, Melbourne, Adelaide and Auckland.
www.netflights.com/flights/flight-offers/cathay-pacific-flights-sale.aspx
Sit back and relax onboard one of the newly upgraded aircraft and enjoy a comfortable flight to your holiday destinations. Relax in spacious surroundings and be treated to an outstanding service by the onboard cabin crew members. If you require any more information on Cathay Pacific have a look at our Cathay Pacific Airline Guide.
www.netflights.com/flights/airline-info/airlines/cathay-pacific.aspx
Have a look at the exciting flight deals we have on offer and start planning your next trip with Cathay Pacific and Netflights today! If you need some holiday inspiration on where to visit in Australia take a look at our useful Destination Guides. The Destination Guides have some very useful information on the popular holiday destinations in Australia including Sydney, Perth, Melbourne, Brisbane, Auckland and more.
Fly in comfort with Cathay Pacific
Cathay Pacific Economy Class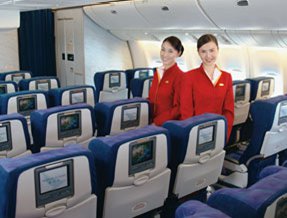 The first thing that will impress you onboard a Cathay Pacific flight is that your space really is your space. You have full control of your in-flight entertainment with on demand audio and video. The fixed back seating ensures no one in front will invade your space so you are free to relax and in spacious surroundings.
Cathay Pacific Business Class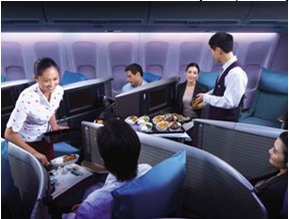 Relax and get away from it all onboard a Cathay Pacific flight in their Business Class. In cosy surroundings relax, and escape the stresses of every day life in a seat with massage function. Onboard you are in control of your own entertainment with loads of audio and video to choose from. Mood lighting will enhance your flying experience and can be turned down in order to get a great night sleep.
Cathay Pacific First Class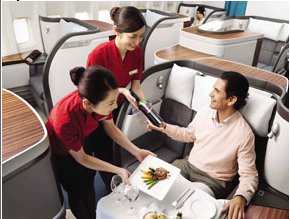 Be treated as an individual onboard a First Class Cathay Pacific flight. In First Class you will have just the right amount of personal attention with full privacy when ever you want it. The seating onboard are extremely spacious and if you wish to sleep, you can dream in one of the biggest beds in the sky. With incredible food, a huge amount of entertainment, and mood lighting everything is in place for you to have a pleasant journey.

The above prices are guidelines only and are correct at the time of publishing. Subject to availability. Other travel dates are available, supplements may apply. Please use the flight search box or call for details.