We recently discussed how taking a holiday on the open road can be much more fun and exciting than sticking to a specific area when travelling. By jumping into a campervan you can see a country in a way you never would have, at your own speed, in your own time and however you want to.
Thanks to Netflights, you can now experience amazing motorhome holidays in Australia. Exploring one of the world's most scenic countries on the open road could be the trip of a lifetime, so what are you waiting for?
Your carriage
With Apollo providing rentals, those looking to tour Australia can choose from a selection of campervans for their experience. The Hitop 2/3 campervan is great for couples and can also accommodate a child, whereas the Euro Tourer 2 berth has space for four people. The Euro Camper 4 berth is extremely spacious and comes with two double beds and a kitchen. Finally the Euro Deluxe 6 birth has three large double beds, kitchen and a side awning.
So no matter how many of you there are, or where you decide to go, you can travel in comfort and style.
Touring Australia
Due to the size of Australia it's recommended that you cover between 150 and 250 kilometers a day when driving. This is so you can enjoy the wonders of Oz at a leisurely pace, without missing anything.
But with Apollo having rental branches across the country, in locations including Adelaide, Alice Springs, Brisbane, Broome, Cairns, Darwin, Hobart, Melbourne, Perth and Sydney, there's so much for you to see, it's difficult to know where to begin.
With excellent drives on the East and West coasts of Australia there's a lot to cover. So here's a heads up on what to do on a tour of Australia's East Coast.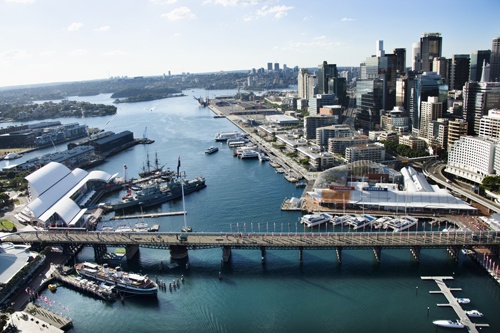 Sydney to Cairns
On the East Coast of Australia you'll find beautiful golden beaches, lush green forests and idyllic ocean views. The trip from Sydney to Cairns is extremely popular with tourists, mostly because of the amazing things to do and see along the way; so if you're vacationing in a motorhome, this is wholly recommended.
Starting in Sydney you can take in some of the world's must see sites, such as the Sydney Opera House and the Harbour Bridge – which you can actually walk across if you're brave enough. But don't stick to the restrictions of the city, just a short drive away you'll find the Blue Mountains National Park, a UNESCO World Heritage Site roughly the size of Belgium. Whilst here you can stop at Echo Point and the Three Sisters, experience the Jenolan Caves or take part in one of the many fantastic and free bush walks throughout. But more importantly just stop for a minute and take in the fantastic views and wildlife. It's like nowhere else in the world.
Along your travels from Sydney you'll come across Port Stephens, which is a must stop location. This is because it's renowned for its whale and dolphin watching tours, which is a magnificent experience to behold. You can also enjoy other water based activities here too, such as surfing, sea-kayaking and parasailing.
Port Macquarie gives you the opportunity to explore the rainforest canopy at the Sea Acres Nature Reserve, or the Koala Hospital – where you can see them being fed, or you can take a walk around the many coastal lakes. Further along you'll end up in Coffs Harbour, which is excellent for a little adventure, with scuba diving, sky diving, white water rafting and surfing all available here.
The backpacker trail
The next place to stop is Byron Bay, which keeps up the energy of Coffs Harbour offering sky diving, dolphin kayaking and some of the best surfing spots along the coast. But whilst you're here you can really connect with Australia's nature by exploring the Arakwal National Park, which contains an abundance of aboriginal cultural heritage, or embark on an Eco Tour, which allows you take in the forests and wildlife at night and day. The dive centre also allows you to connect with wildlife under the water, such as turtles and manta rays. The many yoga camps offer a relaxing treat whilst the backpacker hotspots offer something a bit more lively.
For those who like the wild side, check out Surfers Paradise, which is filled with amazing beaches including Surfers Paradise Beach; often considered one of Australia's best. This is the perfect place to pick up a surfboard and learn how to surf the Aussie way. It's also a party town so if you want to party like the locals, then check out places like SkyPoint Bar and SinCity.
Join us next time for the second part of our Australian adventure.