Melbourne is seen by many as being the 'contemporary art capital' of Australia, and housing the Australian Centre for Contemporary Art seems to attest to that idea. We're going to take a look at how the thriving Melbourne art scene manifests itself throughout the city.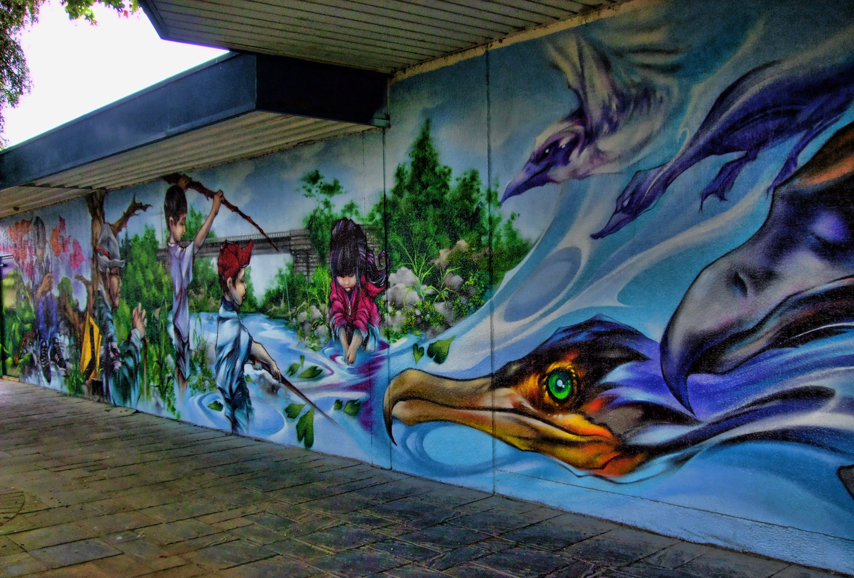 The great thing about all this art is the fact that it's all relatively close together, Melbourne has a brilliant public transport system with trams, you could probably get around most of these places in a day or two.
Art Galleries
The list of art galleries in Melbourne is almost endless, there's always seasonal galleries popping up in rented buildings, but some of the main ones are the National Gallery of Victoria on the corner of Russell and Flinders, The Australian Centre for Contemporary Art and Melbourne Fine Art Gallery on Bourke Street.
Some of the main local independent galleries include Gallery Funaki, which was conceived by renowned jeweller Mari Funaki, the Anna Schwartz Gallery, which keeps a packed schedule of a wide range of exhibits, and Arc One Gallery, which exposes local contemporary art talent from Australia.
Contemporary Buildings
Federation Square has to be the highlight of contemporary buildings in Melbourne, albeit a quite controversial subject with some locals. 'Fed Square' as it's known locally, cost a lot of money to build and opinions on the building hang in the balance between pleasure and displeasure. If you're in Melbourne you will no doubt see it a few times on your visit, leaving you to make up your mind and express your own opinion, it's definitely a talking point.
The layout of Melbourne CBD is modern in itself, a grid of streets criss-crossing in unison surrounded by a mix of contemporary buildings. Not all of the architecture here are works of modern art though, one of the most prominent buildings, Flinders Street Station, was first built in 1854.
Street Art
There's a lot of street art in Melbourne by some creative graffiti-style artists who have been commissioned to decorate certain areas. Shop and Cafe owners have paid reasonably high sums for notable local graffiti artists to decorate the exterior of their stores.
Hosier Lane to the southern end of Melbourne is one of the few places in the world where it's perfectly legal to put street art. Since word got out, Hosier Lane has become a tourist attraction.
Banksy, the world-renowned stencil artist has created a few works of art around the city, notably 'Little Diver' just off Flinders Lane, which has been preserved by a perspex screen put up by the buildings owner.
The St Kilda Art Scene
St Kilda, located just 4km south of the Melbourne South Bank area, is known for it's attractive property, popular beach and funfair. The Art scene here thrives, there is something for every art-lover here, from traditional galleries, to contemporary street art, St. Kilda has it all.
The National Gallery of Victoria's international gallery is located at 180 St Kilda Road, here they display a number of international exhibits and collections. Another major gallery in the area is the Linden Centre for Contemporary Arts, which has a great scheme where they work with new artists, who can submit their contemporary work and display it at the Linden in a professional environment.
For the latest deals on flights to Melbourne use the links below.
London Heathrow to Melbourne
London Gatwick to Melbourne
Manchester to Melbourne
Birmingham to Melbourne
Newcastle to Melbourne
Edinburgh to Melbourne
Glasgow to Melbourne