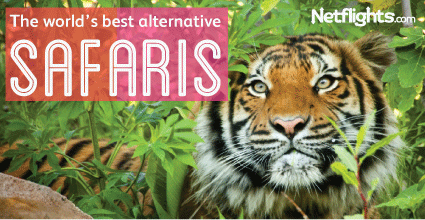 A safari can be an unforgettable experience and is deserving of a place on anyone's bucket list – but there's more than one type of safari. Here are some less conventional, yet equally epic safaris.
1.Horse Riding
Equestrian safaris allow you to get much closer to animals – particularly those that are easy to spook – and their environment. Riding horses through the bush feels likes a much less invasive way to see wildlife such as giraffes, elephants, zebras and antelopes up close. To ride around big game, you will need to be an experienced rider, but there are areas and trails suitable for beginners too. You can enjoy horseback safaris in most of the classic safari destinations, including Botswana, Tanzania and South Africa.
2.Tiger Tracking
In the dense jungle of India, the elusive tiger lurks. Tiger tracking safaris take you out into the forest with the aim of spotting one of these solitary animals, amongst other wildlife, such as elephants, flying foxes and wild boars. As well as 4×4 vehicles, you might venture out on elephants, a mode of transport which avoids alarming the tigers. One of the most popular places for tiger spotting in India is Bandhavgarh National Park.
3. Walking Safari
In private conservancies and reserves, intrepid safari-goers can strike out on guided walks through the bush. Guides are specially trained in safely walking through the bush, and being on foot allows you to notice the things you never would from a vehicle. Take the time to examine tracks in the dirt, identify dung, learn about plants and insects, and even spot big game from a safe distance. You can either do a walking safari as part of a lodge stay or spend a few days out in the bush camping. Although it's possible to embark on treks in most safari areas, Zambia is known as the 'home' of the walking safari.
4. Gorilla Trekking
Up in the mountains of Uganda, Rwanda or even the Democratic Republic of Congo, you can visit the gorillas who dwell in these dark forests. Hike deep into the jungle to visit one of the known bands of gorillas that are closely monitored by the research teams working up in the mountains. Quietly watching the interactions of the group is an unforgettable privilege. In an effort to make the experience as ethical and safe as possible, there are restrictions on how long you can spend with the gorillas and how close you get.
5. Arctic Safari
For something quite different to the typical African safari, head into the icy Arctic. In places such as Arctic Canada or Norway's Svalbard, you can journey into the wilderness to spot animals that might include polar bears, Arctic foxes, wolves, black or grizzly bears and beavers. Whilst your days are devoted to tracking wild animals, you might be lucky enough to spend your nights admiring the sublime Northern Lights.