Each year millions of Canadian and international tourists descend upon Toronto, one of the largest and most cosmopolitan cities in North America. Toronto, by all accounts, is a bustling city with a variety of different urban attractions.  Amongst these different attractions are one of the world`s tallest free-standing structures the CN Tower, the elegant Eaton Centre, and a serene natural get away – centre island. With a compact down town core the majority of these tourist`s destinations are within a 20 minute walk of Union – the cities central – station. The top five sights in Toronto are.
1) The CN Tower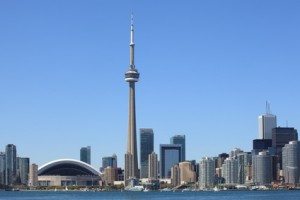 Standing at more than 1,800 feet this tower, once the tallest free standing structure in the world, provides a fantastic bird`s eye view over downtown Toronto and nearby Lake Ontario. A glass elevator, with a glass floor, carries people indoor/outdoor observation deck for these wondrous views. Many people enjoy doing this as their first activity in Toronto so that they can get a fantastic overview of the city from a unique aerial perspective.
2) Royal Ontario Museum
Royal Ontario Museum (ROM) is intriguing for its exterior appearance alone even if you do not step inside of it. Having had mass renovations during the 2000's the ROM is a now also a world class piece of architecture as well as the largest museum in Canada, and one of the largest in North America. Inside are more than 40 galleries of art, archaeology, and natural science composed of more than 6 million items. These diverse galleries also comprise one of the world`s best collections of artefacts from China, a 6 storey high totem pole, sections dedicated to ancient Rome, Greece, and Egypt and varied exhibits detailing Canadian wildlife and dinosaurs.
3) Centre Island
Wandering around an always packed Toronto downtown may make you wish that you could step away from it all. Well… there is actually an escape on Centre Island – a matrix of tiny islands – that have become a refuge of sorts for Torontonians looking to take in some nature and escape the frantic pace of the city.  Just a ten minute ferry ride along majestic Lake Ontario Centre Island features beaches, parks, restaurants, and even an amusement park. If you go over to the islands western side, for the more adventurous amongst you, there is even a nude beach!
4) The Eaton Centre
Eaton Centre is a large shopping mall right in the heart of down town Toronto adjacent to two of its most important and influential streets – young and queen.  Housed within a large glass dome and encompassing four levels this mall is an intriguing location to enjoy modern, urban architecture as well. With more than 1 million visitors per week this is Canada's most visited attraction that with more than 250 varied stores  appeals to the fashionista all the way down to the spend thrift.
5) Casa Loma
Similar to Hearst Castle in California Casa Loma represents a wealthy man – Toronto business man Sir Henry Pellat – ambition in the early 1900`s for a  grand, European style castle/home. Casa Loma, which has been dubbed `the house on the hill`, overlooks the city core and is of interest to tourists and architecture enthusiasts alike.
For the latest deals on flights to Toronto use the links below.