We know travelling is an amazing experience everyone jumps at given the opportunity. These trips take months and sometimes years to plan, after all there's so much to do and see in the world, where do you start?
Certain places constantly make the top ten lists of things to see before you're 30, bucket lists and any other wish list travellers might have. Places like Niagara Falls, the Great Barrier Reef and the Grand Canyon, along with landmarks including Christ the Redeemer, the Eiffel Tower and Pyramids. They're so iconic and known the world over.
Whilst they are all fantastic places to visit and rightly top many traveller's to see lists, what about these equally majestic spots that are a little off the beaten track. Here's our top 5.
1 – Sigiriya
If you're heading to Sri Lanka, head to the Matale District and check out the ancient fortress and former palace of Sigiriya. Also known as Lions Rock, due to it being situated atop a 200 metre high rock with lion paws carved into it, the area is also surrounded by an extensive network of gardens and water tanks, amongst other structures.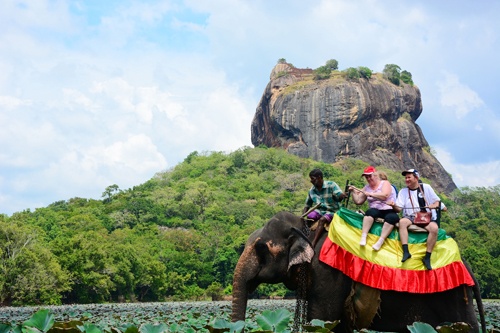 With some of the oldest gardens in the world, this palace was abandoned in 1155 and rediscovered in 1828. It also features amazing paintings spread 140 meters long and 40 meters high, covering the whole western wall of the fortress, and if you climb the 1200 steps to the top the views are unparalleled.
2 – The Hidden Beach
Going to Mexico? Why not head to the Marieta Islands and check out the amazing hidden beach, which is competently invisible to the human eye. Formed due to volcanic activity, the hidden beach is a true natural wonder, and is home to an amazing marine ecosystem.
A true paradise for those who enjoy their beach time, but don't want to be swamped by other tourists, the hidden beach is just what you want. With clear waters you can enjoy snorkelling, scuba diving or a casual swim while taking in the marine life. You'll see dolphins, turtles and humpback whales amongst others.
3 – Vardzia
In Georgia you'll find the amazing Vardzia. Created back in 1185, this is a city carved into a mountain that contained 6,000 apartments over 13 stories, alongside a church, throne room and a system that watered terraced farmlands.
Originally only accessible by two entrances, two thirds were destroyed by an earthquake during the 13th century, exposing the hidden city to the outside world. Later used as a monastery, there are still a few monks living there today. It is open for visitors enabling you to view the complex. For a city built over 800 years ago, it's extremely advanced and a sight to behold.
4 – Aogashima Island
A few hundred miles south of Tokyo in the Philippine Sea is the Island of Aogashima. Resembling the island from Jurassic Park, the shape of this volcanic creation occurred due to a volcanic caldera being situated within a larger caldera.
A great place to relax and unwind on a practically deserted island, you can reach Aigashima by either boat or helicopter. Venturing by helicopter will make you feel like you're jumping straight into a James Bond mission, and once you've arrived make sure you experience the geothermal sauna at the island's centre. Scuba diving is also popular, but the landscape itself is enough to keep you fascinated.
What are your favourite unusual spots?