Hey, I'm Larisa! I've recently returned from a trip to Corfu, and I thought I'd tell you a little bit about how easy it was to travel during the Covid pandemic.
After dreaming of going abroad for well over a year, I finally made my escape out of the UK and headed to sunny Corfu. And wow, was it just what I needed! It's amazing what a bit of sun, a beautiful hotel and stunning sea views can do for you.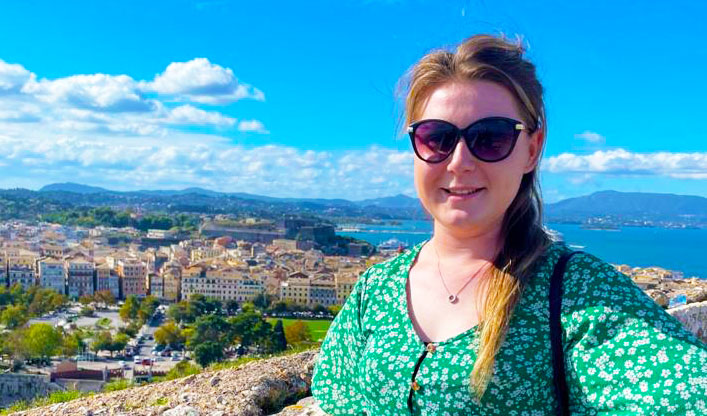 The process of entering Corfu was pretty straightforward. If you're fully vaccinated no pre-departure test is needed (so that was the first hurdle ticked off). All I needed to do was print off my NHS Covid Pass (job's a good'un) – which I would highly recommend doing by the way, just as a backup in case you can't log in to the NHS app whilst you're there. Secondly, you needed to fill in a Passenger Locator Form for the destination you are travelling to, which again, was easy. And that was it! 
Security at Manchester Airport was fairly busy, but it was amazing to see so many holidaymakers jetting off for a well deserved holiday. They had hand sanitiser stations everywhere, and everyone followed the rules of wearing a mask. I flew with EasyJet, and the plane out there was only half full, leaving plenty of room to spread out. Masks had to be worn throughout the flight and were adhered to by all. Also, is there anything better than the views from the window seat of a plane? I love it!!
We touched down in Corfu late at night. Getting through security was quick and stress-free, and we were soon on our way to our hotel – the 5* Kairaba Mythos Palace – an adults-only, ultra-all-inclusive hotel located on the Southeastern coast of Corfu. On arrival at the hotel, we were greeted by the friendly reception staff, who checked us in and pointed us in the direction of the bar for a welcome drink – which is, of course, a very good start to a holiday! The porter then showed us to our rooms and left us to get some shut-eye. But first, it was time to check out the room, and wow oh wow did it impress. The room was spacious with a large double bed, walk-in shower, and the best part… it had a private plunge pool!! There was also a complimentary bottle of wine and a fruit platter which was a lovely touch and definitely made you feel special. The room was air-conditioned, had a fully stocked mini-fridge, beach towels, dressing robe and slippers.  
As soon as I woke up the morning after, I headed straight outside to see the private pool again and to see the view that went with it (it was pitch black when I arrived). The room overlooked one of the hotel's two swimming pools and had sea views – it was stunning. Next, it was breakfast time! We headed to the hotel's main restaurant – Zoe – which hais a buffet-style layout. Things operated slightly differently than normal to obtain covid safety precautions – but all ran smoothly. Each guest was provided with disposable plastic gloves which were to be used when serving themselves to the vast choice of food on offer, and masks had to be worn whilst walking around. The offering of breakfast ranged from cereals, fruit, freshly made croissants, pancakes, omelettes and Full English accompaniments. It was all delicious!
On our first day in Corfu, we headed to Corfu Town, which was a 40-minute taxi drive away – the hotel arranged our taxi and was happy to give us recommendations on where to visit. Corfu Town is known for its pastel-coloured buildings, cobbled streets and lots of little shops. It's a great day out and has lots to see and do. We visited the Old Fortress too which you do have to pay for, but is definitely worth it for the views from the top – which overlooked the town and surrounding sea. 
After lots of shopping, and picture taking, we headed back to our hotel and had a quick change before we went for our tea… or evening meal if you're not Northern! We visited the main restaurant again, and it was Seafood Night – there were plenty of options to choose from, even if you aren't a big seafood fan – like me! And not forgetting the dessert counter, which had freshly made cakes, puddings and ice cream – yum!
For our second day, we had a hotel tour booked at the sister hotel Labranda Sandy Beach – this is the place to come for the ultimate family holiday. They have three swimming pools – one with water slides for the children, a private beach with access to water sports as well as daily entertainment programmes – including a children's mini club. For food, you are spoilt for choice, you can either dine at the main buffet-style restaurant or dine at one of their themed restaurants which include Italian and Greek, and they've also got a pool/beach bar too.
After a busy day exploring it was time for tea again! But this time was a little different, we booked for the Fine Dining Experience at the hotel's rooftop restaurant – Uranus, which specialises in Greek and Mediterranean cuisine. Reservations must be made to dine here as there is limited seating available. There was a good choice of starters, mains and desserts. I had mushroom risotto and a chocolate souffle with a glass of fizz. It really was a great experience and I would highly recommend it – I would probably say it was one of my highlights of the trip. The waiter was very attentive and gave us recommendations on the best dishes to try. Once we'd finished eating we noticed a band had started to set up in the corner – so we stayed a little while and listened to their songs, which made for a great atmosphere. 
Our last day came round pretty quickly – but we weren't flying until late at night. The room we stayed in allowed for a late checkout, which was a bonus, as we didn't have to rush to check out earlier that morning. We spent the day exploring the hotel grounds again and visited their secluded beach – which has great views and is very relaxing. We also took a trip to a nearby traditional town, Lefkimi – which is made up of narrow streets lined by pastel-painted houses, time-worn churches, and a secluded beach that was just a short walk away. After a walk around, it was time to head back to the hotel ready for our flight home.
If you're thinking of going somewhere closer to home for your next holiday, I would definitely recommend Corfu – especially if you're just looking to just chill out and soak up some well-needed sun. The people are SO friendly too! I'd go back tomorrow if I could, I might just have to have a look at some flights..!