Think back to the last time you were at the airport. There is a good chance that you had a purse, briefcase, bag or satchel over one shoulder. One hand was probably pulling your carry-on rolling suitcase, and the other hand might have been clutching your tickets to find out what gate your flight will depart from. Of course, you also probably woke up before dawn to make the early flight, and you are haven't had time to stop and get a coffee yet. What would you give to magically grow a third hand and swing by the nearest coffee shop? If you are anything like most business travellers in need or their caffeinated fix, then you would probably give just about anything. Now, imagine a device that would let you carry even a hot cup of coffee hands-free. If that sounds interesting, then you are going to love the tugo travel mug.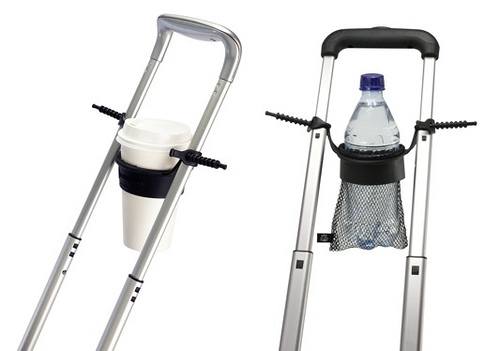 What is a Tugo?
Tugo is the clever name for a simple plastic device that makes it possible to enjoy a hot or cold drink hands-free when you are on the go. Geared toward frequent business travellers, parents of small children and anyone with a suitcase, this basic item can actually make the time you spend in airports more enjoyable and more efficient. You don't have to make a 30-minute window in your schedule anymore to stop and sip a coffee, because the tugo lets you take it with you as you wander from gate to gate or head to the baggage claim.
How Does a Tugo Work?
The tugo works thanks to two straps that wrap, thread and tighten around both side of the telescopic handle of a typical suitcase. This is the part of the handle that extends out from the bag, and it is usually made of metal and has a big gap in between the two metal extenders. In between the two straps is a round plastic ring that looks almost like a cupholder at first glance. It should not come as a surprise, then, that this is the circular hole where you place your to-go cup of coffee or your cold soda. Unlike a normal cupholder, however, the tugo actually moves with your bag. When you are pulling it, the beverage stays upright. When you stop and adjust the bag into the upright position, the cup moves slightly within the tugo to prevent any spills or sloshing.
Customisable Colors For Any Style
Many business professionals like the basic clack tugo, and it definitely looks sleek and manages to go with almost any outfit. However, it can be fun to personalize your tugo and add a little flair to a boring day of travel. You can choose from fun and funky colors like pink, red and blue.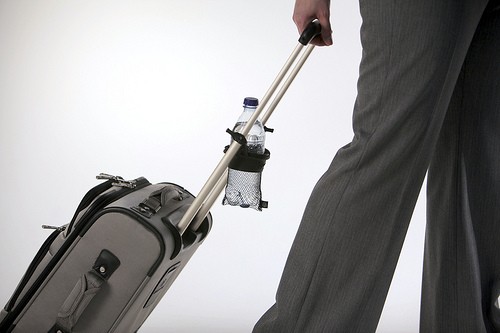 Tugo's Green Benefits
Unlike drink holders that you typically find at fast-food restaurants and coffee shops, the tugo does not need to be disposed of after one use. They are dishwasher-safe, and they are durable enough to last for hundreds of uses. When you are finished with it, just remove the beverage from the holder, remove tugo and lower your bag's handle. It's that easy!
Using Tugos as Promotional Items
For business owners, it can be tough to find a promotional item for clients and customers that they will actually use and want to keep. Tugos are the ultimate item to pass out, and they can be customized with business names and logos. These are bound to get noticed in the airport, which gives companies additional advertising.
Gone are the days when you had to wistfully walk past the coffee shop at the airport because you simply don't have any more hands to hold a drink. With a tugo, you can enjoy any beverage on the go.