For some couples, getting married is a solemn affair that takes place in their hometown church with hundreds of friends and family members in attendance. However, that kind of wedding isn't for everyone. Sometimes, couples just want to celebrate their relationship with a few special guests, or they may even want to elope and have the ceremony alone. Las Vegas is known for having plenty of shotgun wedding parlours  and you can have everything from a drive-through wedding to an officiant who is also an Elvis impersonator. Whatever your tastes and budget, Las Vegas can be a fun and exciting place to get married. Read on to learn about some of the most unusual ways to tie the knot.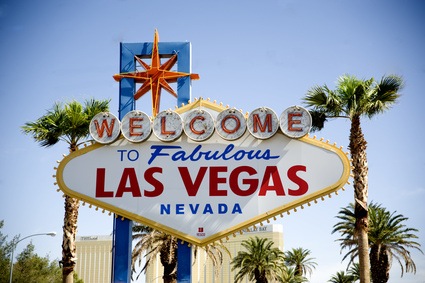 Drive-Through Wedding: Although many Las Vegas weddings are speedy, none can compare to the drive-through wedding, first made popular by in the 1990's by the Little White Wedding Chapel. Their drive-through service takes place in what they call their 'Tunnel of Love'. You could drive right in with your own car and recite your vows in less than 15 minutes, or you could splurge for the royal treatment and be driven through in a pink Cadillac and have the ceremony officiated by some very interesting characters and impersonators.
www.alittlewhitechapel.com
Pseudo-Paris Wedding: If you have always wanted to go to Paris for a romantic wedding, you can enjoy the next best thing right in Vegas with a ceremony at the Eiffel Tower at Paris Las Vegas. For a surprisingly low fee, you can rent out the Eiffel Tower Observation Deck and enjoy a personal ceremony . Since the deck is small, it's the perfect place to elope or even bring along a handful of your closest friends. Once you're finished, start your honeymoon right away by enjoying the French touches of the Paris Las Vegas Hotel.
Diner Weddings: Denny's is one of the most famous diner chains in America, and most people know it as the best pace to grab eggs, bacon, pancakes or waffles after a late night or an early morning. What might surprise you is that the Denny's in Las Vegas also has a 24-hour chapel for lovebirds who want to to make a commitment over hash browns. While you recite your vows and declare your love, staff will work to create a beautiful pancake wedding cake and even a champagne toast from the fully-stocked bar onsite.
www.huffingtonpost.com/2012/12/10/dennys-wedding_n_2260363.html
Let the Wedding Come to You: If there is a specific place in mind where you want to get married in Las Vegas, there is a way to make it a reality without spending a fortune. For just $99, the Las Vegas Wedding Wagon will come to you, letting you get married anywhere in the city. You can call them to your hotel suite, a parking lot or even a public park. Just make sure that you have your marriage license already, which you can get 24 hours a day at the Clark County Marriage Bureau.
Get Married by Elvis: Elvis got married in 1967 right in Planet Hollywood, Las Vegas, and ever since then the city has been infatuated with the idea of Elvis weddings. There are dozens of locations around the city where you can have Elvis perform at you wedding or even read the wedding vows during the ceremony. At the Silver Bell Wedding Chapel, the Elvis package includes a spectacular impersonator that will officiate, pose for pictures, perform a few songs while you dance and then even leave you his infamous silk scarf as a souvenir.
www.netflights.com/mgm-grand-las-vegas-hlp.aspx
For a wedding in Vegas that is truly unforgettable, any of these fun suggestions are great ways to tie the knot in the city.
You can get deals on flights to Las Vegas from the following UK airports
Heathrow to Las Vegas
Gatwick to Las Vegas
Manchester to Las Vegas
Edinburgh to Las Vegas
Newcastle to Las Vegas
Glasgow to Las vegas
Birmingham to Las Vegas