Two weeks in Australia may seem like a very short time, considering the sheer size of the country and the numerous different offerings it serves up.  Yet two weeks well planned and spent can see you achieve a great many things in the land down under.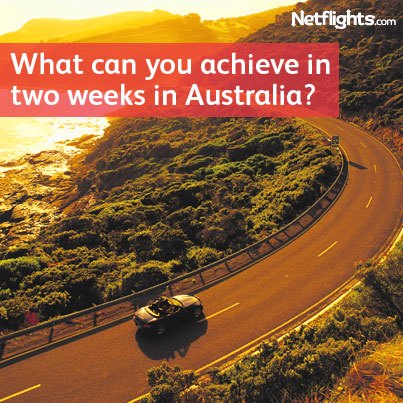 East Coast
If you're adept at moving between places and living life on the go, the east coast of Australia is an ideal place to get the most out of a two week jaunt.  There are plenty of activities that will appeal to the adventurous traveller, meaning you may achieve an improvement in your surfing abilities, a magical dive at the Great Barrier Reef, or some coaching in how to control a sail boat on a liveaboard cruise.
The travel distances may seem daunting, but if you are afraid of time restricting you and want to pack your itinerary as fully as possible, consider making long journeys through the night.  If you don't mind sleeping on a coach a few times, it can be a great way to cover ground on the vast east coast, whilst not robbing you of the precious time it takes to get there.  You may prefer to fly, but even time spent getting to an airport, waiting for your flight and then in the air can seem a waste.
Your itinerary
Start up in Cairns, a sub-tropical haven for divers and lovers of the open water.  Take a day trip out to the Great Barrier Reef to discover some of the most stunning marine life imaginable.
Head north from here for a day at Cape Tribulation, where you can discover tropical rainforest and the alluring national parks.  Just watch out for any eight-legged friends that happily inhabit the territory up there..!
It's a different kind of inhabitant at Airlie Beach to the south, specifically of the lagoon-languishing or beach-bumming variety.  The town is also crammed with boating enthusiasts due to its proximity to the beautiful Whitsunday Islands.  Here you can hone your sailing skills on a liveaboard cruise, visit one of the world's most highly-rated beaches, Whitehaven, or even opt for a bird's eye view of the scenery and jump out of a plane
Just before reaching Brisbane, stop off at Hervey Bay and take a tour of Fraser Island before visiting Noosa to sample the luxurious way to enjoy coastal living.  Maybe a night on the tiles in 'Brisvegas' will precede a couple of days on your belly at Surfers Paradise.  Just remember to improve your board work before bragging of your betterment to your buddies in the bar.
Towards the bottom of the east coast is where you will find Sydney, and perhaps the end of your whistle-stop tour down under.  Spend a couple of days taking in the top-drawer tourist sites, and immerse yourself in the bustling culture of the city before heading home with countless stories and piccies to show for your efforts!
For the walkabout of your life take a look here.