Middle Eastern Couture
Now, there's often a lot of negative stigma attached to dressing for the Middle East as it can come across as being restricted and oppressive. Today we're here to change that view with some top tips on styling yourself for the holiday of a lifetime. If you've managed to blag yourself cheap flights to Dubai or Abu Dhabi or another Middle Eastern city then it only seems just that you spend some well-deserved me time shopping to look your most stylish for these chic cities.
Maxi dresses
First things first: Maxi dresses. Maxi dresses are an absolute wardrobe essential for a trip to the Middle East. Versatile, lightweight and perfect for all occasions, you can never have enough. A gorgeous floppy sun hat and a scarf to drape over your shoulders will ensure you're looking great – think Sarah Jessica Parker and her crew in the Sex and the City 2 movie; if we can take fashion inspiration from anyone storming the Middle East, it's those girls.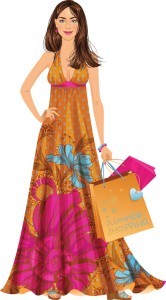 Similarly, the midi skirt is a great style solution – floaty and conservative (and also the hottest cut for skirts right now), we can't recommend these enough. Pleated midis will probably be preferable over a fishtail style purely because they're suited better to hot weather conditions.
City slick
It's also really easy to pull off a chic, city look if you're getting a bit bored of the maxi ensemble. Team white linen trousers with a mink tunic for a nice and neutral feel, or make a statement and pair your linens with a sunset orange loose fitting chiffon shirt. An over-sized fedora and a tan leather tote bag will finish off your outfit perfectly.
Perfect palette
Keep your make up subtle – if not for cultural etiquette the heat will be far too much to bear if you've applied a thick layer of foundation. A quick sweep of bronzer and a few lashings of mascara will see you through the day.
At night, go for smoky, dark eyes with thick flicks of black kohl eyeliner on your top lid a la Kim Kardashian and Nicole Scherzinger. Gold eye creams and brown eye shadow will perfect this look to no end.
Jewel tones
Take your inspiration from the sparkling wonders you'll find at the majestic souks peppered throughout Middle Eastern cities. Rich, gold tones, silky jewel hues and eye-catching exuberant shades are what it's all about: Let ruby red, sapphire and azure blue, emerald green and sparkling golds dominate your holiday wardrobe palette.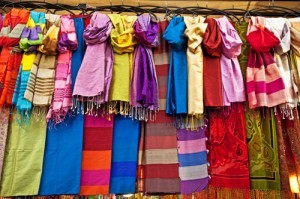 Top tips to takeaway:
Accessories with pashminas to be worn as headscarves – pack enough to complement a few key outfits. Try to avoid dark colours as these will retain more heat and instead opt for dainty, pretty prints that will add a real edge of femininity to your look.
Invest in a false wedding ring. It might seem drastic but it will really help divert a lot of possible unwanted attention because it means you'll be perceived as 'unavailable.'
If you want more tips on travelling to the Middle East as a woman, websites like travelingthemiddleeast.com are good for sussing out the general safety tips.
For the latest deals on flights and holidays to Dubai, check out the below.
Dubai Holidays
London Heathrow to Dubai
Manchester to Dubai
London Gatwick to Dubai
Glasgow to Dubai