Today we have another fantastic guest posting by Heather who is a seasoned traveller, wife to David and mum to two small boys, Euan and Lewis. In a previous life she travelled the world ending up in Japan and then Spain teaching English to the unsuspecting. Now she spends her time writing her blog www.pret-a-mummy.com and planning her next family holiday. You can ready Heathers previous guest posting here.
Ten years ago I decided to do something rash. I gave up my job, my friends, my home and my car, got on a plane and went to live in Japan. My fascination with Japan had begun some years earlier and I loved the food, the style and the history of a place I considered completely removed from my own experiences.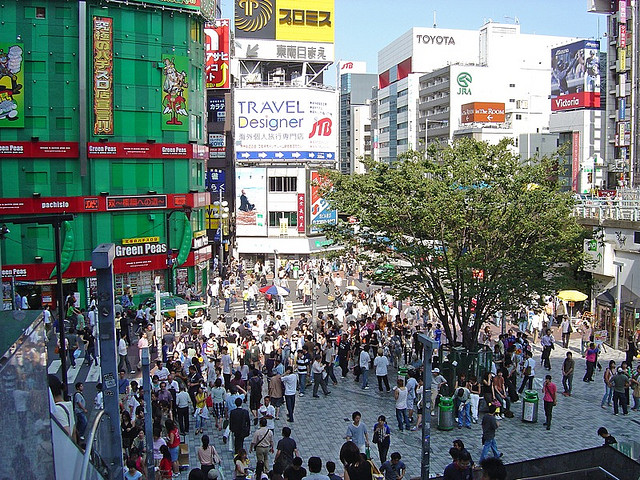 Image from flickr
I was hooked. During the year I spent living in Japan, I travelled extensively, experiencing the bizarre and the divine and here are a few of the best things to see and do in the land of the rising sun. Flights can be very reasonably priced and Tokyo is easily accessed from most major UK airports.
First things first, you need to expect the unexpected. When you arrive in Tokyo you will immediately be surprised at the lack of other westerners, especially considering you are in a capital city. The benefits of this are that you may find yourself the recipient of special treatment, though this can be a negative as well. You may also be surprised to find that few people seem to be able to speak English, this could actually be due to Japanese shyness rather than a lack of ability.
A few key phrases, arigato gozaimasu – thank you and konnichiwa – hello, will serve you pretty well. Above all, don't forget to take off your shoes wherever you go (within reason), and this includes most restaurants where you will be provided with slippers!
Most tourists fly in to Tokyo, which is actually a pretty good idea as Tokyo is amazing, interesting and also very safe for tourists. A myth exists that Japan is ridiculously expensive and unaffordable, on the whole I would say that accommodation can be expensive but only similarly to other capital cities. There are definitely affordably options particularly if you are willing to experience the capsule hotel. I really liked the capsule hotels as they are a bit like a youth hostel but with the privacy of your own tiny room complete with air conditioning and television.
You can also choose to experience the traditional Ryokan (Japanese) style hotel complete with the traditional futon beds and tables where you eat kneeling down. My favourite areas for affordable western style hotels are Ginza and Asakusa.
Eating is something about Japan that is very affordable. On every street corner you will see the friendly lights of cheap rice and noodle places like "Yoshinoya" where for 350 yen (£2.70) you can get a bowl of Gyudon (beef and rice), it is sheer heaven.
The other thing about Japanese eateries is that you don't even need to speak, you either buy a ticket in a vending machine and hand it over, or point to pictures on a menu. For a bit of glamour venture to one of the bars at the top of a posh hotel, but be prepared to pay top whack. My advice is to have a very cheap night out on the roof terrace of a department store like – you pay one price (about £15), eat (tabehodai) and drink (nomihodai) as much as you like (kids welcome).
In Tokyo there are loads of things to see and do and a lot of it is free. The Sony Tower in Ginza is absolutely amazing, with all the latest inventions and super duper technology, it is well worth a visit. You can also spend time people watching, particularly in areas like Daikanyama and Shinjuku. No visit to Japan is complete without a visit to a shrine, and the Meiji Shrine in Harajuku is a good place to start (admission free to the main part).
There are some very obvious places to visit in Japan such as Hiroshima (the location of one of the atomic bombs), Mount Fuji and the shrines and temples of Kyoto. It's a great idea to visit these places, but as a seasoned traveller in Japan, I can recommend some lesser known gems. Another thing to mention is the Japan Rail Pass (you have to buy it in the UK though) currently £215 for 7 days. I bought a cheaper ticket called a Seishun Kippu which was 11,500 yen (about £88) for 5 days unlimited travel, but it isn't valid on the bullet train.
So these are my favourite places in Japan: Koya- San (Wakayama prefecture), a mountain retreat containing lots and lots of temples where you can stay and be looked after by Buddhist monks. At 5.30am you will be woken to attend a Buddhist morning ceremony.
Hiroshima is a must, just to get a look at the famous dome and visit the peace museum, but there is nearby Miya-jima with its amazing scenery and beautiful shrines that are more serene and restful.
I also love Shodo-Shima on the inland sea near Okayama for walking and it is the only place I have ever seen phosphorescence in the sea (a sort of eerie, glowing effect) at night.
No visit to Japan would be complete without time spent in one of its wonderful Onsens (hot spring bath). The hot water comes courtesy of the volcanic nature of Japan and contains natural minerals that make you feel frankly amazing. The best place to go for this is the "Hells" of Beppu in Kyushu (one of the four main islands of Japan) where you can visit official Onsens but even better, come across hidden, "natural" Onsens in the wild. Don't forget your towel!
And finally the best time to visit Japan is in spring time when Hanami (cherry blossom season) is in full bloom and the weather is not too hot or cold.
If this guest posting has made you want to visit Japan check out the flight deals pages for flights to the far east.
http://www.netflights.com/flights.aspx