It might not seem the most obvious place to take a low-cost flight with the kids in tow, but San Francisco is a real little people pleaser.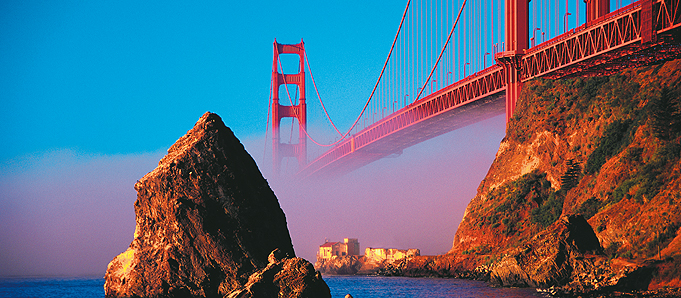 It's not huge and intimidating like some American cities – less than 50 square miles in size, in fact. So, it's easy to get to its many attractions and activities.
San Francisco is full of variety. Lots of different neighbourhoods have their own character (and characters). There's Chinatown, of course, but did you know there is also Japantown too? With a rising immigrant population from places like Cambodia, Vietnam, Mexico and El Salvador, the food, in particular, is a real adventure.
The Walt Disney Family Museumis an all-American attraction, opened by his family in 2009. Here, you and the family can see the first model of Disneyland and early animation works. Follow the great man's career from childhood to grown-up success.
A rather more brutal place to visit is the notorious Alcatraz, the former island prison for dangerous prisoners. Take a ferry to San Francisco's most popular tourist draw and listen to the fascinating stories told by ex-prisoners and guards on the audio tour.
Staying close to the water, San Francisco has a fascinating collection of historic ships at the Maritime National Museum. You can step onboard most of them, including the 250ft 1886 Balclutha, a three-masted tall ship that hosts a monthly sea-shanty singalong.
In contrast, look out for the SS383, the USS Pampanito. It's a WW2 submarine that will transport you back to the battles against the Japanese in 1945.
If a cramped submarine makes you yearn for wide open spaces, the Golden Gate Park is a wonderful antidote for the whole family. In its 1017 acres, you'll find museums, botanical gardens, a great merry-go-round, playground and paddle-boats. It's the perfect place for a picnic too.
The San Francisco Zoo is another great outdoor attraction, with 250 different species to admire, including the Gorilla Preserve, the Primate Discovery centre, Koala crossing and the African Savanna Exhibit. A six acre petting zoo is great for toddlers to get up close to lots of furry (and other) friends.
Kids are the focus at the recently-renamed Zeum Museum, now the Children's Creativity Museum. Here, you don't just look, children can get their hands on cutting-edge technology to make something to take away – very stimulating.
The Exploratorium is another kid's fave. They will love its fun approach to science, art and human perception.
The Musee Mecanique, at Fisherman's Wharf, is the world's largest collection of mechanically-operated musical instruments and antique arcade machines. An oldie, but a goodie.
No visit to San Francisco is complete without taking a ride on its unique mode of transport, the historic cable cars that head up and down the sleep slopes. Make sure you take a peek into the Cable Car Museum where you can see the whirring and grinding of the engines that haul the cars up hill.
Bikes are a good bet in San Francisco if you want to take a leisurely ride across the iconic Golden Gate Bridge. Pedal out to beautiful seaside town Sausalito. It's home to the Bay Area Discovery Museum, full of hands-on interactive exhibits for kids of all ages. Take the ferry back if you and the family have had enough exercise for the day.
Before you leave town, get your shopping done at Pier 39 for lots of great souvenirs, or Union Square for the legendary US toy-shop FAO Schwarz.
If your kids have had a good time in San Francisco, we'd like to know the highlights, and any tips or hints you picked up along the way. Let us know your story.