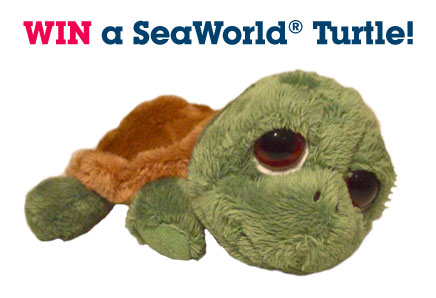 We have teamed up with Visit California and SeaWorld San Diego to bring you twenty-five of these adorable plush SeaWorld Turtles!
Visit California offers a wealth of knowledge for planning a trip to California.  Their website offers useful and practical guides on where to explore, what to expect about life in California, destination guides, upcoming events plus they have some excellent travel tools as well; such as downloadable and interactive maps.
You can view the California Visitors Guide 2012 for free here and their California Road Trips Guide here.
One attraction sure to be a winner in California is  SeaWorld San Diego! This is the 200 acre marine life park in  San Diego, where you'll enjoy up close animal encounters, plunge down the rides  and experience stunning shows including the brand new One Ocean featuring the world famous 'Shamu' and stunning whale and dolphin spectacular, Blue Horizons.
Plus don't miss SeaWorld San Diego's All Day Dining Deal, pay once and dine all day at the park's major eateries, bookable at the park.
SeaWorld San Diego tickets are available from £46 for Children (age 3-9) and  £51 for Adults. To book call 0844 692 6792*.
Find out more about booking your dream holiday to the USA. Cheap USA flights, hotels and car hire available here!
To get your hands on one of twenty-five of these adorable little chaps, simply look around this blog article and the and answer the following three questions:
1)     How many acres is the SeaWorld San Diego park?
2)     What price does a SeaWorld San Diego ticket start from?
3)     What is the brand new show called at SeaWorld San Diego?
Find out more about SeaWorld®, cheap flights to Orlando, hotels in Orlando and attraction passes by clicking here.