If you're a space buff, maybe it's time you made plans to visit NASA in Florida for an up-close look at the space program. With Curiosity now on Mars, this is the perfect time to learn more about NASA and its amazing history. From the Kennedy Space Center (KSC) to Cape Canaveral, you'll enjoy one of the most enlightening and interesting trips you'll ever take.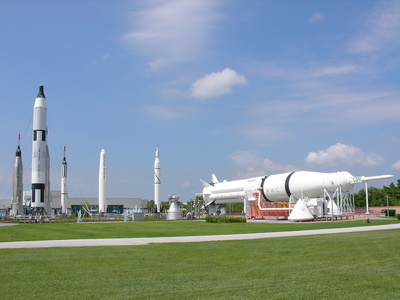 A Little History
Located on Merritt Island, The Kennedy Space Center covers about 219 square miles and employs more than 13,000 people. All launches happen in the ocean about three miles from land on pads A and B on Launch Complex 39. This includes all manned Apollo moon missions.
The Shuttle Landing Facility, on 500 acres near the space center, was the landing-place for all shuttle flights, on a single runway that is one of the longest in the world. The shuttle program ended in 2011. You can view the shuttle Discovery at the National Air and Space Museum at the Smithsonian in Washington, D.C., and the shuttle Enterprise at the Intrepid Sea, Air, and Space Museum in New York.
Lunch with an Astronaut
The Kennedy Space Center offers several tour packages including lunch with an astronaut. Yes, you can have lunch with one of the members of NASA's Astronaut Corps. You'll get to hear first-hand stories, have your picture taken with the astronaut, and tour the Kennedy Space Center Visitor Complex.
Astronaut Training Experience
If you're a true space enthusiast, this is the program you don't want to miss. For about four to five hours beginning at 8:00 am Saturdays the Kennedy Space Center offers simulations of missions and exploration, a hands-on experience you won't forget. The program, created by astronauts, will give you a feel for what it's like to train and prepare for a shuttle mission.
Kennedy Space Center Tour and Airboat Safari from Orlando
Get a two-for-one with this exciting tour that begins with transportation and a tour of the KSC where you'll learn much of the history of the space program. Then it's off to a thirty-minute boat ride through the Florida swamps where you'll see plenty of alligators.
Kennedy Space Center Tour and Cape Canaveral Then and Now Tour
This tour takes you through the Kennedy Space Center and gives you access to places rarely seen by the public. While on the tour you'll learn about the program's fifty-year history and see such places as the Alan Shepard's Mercury training facility in Hanger S and sites where NASA launched Voyager and other space probes.
Kennedy Space Center's Ultimate Space Experience from Orlando
If you want more, this is the tour of tours. This eleven-hour tour includes round-trip transportation from Orlando to KSC at Cape Canaveral where you'll lunch with an astronaut, explore the U.S. Astronaut Hall of Fame, and have unlimited access to the visitor's complex. That's just for starters. You'll visit the Saturn V Exhibition and the Observation Gantry where you'll view the shuttle launch pads. If that's not enough for you, you can take the Kennedy Space Center Up-Close tour and go inside the Vehicle Assembly Building. If you're daring enough, you can ride the G-Force trainer.
These are just some of the tour packages you can choose from when visiting these NASA sites. Whether you can spend a little or spend a lot, you won't be disappointed. Kids are welcome too, so be sure to reserve your tickets before your trip as some tours sell out to school groups. Bring the entire family along and share the experience of NASA's rich and storied history.
For the latest deals on flights and holidays to Orlando use the links below.
Orlando Holidays
Flights to Orlando
Florida fly and drive holidays