The days when airport dining was a grim choice between a speedy sandwich, or a greasy fry-up are long gone. We expect airports to mirror the high street, with variety, quality, options to suit different dietary needs, and maybe even the odd high-end choice. And if you want a decent coffee or a craft beer, you should be able to get one, right?
Well, it's true that airports have upped their game everywhere. But some are undoubtedly better than others. We wanted to find out which is the best to help you plan – and set some expectations for when you next travel. So if you're heading away soon for some winter sun, or if you're already anticipating your summer holiday, Netflights.com has done some airport prep for you by rating each airport in the UK based on its food offerings.
We took the 10 most popular airports in the UK and gave a score to each one based on highest online ratings, best average cost, and most vegetarian options. Find out who takes the crown for being the best place for a pre-plane meal.
Airport
Rating score
Cost score
Veggie option score
Overall Netflights rating
Birmingham
1
Birmingham
2.6
2.5
2.3
7.3
Heathrow
2
Heathrow
2.8
2.2
2.1
7.0
Liverpool
3
Liverpool
1.8
2.7
1.2
6.8
Stansted
4
Stansted
2.5
2.5
1.8
6.8
Gatwick
5
Gatwick
2.5
2.2
2.0
6.7
Manchester
6
Manchester
2.1
2.5
1.9
6.5
Luton
7
Luton
2.1
2.6
2.1
6.5
Edinburgh
8
Edinburgh
2.0
2.5
1.9
6.2
Glasgow
9
Glasgow
2.0
2.1
2.0
5.9
Newcastle
10
Newcastle
1.6
2.6
1.6
5.3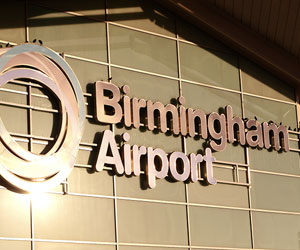 Introducing the best airport for pre-plane food
The airport that came out on top in our scoring was Birmingham Airport. The best airport for food in the UK, Birmingham had a good online rating, reasonable prices and large number of vegetarian options.
The airport has one terminal and 12 different eateries, including a prosecco bar, a good variation of coffee shops, and a long list of family-favourite sit-down restaurants like  Giraffe and Frankie & Benny's.
Bottom of the list was Newcastle International Airport. Although it came out well in terms of pricing, its limited vegetarian options and lower online ratings meant it placed at number 10.
The detail: What do people eat at the airport?
To make sure we were hitting the mark, we wanted to get an idea of the average UK holidaymaker's eating habits, along with how much they generally spend when waiting to board a flight.
To do this we polled 2,000 British travellers. We found the average person spends a minimum of £11.48 on takeaway food such as a sandwich or a burger. But for those who choose to have a sit-down mean at the airport, that average stretches to as much as £25 per person.
On top of this, the average amount spent on snacks such as fruit, crisps and sweets was almost £8, with an additional £7 on hot drinks.
Despite this, 37% of those surveyed said that the expense of food and drink at the airport was one of the most frustrating things about travelling by air. To find out the best airport for food, we wanted to find the one where you can get the widest variety, the most options and expect to find the lowest average price per meal, so you don't end up eating a dry baguette on the floor of gate 23.
Plant power: The UK's best airport for vegetarians
Both Birmingham and Edinburgh came out on top with their  vegetarian options, followed by Gatwick, Manchester and Heathrow.
Factory Bar and Kitchen is exclusive to Birmingham Airport and has 10 vegetarian sit-down meals on its menu. Bottega Prosecco Bar is also exclusive to the airport and offers up to six veggie options.
Well-known as an airport staple, British pub chain Wetherspoon has over 30 vegetarian mains and breakfast options, while coffee chains Pret a Manager, Caffè Nero and Costa Coffee now offer up to 102 non-meat options combined.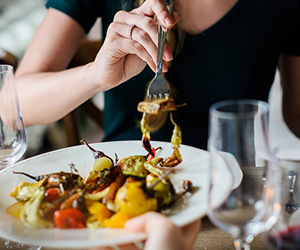 Splashing out: The best airport for high-end eateries
If you fancy treating yourself before boarding a long-haul flight, we've also found the best airport for high-end eateries.
Heathrow Airport came in first place, with eight of the highest-rated restaurants in the highest price bracket in the UK. You can splash out on top-notch seafood and Champagne at Caviar House & Prunier Seafood Bar, or choose from a menu of high-end classics at Terminal Five's Fortnum & Mason Bar.
Best international variation of food
A decent full English is pretty much a minimum requirement for any airport. But if anything typifies the British food scene these days, it's arguably multiculturalism. So, lastly, we investigated the widest variety of international cuisines available at airports around the UK.
Wagamama covers the bases for pan-Asian cuisine at both Heathrow and, with a menu spanning classics from Japan to Thailand. YO! Sushi is also now available at Heathrow, Gatwick and Edinburgh.
When you need to fuel up before a journey, you could do worse than a big bowl of pasta, and Italian chains Carluccio's and Strada are exclusive to Heathrow, while Jamie's Italian is exclusively at Gatwick.
A more recent addition to the UK food scene's list of ever-present cuisines, Mexican food is now a staple in cities around the country, and you can get your fix at Bar Burrito in Edinburgh.
Book your next trip from any of the listed UK airports, to sample the finest airport cusines yourself.
You can try these airport favourite cuisines where they originate around the globe, check our latest deals:
- Flights to New York
- Flights to Dubai
- Flights to Thailand
- Flights to Australia
- Flights to New Zealand
- Consumer survey from Censuswide on behalf of Netflights of 2,005 UK consumers aged 16 and over: 21/05/2018-25/05/2018
- Quality rankings determined by a weighted average of Yelp and TripAdvisor scores for each airport's restaurants
- Pricing based on 'average pricing' brackets for each airport's restaurants from Yelp
- Restaurant listings from APH.com
- https://www.heathrow.com/shops-and-restaurants/shops-a-z/fortnum-&-mason
- https://www.heathrow.com/shops-and-restaurants/restaurants-a-z/caviar-house-&-prunier-seafood-bar
- https://www.heathrow.com/shops-and-restaurants/restaurants-a-z/wagamama