The world's best destinations for a stopover
Our new research has revealed that over half of Brits would prefer to turn their stopover into a small holiday. But where should you go? We've compared loads of layover destinations around the world to find the very best place for a little bonus trip.
To find the best destinations for a stopover, we looked at all kinds of criteria. We checked the cost and distance of a transfer from the airport to the nearest city, the type of public transfer available, the number of places the airport has flights to, airlines offering a free stopover, and the airport rating – phew! Using all of this, we calculated our overall Netflights.com score to reveal the best stopover destinations.
City
Airport Name
Airport to City Distance
Public Transport to City
Time to City Centre
Number of Destinations
Netflights.com rating (out of 30)
Amsterdam
Amsterdam
Schiphol
20km
Train - £4.81 
15 Mins
217
29
Singapore
Singapore
Singapore Changi Airport
20km
Bus - £5.12
25 Mins
400
28
Lisbon
Lisbon
Lisbon Portela Airport
9km
Metro - £1.25
25 Mins
111
27
Bangkok
Bangkok
Suvarnabhumi Airport
25km
Metro - £1
15 Mins
186
27
Beijing
Beijing
Beijing Capital International Airport
25km
Metro - £2.79
20 Mins
230
26
Dubai
Dubai
Dubai International Airport
15km
Metro- £2.50
33 Mins
211
26
Tokyo
Tokyo
Haneda Airport
27km
Metro - £4.50
30 Mins
150
26
Shanghai
Shanghai
Shanghai Pudong International Airport
30km
Train - £6.24
25 Mins
209
25
Frankfurt
Frankfurt
Frankfurt airport
12km
Train- £4.14
15 Mins
240
25
Vancouver
Vancouver
Vancouver International Airport
15km
Metro - £5.40
30 Mins
98
25
Doha
Doha
Hamad International Airport 
45km
Bus - £1
20 Mins
146
24
Toronto
Toronto
Toronto Pearson Airport
27km
Train - £7.20
25 Mins
163
23
Helsinki
Helsinki
Helsinki Airport
20km
Bus - £4.45
40 Mins
99
23
Porto
Porto
Porto Airport
17km
Metro - £2.18
30 Mins
66
22
Atlanta
Atlanta
Hartsfield- Jackson
16km
Metro - £1.95
20 Mins
205
22
Madrid
Madrid
BarajasAdolfo Suárez Madrid-Barajas
12km
Metro - £4.01
12 Mins
186
22
New Delhi
New Delhi
Indira Gandhi International Airport
16km
Metro - £0.70
15 Mins
133
21
Paris
Paris
Charles de Gaulle Airport
28km
Metro - £8.22
50 Mins
300
21
Istanbul
Istanbul
Ataturk Airport
21km
Bus - £3.12
45 Mins
259
20
Sydney
Sydney
Sydney Airport
9km
Train - £12.32
13 Mins
97
20
Rome
Rome
Fiumicino Airport
32km
Train - £12.46
32 Mins
174
19
Los Angeles
Los Angeles
Los Angeles International Airport
24km
Metro - £1.37
30 Mins
159
19
Abu Dhabi
Abu Dhabi
Abu Dhabi International Airport
30km
Bus - £1
45 Mins
120
19
Miami
Miami
Miami International Airport
13km
Train - £1.76
30 Mins
150
18
Hong Kong
Hong Kong
Hong Kong International Airport
40km
Train - £11.13
24 Mins
220
18
Dublin
Dublin
Dublin Airport
10km
Bus - £6
40 Mins
121
16
Montreal
Montreal
Pierre-Elliott Trudeau International
22km
Bus - £8.90
55 Mins
103
16
San Francisco
San Francisco
San Francisco International Airport
21km
Train - £6.32
30 Mins
115
16
Ho Chi Minh City
Ho Chi Minh City
Tân Sơn Nhất International Airport
7km
Bus - £2
40 Mins
63
15
New York - JFK
New York - JFK
JFK Airport
19km
Metro - £6.05
60 Mins
173
15
Melbourne
Melbourne
Tullamarine
23km
Bus - £9.36
20 Mins
69
15
Auckland
Auckland
Auckland Airport
21km
Train - £6.30
50 Mins
58
15
Kuala Lumpur
Kuala Lumpur
Kuala Lumpur International Airport
45km
Train - £6.59
33 Mins
121
14
Santiago (Chile)
Santiago (Chile)
Comodoro Arturo Merino Benítez International Airport
16km
Bus - £2
45 Mins
51
13
Wellington
Wellington
Wellington International Airport
8km
Bus - £6.30
30 Mins
24
13
Reykjavik
Reykjavik
Keflavik Airport
50km
Bus - £11.85
50 Mins
54
11
New York - La Guardia
New York - La Guardia
La Guardia Airport
13km
Bus-metro - £2.93
50 Mins
65
10
Seoul
Seoul
Incheon Airport
50km
Train - £8
60 Mins
147
9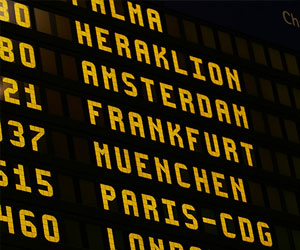 And the winner is…
In first place on the overall list is Amsterdam. It scored big ticks in essential boxes – it's just a short distance from Schiphol Airport to the centre of Amsterdam, and there's a wide and well-priced variety of transport to get you there. The Netherlands' flagship airline, KLM, also offers the option to include a stopover in Amsterdam for free as a part of some long-haul fares. So you can experience Amsterdam life before travelling on to one of the many long-haul destinations available, including Thailand, the Bahamas and Bangladesh.
Why have a stopover?
If you ever want to go anywhere exotic, long-haul flights are a necessary evil. The triple whammy of jet lag, lack of sleep and hours in a cramped seat can take its toll – sometimes it takes days to recover from.
But we've got good news. There's a better way to go long haul, and it could be easier to engineer than you think. According to our research of 2,000 UK adults, making the most out of a stopover may be the answer to avoiding long-haul stress, with 54% of Brits saying they'd prefer to turn their stopover into a small holiday.
It makes sense. You can't always choose the location of your stopover on a long-haul journey, but you can often extend it for free. That means, instead of spending several hours in the airport waiting for a connecting flight, you can take advantage of the stop and spend up to a week exploring a new place – without any added cost on your airfare. So after spotting the potential benefits, we set about finding out the best way to make a stopover work for you.
The best bits about stopovers
Extending your stopover is a great way to alleviate the most frustrating things about long-haul travel – over a quarter (28%) of respondents to our survey said feeling cramped on the plane was the worst thing about a lengthy journey, and 25% said it was the lack of space. But an extended stopover gives you a chance to feel like you've halved that time. You can stretch your legs and get back to the real world after just one flight.
What's more, 21% of our surveyed fliers struggled with the poor quality of sleep and 20% claimed that boredom was the worst thing about long-haul travel. Two shorter journeys with an overnight stay (or longer) in between can work wonders, giving you a proper night's sleep in a comfortable hotel bed. Plus, exploring a new place is a great way to avoid boredom – you'll spend the first leg of the journey anticipating your stopover, making the second leg seem a short hop to your end destination.
The main motivation for a stopover was to break up an uncomfortable, sleep-deprived plane journey (24%) along with visiting an extra destination, regardless of where (13%).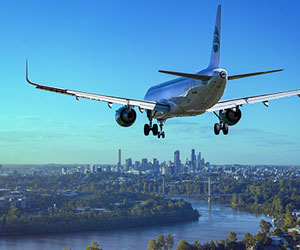 How to make the most of a stopover
When it came to the different features our travellers wanted in a stopover destination, most cited a short distance from the airport to the city (34%). Naturally, you don't want to spend any longer in transit, and a quick dash from airport to stopover city helps you maximise your time there.
A good choice of hotels near the airport (28%) was another must, along with the destination being compact and easy to get around (25%) to let you cram in as much sightseeing as possible before jetting off again.
Where to plan a stopover
We were pleasantly surprised by the breadth of the best destinations, with the top 10 including a wide range of destinations in Europe, Asia and North America, giving you a great spread of routes where you can maximise your layover. Want to see if you could make the most of a handy stopover on a trip you're planning? Have a browse for flights now.
- Consumer survey from Censuswide on behalf of Netflights of 2,014 UK consumers aged 16 and over: 31/10/2018 - 02/11/2018