European plane maker Airbus has come a long way in its 49-year history, with a record 800 aircraft – from small regional jets to large, long-range models – rolling off the production line at its 700-hectare Toulouse assembly site in 2018.
Airbus has always been a company that has sought to challenge its larger American rivals – delivering a series of industry firsts in the process. Airbus was the first to build a large twin-aisle, twin-engine plane, the first to build a commercial plane with 'fly-by-wire' technology, and the company is also responsible for building the largest passenger plane in the world.
But while the double-decked four-engine A380 will cease production in 2021, there's a more advanced plane from Airbus that has already outsold its larger brother. In this article, we take a look at how the smaller, lighter and more flexible Airbus A350 has become the aircraft of choice for airlines around the world.
With its distinctive 'dropped' nose profile, wrap-around cockpit windows and beautifully-shaped winglets, the A350 is built using lightweight but extremely strong composite materials and features the latest in aerodynamic designs to lower fuel burn and reduce CO2 emissions.
The use of such advanced materials means Airbus' latest creation can boast a 'lower cabin altitude' than previous generations of aircraft, such as the 747, while allowing for a more humid cabin. For passengers, this means less dried-out skin and blocked sinuses, and a much better chance of feeling fresh when you land.
The cabin is also wider than on comparable aircraft. On a Boeing 787, the cabin width is five inches narrower and in comparable Economy Class cabins, with 3-3-3, nine-abreast seating, that makes a real difference to shoulder and elbow room.
The A350 is a hugely versatile aircraft and comes in two lengths with varying capabilities. The A350-900 is the basic model and seats around 300 people in a two-class configuration. The A350-1000 features a seven-metre stretch over the -900 variant, but shares an impressive range in excess of 8,500 miles.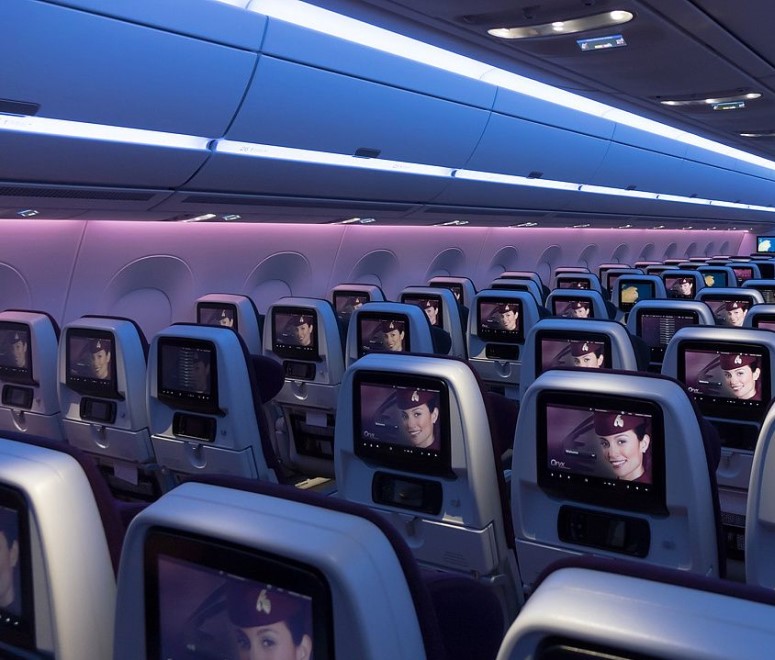 It's this versatility and economy that makes the A350 so attractive to the business model of so many airlines. Singapore Airlines currently operate a special A350-900ULR (Ultra Long Range) version between Singapore and New York which clocks in at over 9,500 miles and 18.5 hours in the air. Meanwhile, Qantas recently announced that a specially modified A350-1000 has won its Project Sunrise competition, after going head-to-head with Boeing's troubled B777-9. Qantas wanted an aircraft capable of non-stop flights between Sydney and London/New York. These record-breaking flights are slated to begin in 2022, and will complete the 10,500 mile journey in around 20 hours.
A total of 331 A350s – out of 959 on order – have so far been delivered to 51 different airlines.
Airlines with Airbus A350
British Airways will expand their A350 destination list, beginning with A350-1000 service to Washington, Philadelphia and Austin from March 2020, then Boston from August 2020. The A350 is currently the only aircraft at BA to feature the new Club Suite, Business Class cabin. Currently the A350 flies to Dubai, Toronto and Tel-Aviv. BA has 18 on order.
As we reported back in November, Emirates placed an order at the Dubai Airshow for 50 A350-900 aircraft which will see the airline through its next phase of expansion. The A350 will replace older B777-300ER aircraft, which is used on a wide range of flights from Dubai to the USA and Australia. The new aircraft offers both better fuel efficiency and greater passenger comfort on these 14+ hour flights.
Virgin Atlantic's A350-1000 features their new Business Class suites, as well as their new loft bar and new Premium seats. Heathrow to New York JFK now sees four A350 flights per day, with Los Angeles, San Francisco and Lagos all set to see A350 service by mid-2020. The airline saw the first of its A350s enter service in September 2019, and has a total of 12 on order.
South African Airways is taking four A350-900 to replace the inefficient 4-engine A340-600 aircraft currently plying their Johannesburg to New York JFK service. The A350 is expected to allow a substantial fuel saving of 25% per flight.
Japan Airlines has recently introduced their first A350-900 but surprisingly these 375-passenger aircraft will only be used on domestic routes. The airline will take 18 A350s for use on routes such as Tokyo Haneda to Fukuoka, coming in at just 550 miles.
Airbus vs Boeing
With the A350, Airbus clearly has the confidence of both its airline customers and their passengers. The plane is economical and has the legs for ultra-long-range flights, but is also a viable option to use on shorter routes. Passenger comfort has been well thought out with noticeably improved air quality, a superbly quiet cabin and a humane amount of width and overall space even in the economy cabin.
With similar successes such as the A320NEO and A220 regional jet currently in its portfolio, Airbus' success stands in contrast to the continued travails of rival Boeing. As the 737 MAX grounding saga grinds on, with production of the aircraft temporarily halted, it's estimated that Boeing is losing a $1bn per month, as it compensates its supply chain partners.
With Boeing also facing technical problems on their upcoming B777-8 and B777-9 aircraft and the production rate of their B787 Dreamliner set to be cut due to slowing orders, it's certainly not a good period for the Chicago-based company. The news that Boeing CEO Dennis Muilenburg has been let go as part of a Boardroom shake-up should certainly come as no surprise, but industry insiders warn the venerable aerospace brand has a long road ahead of it before it regains the full confidence of its customers, investors and passengers.