If you're 16 or over and a British citizen, British overseas territories citizen, British subject, British national (overseas) or British protected person, you need a valid United Kingdom passport to travel abroad.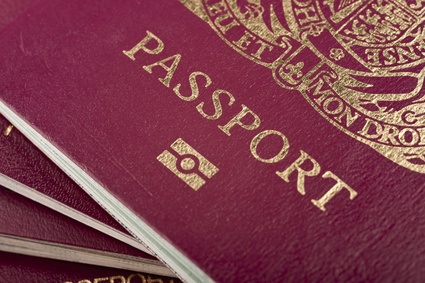 The process of applying for a UK adult passport for the first time is straightforward. You need to submit a properly completed application form with photos and supporting documents, and – as a first-time applicant – attend an interview at an office of Her Majesty's Passport Office, previously known as the Identity & Passport Service.
It's important to allow enough time for your passport to arrive. This generally takes from three to six weeks. To be on the safe side, it's best not to book any travel until you've got your passport.
Where to get an application form
If you're applying for a passport from within the UK, you can obtain an application form in one of three ways.
Apply online
You can apply for an application form online, from Her Majesty's Passport Office. The Office will then post it back to you to check and sign. Note that you should allow at least a week for the form to be delivered.
Get a form from a Post Office
You can obtain a passport application form from any Post Office that offers the Passport Check & Send service.
Ask the Passport Adviceline
You can contact the Passport Adviceline at telephone 0300 222 0000 or using an e-mail enquiry form, and request that an application form be posted to you. The Passport Adviceline operates from 8:00 a.m. to 8:00 p.m. from Monday to Friday, and from 9:00 a.m. to 5:30 p.m. on weekends and public holidays.
Cost of a UK passport
A passport costs £72.50 by post or £81.25 through the Post Office's Passport Check & Send service. If you apply by post, you can pay by debit or credit card or via a cheque made payable to Her Majesty's Passport Office.
Completing the application
You'll need to provide information about yourself, such as your date and place of birth, address, spousal details, length of time living in the UK and eligibility details. You'll also have to date and sign the application, and provide original supporting documentation, such as your birth certificate, as requested.
UK passport photo requirements
With your application, you need to provide two identical photos of yourself and have both these and your passport application countersigned by a member of a recognised profession, such as a doctor or a teacher, who can confirm that the photos provide a true likeness of you.
The photos have to meet specific criteria. They must be
professionally printed in color on plain white paper
45 millimetres high by 35 millimetres wide
no older than a month
taken against a plain cream or light grey background
free of any creases or damage, and unaltered by computer software
Don't wear a hat or sunglasses, ensure your hair isn't across your eyes and keep a neutral expression. If you use the Post Office's Passport Check & Send service, a staff member will check that your photos meet the requirements.
The interview
After receiving your application, Her Majesty's Passport Office will write to you to request that you schedule an interview with one of its offices. This is nothing to be anxious about. You can choose which office, based on where you're located. During the interview, which generally lasts for about half an hour, you'll be asked various questions just to confirm your identity.
After you schedule an appointment, try to ensure that you don't miss the interview. If you do, you'll generally be required to begin the application process again and pay another fee.
How long an adult passport is valid
A standard, 32-page, adult UK passport is valid for ten years.
Delivery of a new passport
Your passport will be posted to you by courier or Royal Mail Recorded Delivery.
Once you receive your first adult passport, you'll be able to apply for visas and travel outside the UK –and the world really will be your oyster!