It's a place steeped in history and an ever-changing dynamic. The St. Kilda suburb of Melbourne, Victoria, Australia has transformed many times since its beginnings in the mid 1800's. It was named after the Lady of St. Kilda schooner by the first lieutenant-governor of Victoria, Charles La Trobe.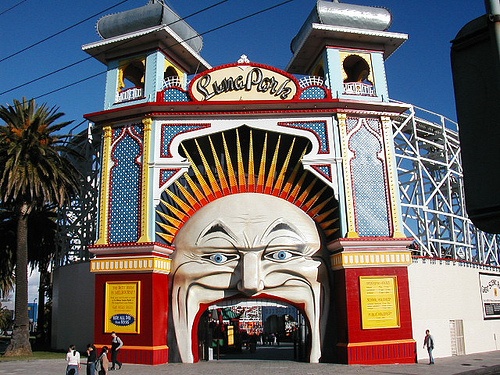 Great mansions rose up in St. Kilda throughout the Edwardian and Victorian eras, but post-war the area saw blight and poverty, becoming Melbourne's red-light district with low-rent rooming houses. Today, some Bohemian elements from the 1960's still remain as the district has pushed out the poor with new developments and greatly increased real estate value. It still manages to hold onto some of its funkier personality and has become a popular tourist destination.
Port Phillip Bay Area
St. Kilda sits along the shores of the Port Phillip bay where you can dig your toes in the sand and you might catch glimpses of the dolphins, whales, and seals that frolic nearby. Get closer to the marine life of the bay and enjoy the water's allure with some sailing and windsurfing. Also along the breakwater within the harbor lives a colony of penguins you can see year-round.
Luna Park
There are many attractions in St. Kilda the whole family will enjoy, most notably Luna Park. It has been in operation since 1912 and one of its most iconic rides is the Scenic Railway, built in 1911. It is the oldest continuously-running roller coaster in the world and is one of only two in the world requiring a brakesman who must stand in the middle of the train. This and the Magical Carousel, built in 1913, are the oldest rides remaining in the park.
www.lunapark.com.au
Red Stitch Actors Theatre
The arts are a big deal in St. Kilda thanks to its Bohemian influences. Since 2002, the Red Stitch Actors Theatre has become one of Australia's most successful independent theater companies, employing local talent both on and off the stage. It is known for presenting contemporary plays and adaptations that highlight the actors' use of naturalistic and highly stylized texts in new and creative ways.
St. Kilda Sea Baths
The concept of the sea bath brought with it the construction of two bath facilities made of timber in 1860. The original sea baths were destroyed by fire in 1926 and new ones opened in 1931 but didn't see much popularity. Today, because of renewed popularity, experience the sea baths with Australia's only indoor heated seawater pool along with a sauna and hydrotherapy spa. Make a day of it by enjoying its wonderful cafes and restaurants and continue your healthy regimen at the South Pacific Health Club.
Southside Handmade and Vintage Market
If you're looking for unique items that haven't rolled off an assembly line, the Southside Handmade and Vintage Market is a treasure trove of goodies you don't want to miss. The market is open only once a month, on the last Saturday of the month, except in September and December when you'll have to check specific dates. From beautiful handcrafted accessories to vintage clothing, housewares, and emerging fashions, you'll find it hard to leave empty-handed.
St. Kilda offers many sights and activities that make it impossible not to fall in love with this historically rich Melbourne suburb. It is a place where the past and present seem to co-exist, where its quirkiness seems perfectly balanced with its more sophisticated side. Be sure to visit its museums, galleries, clubs, bars, parks, and take part in their fantastic fishing charters. It's the perfect destination for the whole family or for a fun and romantic trip for two.
For the latest deals on flights to Melbourne use the links below.
London Heathrow to Melbourne
London Gatwick to Melbourne
Manchester to Melbourne
Birmingham to Melbourne
Newcastle to Melbourne
Edinburgh to Melbourne
Glasgow to Melbourne