As the, let's be honest, theme park capital of the world (we still love you, Blackpool Pleasure Beach!), Orlando has a million and one attractions. Actually, make that a billion and one. But magical holidays don't come cheap, and enjoying a week or two in the Sunshine State can be bit on the pricey side. Finding cheap flights to Orlando might be piece of cake – what can we say? We're good at what we do! – but by the time you've sorted out where you're gonna lay your weary heads, what sweet ride you're going to hire, and (duh!) theme park tickets, you might need a lie down. And maybe a loan.
Luckily, Orlando has plenty of things going on that don't cost a dime. From art galleries to the great outdoors, there's something for kids and adults alike. So, we've rolled up ours sleeves to give you 12 free things to do in Orlando.
Have a cold one at the Orlando Brewing Company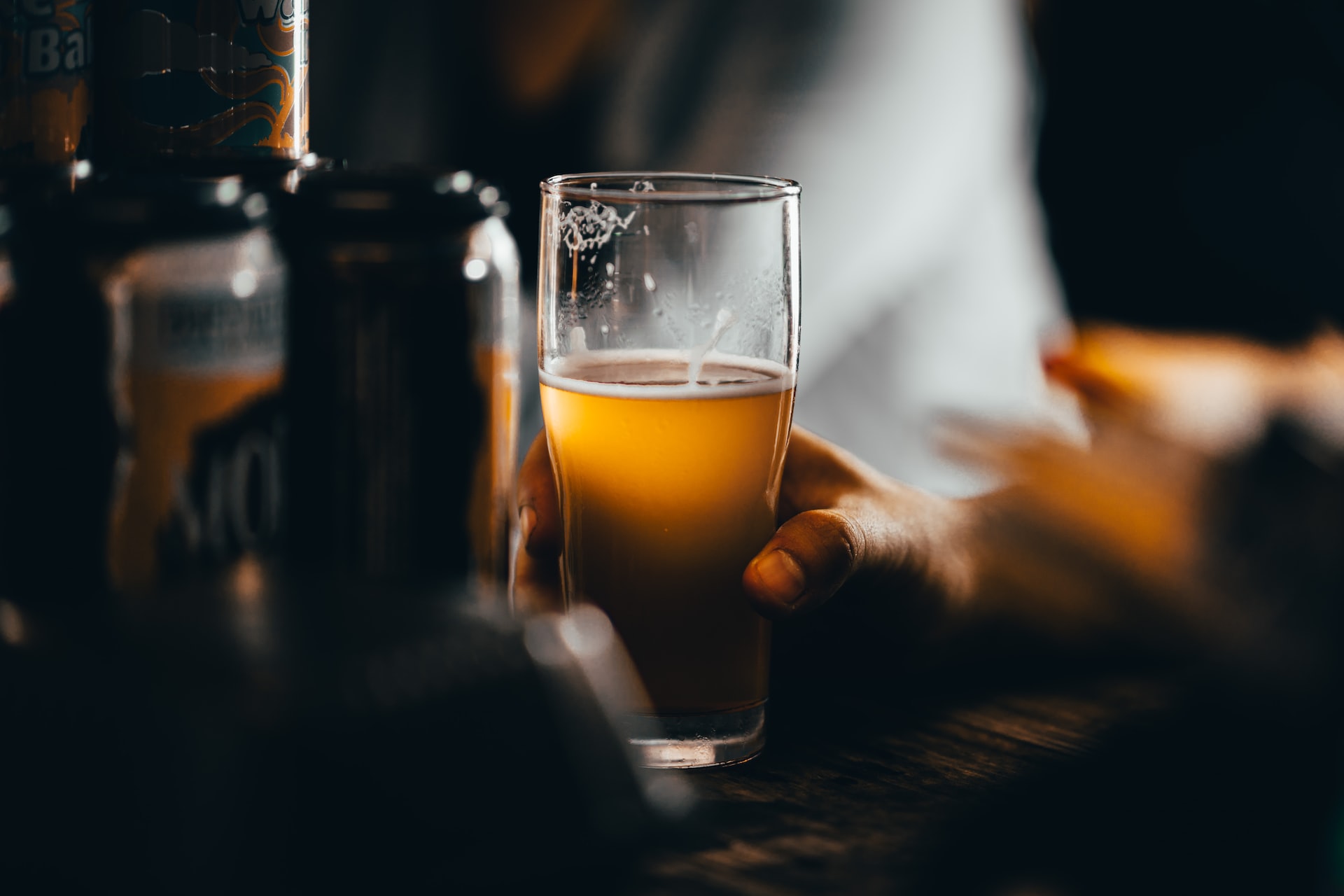 If all that sunshine makes you a wee bit thirsty, head to the Orlando Brewing Company and learn allllll about the brewing process – which is entirely organic – on one of their free tours, which run at 6pm Monday to Saturday. Now, that's a proper education. It's best to get there early to secure your spot, as it's (understandably) pretty popular. You could even sample some of the local produce while you wait. It'd be rude not to, wouldn't it?
Chill out at Lake Eola Park
Come to the heart of the city for the best views of Orlando's skyline at Lake Eola Park. Rent a swan-shaped paddle boat (don't deny it, you know you want to), stock up beforehand (maybe at the Farmer's Market – see below) and enjoy a picnic by the water, and if you're in town at the right time enjoy a concert, movie or play in the Walt Disney Amphitheatre. You know that famous saying, you're only ever 6 feet away from…something Walt Disney related? No, that's not how it goes?
Stroll along Disney's Boardwalk
The time-trapped boardwalk runs between Epcot and Hollywood Studios, and it's the perfect spot for an after-dinner stroll. Lined with restaurants, bars and shops – from the wonderfully named AbracadarBar to the famous BoardWalk Ice Cream – there's nothing to stop you from simply having an evening stroll, watching the street musicians and breathing in the pretty lively atmosphere – and it won't cost you a penny.
Gallery-hop in the City Arts Factory
This hip gallery is a must-see for art lovers – and entry is completely free from Tuesday to Saturday. It's the biggest collection of galleries in Downtown Orlando, with local and international art pieces that change every month.
Browse the Winter Park Farmers' Market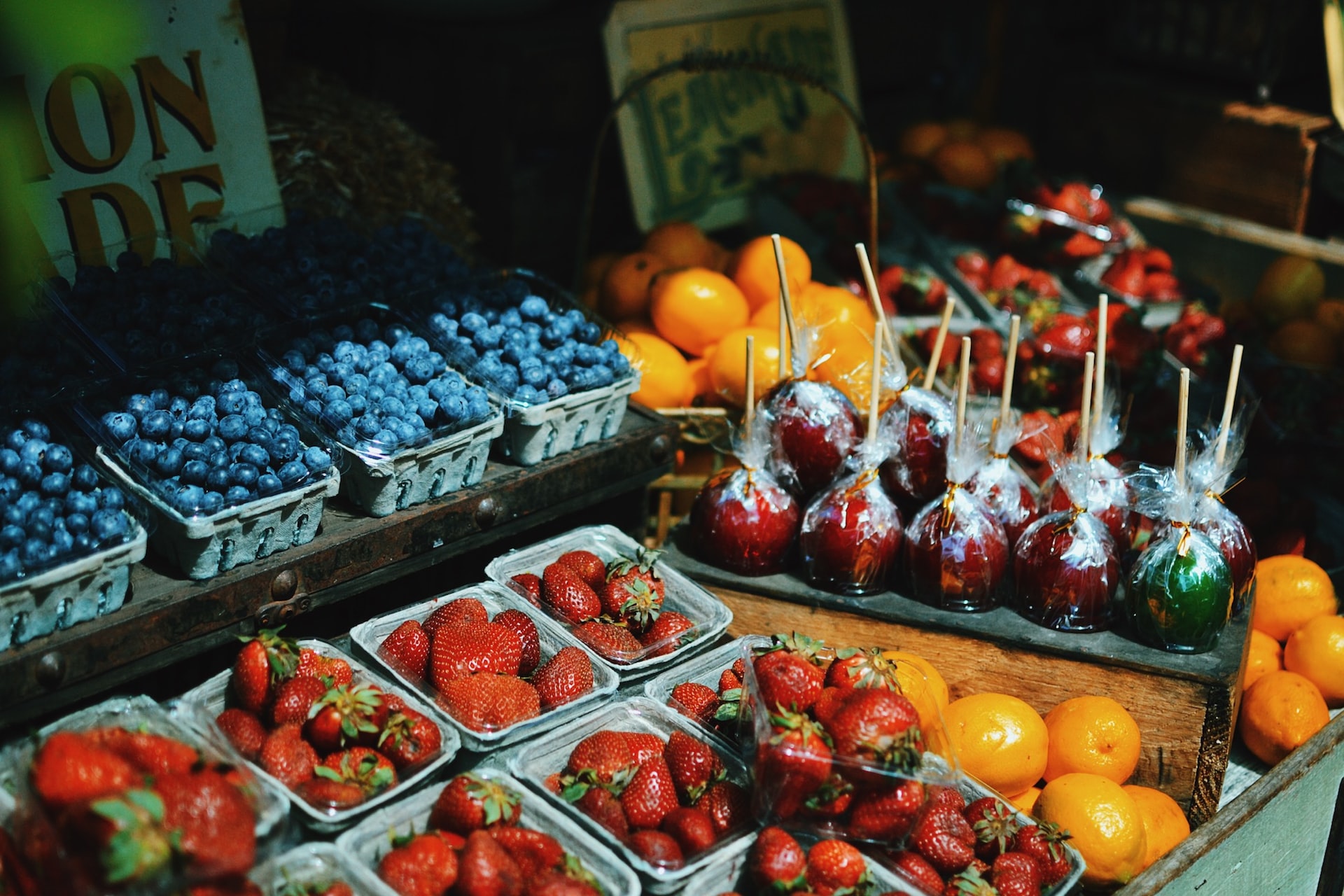 If you're staying in a villa and need to stock up on food, this is the place to come – and if you're staying in a hotel, you can just try all the tasters. Every Saturday morning, the bustling farmers' market in Winter Park is packed with fresh fruit and vegetables, baked goods and artisan treats. There's over 50 vendors to make your way through – from Heartsong Cookies to Pesto Diva, all the way to Captain Jo's Fish Dip – so you'll defo have to come back. It's the number one market in central Florida AND pet friendly, so you can meet some local doggos too.
Celebrate in, er, Celebration
With white picket fences, pastel-coloured houses and tree-lined streets, Celebration is the so-called "perfect town" – designed by Mr Disney himself. Plucked straight from Walt's imagination, this dream-like town even has an interactive fountain in summer and artificial snow in winter. Get a taste of small town America, and pop in to Woof Gang Bakery or Le Macaron French Pastries, go for a carriage ride or have a drink at the local tavern. You can do all of these things, but it's actually pretty fun to just walk around and soak up the magic of this weird, wonderful place.
Hike through Ocala National Forest
Just north of Orlando, smack bang between the famous theme parks and white sand beaches, is Ocala National Forest – Florida's second-largest protected forest. There's actually more than 600 lakes and rivers here, and you can expect to stumble across migratory birds and the odd playful manatee or two. Oh, and did we mention it's also home to some of the world's rarest plants? You can follow the criss-crossing hiking trails through the trees or, if you don't mind spending a bit of money, hire a canoe and head out on to the water.
This is one of Florida's last remaining truly wild places, and is 100% worth a visit.
Step back in time in the Church Street District
This area of Downtown Orlando boasts some of America's oldest houses and most Instagrammable neighbourhoods. With a right old mix of dining, entertainment, retail and business for both locals and tourists, there's a reason this is the heart of Orlando! The highlight is Church Street Station. This beautiful building has been transformed into a hub of places to eat, drink and dance – we'd recommend going in the evening, when it really comes to life. But you don't have to spend a penny to enjoy this place. With a history going back more than a hundred years, its old Railroad Depot stands as a landmark of its past, existing long before Disney and Universal arrived. This is a great place to get a real taste of Orlando in times gone by.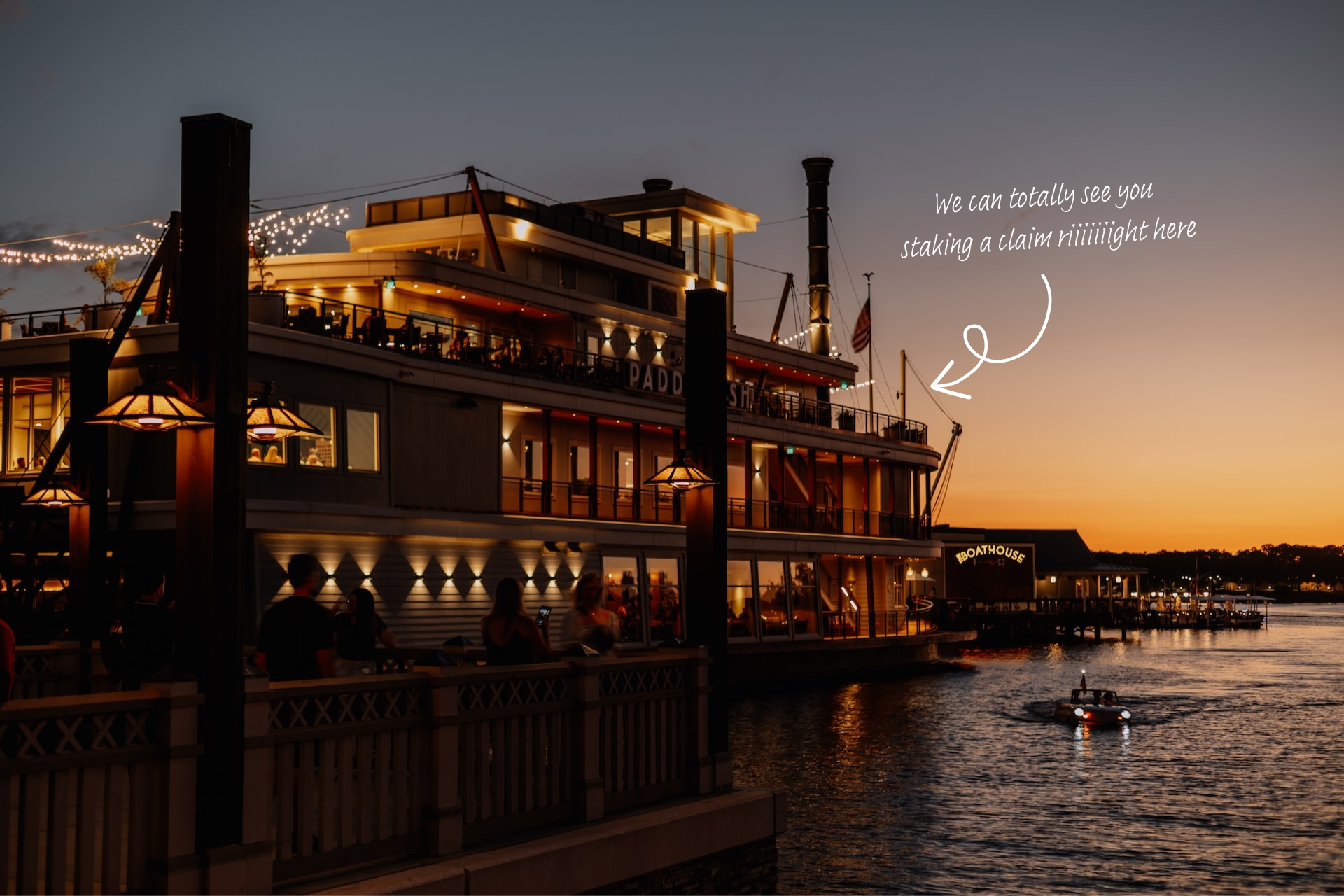 This waterside complex offers a mishmash of restaurants and shops – there's actually so much going on here it's hard to narrow it down! What began as a shopping village in the 70s has grown a little bit bigger. Its now home to four areas, each with its own distinct feel – Marketplace, The Landing, Town Center, and West Side. The Marketplace is the oldest of them all, and where kids will have the most fun we reckon. It's themed with loads of structures of Disney characters, and is particularly well known for its magical toy stores. Oh, and it also happens to have the biggest Disney store in the world… but maybe skip that one if you're trying to conserve the pennies! The Landing, meanwhile, is all about fancy restaurants. But Thursday through Sundays you can dance to the DJ's offerings come night. The Town Centre is a mecca for shopping, while West Side is the heart of the entertainment and nightlife – it has the Park Stage, where daily live music can be enjoyed for free!
But there's plenty more free things to get up to here: if you're travelling with kids, the Lego Imagination Centre is definitely worth a visit – they can build their very own Lego figures for free. or take to the water on a free boat ride with the Sassagoula Steamboat Company – this is up there with the top 3 things everyone loves to do at Disney Springs! In the Marketplace area you'll find the Waterside stage, where you'll be able to catch shows by Disney Performing Arts dances troupes by day and live music come night, but kids will really love the children's dance parties.
See! We told ya there's loads to get up to that'll cost you exactly zilch!
Be inspired by the Cornell Fine Arts Collection
With famous pieces from both America and Europe – including paintings by Pablo Picasso and Salvador Dali – Cornell Fine Arts Museum has quite a collection. You'll find over 5000 works of art here at their home in the Rollins Museum of Art – the only place in Orlando with a European Old Masters collection. Entry is free and, to top it off, complimentary tours run every Saturday at 1pm. Nice one! It's not all about rollercoasters around here, you know.
Explore Tibet-Butler Preserve
Get back to good ol' nature at Tibet Butler Preserve. You might just need it if you've been hopping all over the hustle and bustle of Orlando for the last few days. A 15-minute drive from Walt Disney World Resort, this green wilderness feels like a whole different world. There's 3.6 miles of well-kept and easy to do walking trails that loop through loads of the region's major habitats like longleaf pine forests, bayhead swamp, and cypress-lined lakeshore. Corral the kids, take a breather, and listen to the hoot of an owl and the call of an osprey and – if you listen really carefully and the wind is blowing juuuust right – the clunk-de-clunk of the Magic Kingdom train. With different trails for all abilities, it's a fab choice for families.
If you love it and reckon you'll defo be back, make sure to join the Trailblazers Hiking Program: each time you return log the miles you manage to get in and when you hit 20 you'll get a T-Shirt!
Sunbathe on Daytona Beach
An hour's drive from Orlando, Daytona Beach is a great day out for the whole family – it's also pretty much as All-American as you can get. You can drive straight on to the sands, unroll your towel, and chill out. With 23km of Atlantic Ocean beaches, we reckon there's a perfect spot for just about everyone. It's not all about flying and flopping here either – watch parasailers glide through the air above you.
Head to downtown Daytona for a staple that's been around since 1925 – Angell & Phelps Chocolates! Take a free self guided tour any time during regular operating hours and get a free sample to boot! We might just go around a few more times… For a more cultural approach, there's an altogether different free tour for you to go on at The Casements, the former winter home of Mr Rockefeller himself. Now the City of Ormand Beach's cultural center and a museum, there's free tours of the period rooms from 10 a.m. to 2:30p.m, Monday through Friday.
And for something a little…unusual, try Dunlawton Sugar Mill Gardens. The remains of an old English sugar mill sits in 12 acres of botanical gardens which were once home to 1940s-themed park, Bongoland. The life size dinosaurs are still sticking around – a fave with kids! Open daily from dawn to dusk, and absolutely free.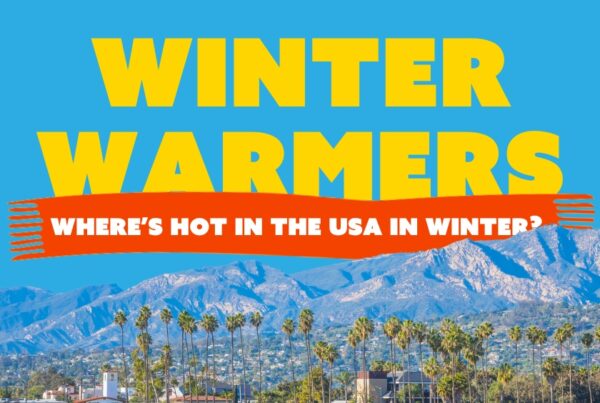 More and more of us Brits are getting on board with a winter break each year, with some skipping trips…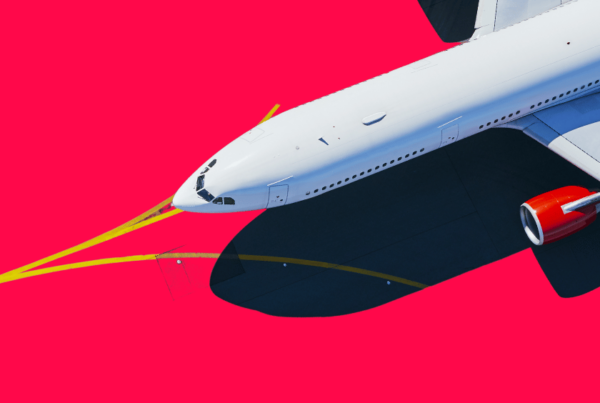 Everyone loves love. And it turns out, a lot of us are quite keen to find it at the airport.…
More and more of us Brits are getting on board with a winter break each year, with some skipping trips…