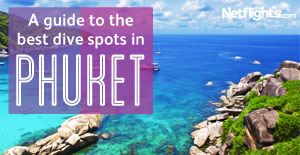 In addition to its delicious food, white sandy beaches and luxury hotels, Phuket in Thailand is one of the world's top diving destinations. Whether you're a beginner or have plenty of experience, we've rounded up some of the island's best dive spots so you can discover creatures and coral reefs in the warm waters of the Andaman Sea.
Phi Phi Islands
40 km south-east of Phuket you'll find the limestone monoliths of the Phi Phi Islands. Blessed with stunning scenery above and below the water, these islands are a favourite with travellers thanks to their beautiful beaches and diverse range of activities. Scuba divers of all levels can explore the caves and colourful coral gardens with schools of tropical fish, Leopard sharks and turtles for company. Though suitable for diving throughout the year, February to May offers the best conditions when the waters are calmer and warmer with visibility up to 20 metres.
The Similan Islands
Just a one day trip from Phuket you'll find nine islands teeming with marine life and spectacular scenery. Visit via one of many live-aboard boats from Phuket for mild conditions in warm, clear water. From November to Mid-May expect sea temperatures up to 28°C, perfect for encountering schools of brightly coloured tropical fish. Explore coral reefs to the east of the islands or move west for rocky drop-offs with visibility at 20-30 metres. For a multitude of tunnels swimming with blue-ringed angelfish and triggerfish, Elephant Head Rock's huge granite boulders are ideal for experienced divers.
Richelieu Rock
About 200km north of Phuket lies a submerged rock about 18km east of The Surin Islands. February, March and April are the best times for a visit when you'll have an up to 70% chance of swimming with a whale shark. The area is also home to a huge variety of marine life including anemones, sea fans, yellow boxfish nurse sharks and manta rays to name a few. As currents can be strong in the open water, this area is more suitable for intermediate divers.
King Cruiser Wreck
In 1997 the 85 metre passenger ferry 'King Cruiser' strayed off course and hit Anemone Reef on a routine trip to the Phi Phi Islands. Luckily there were no casualties and this wreckage is now one of the most popular dive sites near Phuket. Just 10 miles from Phi Phi Island, it sits perfectly upright at a depth between 12 and 30 metres with crabs, groupers and eels taking up residence amidst the ship's decks and walkways. Conditions can be rough with the regular strong currents and reduced visibility, making this site inappropriate for beginners.
Hin Daeng and Hin Muang
Below the surface of these two submerged rocks is one of Phuket's most charming dive sites. One of the shorter live-aboard trips south of the island, Hin Daeng (Red Rock) and Hin Muang lie just a few hundred metres apart in the open sea. General visibility is 20-30 metres with barracuda, reef sharks, vibrant soft corals, manta rays and whale sharks often spotted in the warmest, calm waters between February and April. These dive sites are best saved for more experienced divers as currents can be strong with the often rough conditions quite challenging.