British Airways turns 100 years old in 2019, and is celebrating a century of flying that has taken them to the furthest flung corners of the globe. From its early days of voyaging across little-charted parts of the planet, the "world's favourite airline" (as its strap line ran, for a while) has since helped make the world a smaller and more connected place to live.
Created from the merger of the British Overseas Airways Corporation (BOAC) and British European Airlines (BEA) in 1974, the airline we now know as British Airways is actually an amalgamation of many household names from times gone by. British Midland, Dan-Air London and British Caledonian have all helped make up the fabric of the BA of today. But while the company may have gone by a few different names since 1919, it has never wavered in its commitment to 'firsts'. Their achievements include:
July 1952: The world's first ever jet passenger flight takes place. A BOAC de Havilland Comet 1 flies 36 passengers between London Heathrow and Johannesburg via Rome, Beirut, Khartoum, Entebbe and Livingstone.
October 1958: A BOAC Comet 4 makes the first ever jet powered trans-Atlantic flight from London Heathrow to New York Idlewild via Gander.
January 1976: Supersonic flights on Concorde began with a service between London Heathrow and Bahrain. Service to New York JFK would begin in 1977.
September 1995: The world's first fully flat beds in First Class were introduced.
March 2000: The world's first fully flat beds in Business Class were introduced.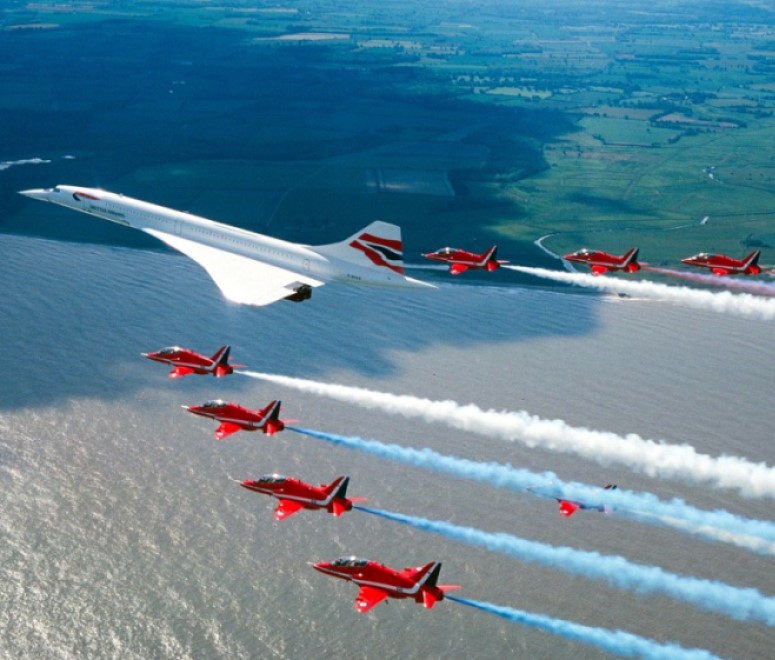 A lot has changed in the 100 years since one of British Airways' predecessors, Air Travel & Transport Ltd, launched it's first flight from London 'Hounslow Heath' to Paris 'Le Bourget' but the spirit of these early aviation pioneers lives on in those who today work tirelessly to make the modern day BA the award winning and revered airline of today.
It's no mean feat being in business for a century – especially in the cut-throat and unpredictable world of international aviation. But, thanks to a continuous focus on innovation and customer excellence, BA looks stronger than ever. New aircraft, such as the A350-1000, are due for delivery from Airbus next month. And a number of improvements to the passenger experience mark the next stage of fleet modernisation, including the debut of BA's new Club Suite in Business Class.
British Airways is running a number of centennial celebrations throughout the year. For example, it's commissioned a special range of alcoholic drinks. There's a beer from leading Scottish brewery Brewdog, named Speedbird 100, which is available in select BA lounges and onboard all flights; a white wine from Kent-based winery Chapel Down; and an English sparkling wine produced by Hampshire-based winery Hattingley Valley, reserved for First Class passengers. They'll also serve a whisky from InchDairnie Distillery (although that won't be ready until 2031!) and a 10-botanical gin, which they say will taste great at altitude.
The centenary will also sees BA expand on their 'BA Magic' campaign whereby the airline airline commits to 100 acts of kindness, which most recently saw former RAF and BA pilot Frank Dell, 96, of Sydney, Australia, revisit a cockpit for the first time in over 30 years.
Director of Brand and Customer Experience, Carolina Martinoli said of the visit, "As soon as we heard that former British Airways pilot, Frank, wished to take a trip down memory lane, we wanted to do all we could to make his dream come true by visiting a flight deck once again. We're absolutely honoured to have people like Frank and all our customers and colleagues join us in celebrating our milestone 100th birthday this year."
In a more visible move, the airline has also painted four of its aircraft in to special retro liveries to celebrate the anniversary. An A319 sports the BEA livery whilst three B747-436's each wear the BOAC, Negus, and Landor liveries which adorned the 747 fleet at various times from the 1960s through to the 1990s. It's proving a nice trip down memory lane for many people.
BA has also launched an advertising and marketing campaign based around its centennial. Although its celebrity-heavy TV ad certainly got people talking and once again draw the link between the airline and the key constituents of 'Brand Britain', our favourite remains the 'Pioneers' campaign of 2011, which we still feel best captures the BA spirit and its uncompromising commitment to quality.
On August 25th 2019 we'll celebrate 100 years of British Airways flights. No doubt there will be many more years to come.