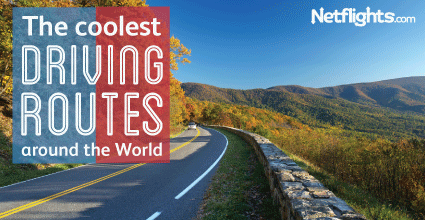 Cruising through scenic Alpine mountain passes, remote African deserts and along classic roads ringing with musical heritage, these are some of the world's coolest driving routes. All you have to do is plan your playlist, jump behind the wheel and crank up the stereo.
Best for adventure: The Skeleton Coast, Namibia
There's a very good reason this lonely part of the world has such a chilling name. Namibia's coastline is littered with skeletons; from bygone whaling operations, seals and, yes, humans too. There's a liberal dashing of shipwrecks, as well as abandoned oilrigs and diamond mines. Throw in pea soup-thick sea fog, winds that chill you to the bone and a generous helping of wildlife, and it somehow adds up to a beautiful, almost otherworldly experience.
As you drive the region's mountain ranges, canyons and ever-shifting sand dunes you'll find yourself on safari, spotting desert-adapted elephants, black rhino, lion, seals, cheetah, giraffe, springbok, zebra, hyena and almost 250 species of birds. Hire a car in Swakopmund and drive to Springbokwasser Gate, the Skeleton Coast National Park's eastern entry/exit gate. Two hours is the minimum amount of time it takes to travel between the two, but every second will make your jaw drop.
Best for pure driving: Davos, Switzerland, to Stelvio, Italy
This is the road of road-trip fantasies. 120 miles of smooth tarmac through picture-perfect Alps. Think snow-capped mountains, pine trees, glacial lakes and lots and lots of switchbacks and mountain passes; in the region of 60 hairpin bends at the Stelvio Pass, in fact.
Top Gear christened this "the greatest driving route in the world". But with great status comes great popularity, so avoid peak season in the middle of summer. In spring and autumn, however, this route is a dream, albeit not one for inexperienced drivers, or vertigo sufferers.
Best for the ultimate road trip soundtrack: US Route 61, USA
US Route 61 isn't just a scenic route. It's a musical odyssey. The 700-mile route from Nashville, Tennessee to New Orleans, Louisiana is known as The Blues Highway. It's a drive imbued with music, and history. Mississippi and Louisiana were the cradle of the Civil War and it was along this route that freed slaves travelled north, adding to the area's legendary musical legacy as they went.
Start in Nashville and get into the swing of all things country music. Next up, Memphis, launch pad of Elvis Presley, Johnny Cash and Jerry Lee Lewis. Finally, rock up in New Orleans, birthplace of jazz, where the music spills out onto the pavements. Arrive during Mardi Gras for the ultimate 'Big Easy' experience.
Best for beaches: Great Ocean Road, Australia
Beyond a doubt, one of the world's greatest scenic routes, the Great Ocean Road cruises for 150 miles along Australia's southern coast. You'll encounter everything from beaches and breweries to petrified forests and fireflies.
The route rolls into action in Torquay, birthplace of the iconic surf labels Rip Curl and Quicksilver. About half way along the route are the iconic Twelve Apostles, towering sea stacks pounded by the wild Southern Ocean. The name is misleading; there are only eight left but the view is still astounding.
Best for scenery: Old Military Road in the Scottish Highlands, UK
The Old Military Road has been pegged as the UK's best driving road. It soars for 80 miles from Blairgowrie to Grantown-on-Spey, through Braemar and the rugged heart of the Caingorms National Park.
There's barely any traffic – everyone who wants to get somewhere quickly is on the A9 that runs along the west edge of the national park – but there are beautiful curves, stomach-swooping ups and downs, hairpin bends, wild and remote moorland scenery and, if you're lucky, deer, snow rabbits and grouse. There are also distilleries to pop into for tastings – try Royal Lochnagar and Glenlivet – but you're best sampling them after the hairpins.