Just when you thought island life couldn't get much better…
There's more to meets the eye than the beautiful beaches of Mauritius, so let us show you what else paradise has to offer! 
Don't miss!
Mont Choisy Beach
Port Louis
Mahebourg Market
Labourdonnais Orchards
Mauritius Aquarium
Nobody lucky enough to visit Mauritius should miss the chance to relax and soak up some sunshine on the island's best-loved and most photographed beaches. However, don't miss out on some of the less-visited beaches that dot the Mauritian coastline. Also don't overlook other key attractions – for visitors, there's plenty more to this tropical island than sand and sea.
Mauritius' most popular beaches include the magnificent Trou aux Biches Beach on the northwest coast, Belle Mare Beach in the east and the long, pristine stretch of Flic en Flac Beach in the west. Busy Grand Baie beach is popular for water sports, and the beautiful Pereybere beach is excellent for swimming and snorkelling.
For beautiful Mauritian beaches that aren't quite as busy, especially on week days, consider visiting:
The three-kilometre Mont Choisy Beach shaded by casuarina trees and surrounded by translucent lagoon water
The beautiful beach on Ile aux Cerfs is a small island just off Mauritius's east coast; you can get there via a 30-minute boat trip from Pointe Maurice
Blue Bay Beach, with its long stretch of white sand and deep blue waters, off the southeast coast
The beach at the fishing village of Cap Malheureux, which offers good snorkelling and views toward the small islands of Coin De Mire, Ile Plate and Ile Ronde
Tamarin Bay, which has open waves and is popular with surfers
Also consider visiting beaches at the unspoilt south side of the island. As there's less development than elsewhere on the island, there are several beautiful spots, including a break in the coral reef that encircles much of Mauritius; so the coast is less protected and you'll see much rougher surf.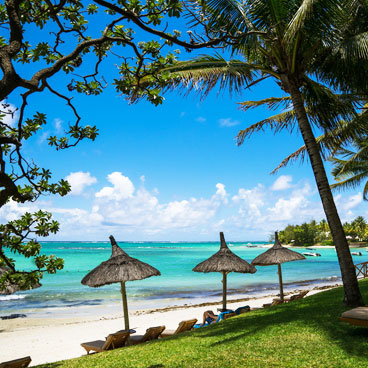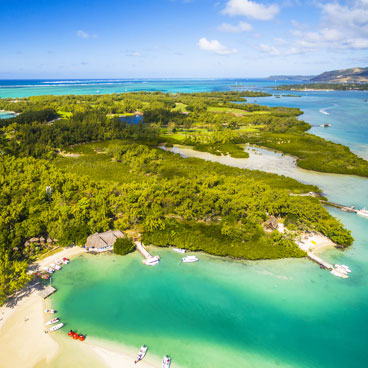 Mauritius cultural and historical attractions
Port Louis buildings and markets
The charming capital city of Port Louis still features many colonial buildings that date back to the 18th and 19thcenturies. Among these is Fort Adelaide (also known as La Citadelle), which overlooks the harbour and was built by the British in 1835. Other key attractions in Port Louis are the attractive Caudan Waterfront, with its shops and restaurants, the old Port Louis theatre, a naval history museum, the colourful Port Louis Central Market and Mauritius's own small Chinatown.
Triolet
The village of Triolet, surrounded by sugarcane plantations, is home to the island's largest Hindu temple, the Maheswarnath. This colourful temple, which dates back to 1819, is dedicated to the gods Shiva, Krishna, Vishnu, Ganesha, Muruga and Brahma.
Cap Malhereux
At Cap Malhereux in the north, you'll find an authentic fishing village and a picturesque chapel with a distinctive red roof.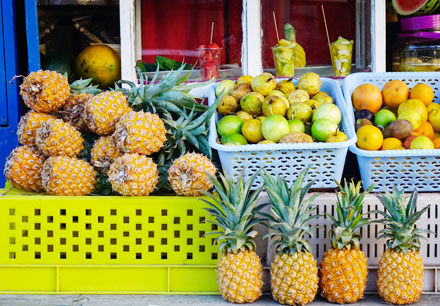 Vieux Grand Port
At Vieux Grand Port on the southeast coast of Mauritius, you can see the ruins of the earliest Dutch fortifications on the island.
Traditional markets
Port Louis' busy Central Market operates daily and sells everything from tropical fruits and vegetables to spices, fabrics, souvenirs and local crafts. Other more traditional markets, where you'll find an amazing array of colourful goods, include:
Mahebourg Market, which is held every Monday and features everything from fruit, vegetables and spices to DVDs, clothing and traditional Indian and Chinese food
The open-air fruit and vegetable market at the east-coast village of Flacq, held every Wednesday and Sunday
The Sunday Quatre Bornes Market; especially for clothing and textiles
Mauritius gardens and reserves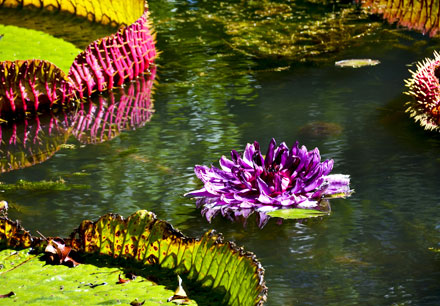 Labourdonnais Orchards, Mapou
At the Labourdonnais estate, named after the French governor Mahé de Labourdonnais and dating to the early 1800s, you can tour the carefully restored chateau, and walk in the surrounding gardens and tropical fruit orchards. You can also sample the estate's jams, jellies and fruit juices.
La Vanille Reserve des Mascareignes
In the unspoilt south of the island, the 3.5-hectare La Vanille Reserve des Mascareignes is home to large numbers of Aldabra giant tortoises, alongside Nile crocodiles.
Mauritius Aquarium
The Mauritius Aquarium at Pointe aux Biches showcases more than 200 species of Mauritian fish and sea creatures. It includes a giant tank for predators (daily feeding time is 11 a.m.) and a touch pool for children.
Sir Seewoosagur Ramgoolam (SSR) Botanical Garden
The 37-hectare Sir Seewoosagur Ramgoolam (SSR) Botanical Garden in the north of Mauritius is one of the world's most remarkable botanical collections. Originally known as the Pamplemousses Botanical Garden, it was founded in 1770. The garden is famous for its giant Victoria amazonica water lilies, with leaves so wide (up to 3 metres) that it's said you can walk on them without sinking. Other highlights are a huge collection of different types of palms, a spice garden and baobab and mahogany trees.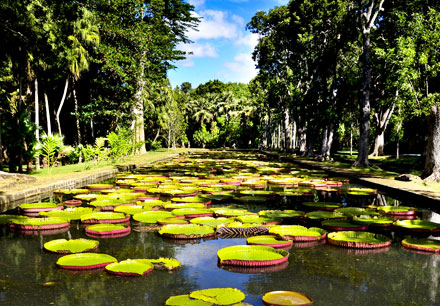 Discover this dream destination with Netflights.com