Saint Patrick's Day, or "St Paddy's", started in the early 17th century as a Catholic feast day, marking the death of the patron saint of Ireland. Today it's a worldwide celebration of Irish culture. If there's green water in the fountains, the beer has a neon glow and everyone you meet is wearing at least one green item, you can be sure that it's March 17 – whether you live in Dubai, Argentina, Japan or even the small Caribbean island of Montserrat.
Irish communities in countries throughout the world have helped drive the popularity of Saint Patrick's Day, using it to celebrate their roots and show off Irish traditions. More than that, though, Saint Patrick's Day has become associated with good fun. It's marked by parades, plenty of beer, good comforting Irish food and a spirit of merriment – and you can't keep people away from a good time, whether they're Irish or not!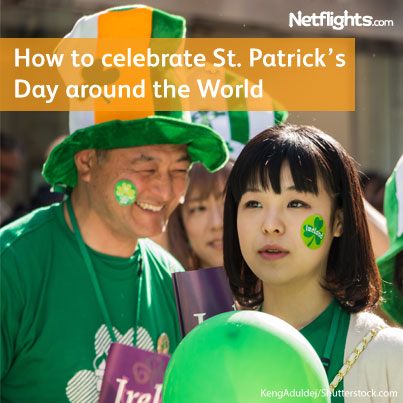 Saint Patrick's Day in the United States
As many as 34.7 million Americans are of Irish descent, so it's no surprise that Saint Patrick's Day is raucously celebrated throughout the country. There are parades and major events in all the major cities, and people decked in green take over the streets and pubs, all in good fun.
After Dublin, New York boasts the biggest Saint Patrick's Day celebrations, with a parade that attracts upwards of 150,000 marchers. It has been held annually ever since 1762, making it one of the oldest St. Paddy's Day celebrations in the world.
Not just in New York but in cities like Indianapolis, Jamestown and Chicago, green dye is poured down canals and rivers. Fountains at the White House splash out brilliant green and the Dallas skyline is lit up with an electric green glow.
Saint Patrick's Day in Canada
In Canada, Montreal has been holding parades since 1824. Also in honour of Saint Patrick's Day, Toronto holds one of the largest annual parades in North America, with over 30 floats, a dozen bands and thousands of marchers in costumes, ranging from talking shamrocks to leprechauns.
Saint Patrick's Day in Australia
Australians have been celebrating the day since 1810, and few people throughout the country miss the chance for a bit of fun.
The largest Irish event in the Southern Hemisphere takes place in Sydney with celebrations on the streets, a parade that starts at noon and then plenty of Irish music and fun at Hyde Park North. The iconic Sydney Opera House is lit with mesmerising green to mark the day.
Saint Patrick's Day in Japan
It's not only parts of the world with large Irish communities that celebrate Saint Patrick's Day. In fact, Japan loves it, with parades and events held throughout the month of March. Tokyo is host to Asia's largest Saint Patrick's Day parade, which – barring a break in 2013 due to the tsunami – has been held since 1992.
Saint Patrick's Day in South Korea
In South Korea, Seoul has been celebrating Saint Patrick's Day with an annual parade since 1976. In 2014, the parade will be held in the Cheonggyecheon area, alongside a river that runs through downtown Seoul.
Saint Patrick's Day in Argentina
Not to be left out are the South Americans, with their reputation for knowing how to party. Each year in Buenos Aires, Argentina, up to 50,000 people take to the streets and local bars, making for one of the world's largest annual celebrations of Saint Patrick's Day.
Saint Patrick's Day in Montserrat
Along with Newfoundland and Labrador in Canada, the Caribbean island of Montserrat recognises the day as a national holiday. The island was founded by Irish refugees from Saint Kitts and Nevis, and each year celebrates its Irish heritage with a week-long party. By coincidence, 17 March also commemorates the day of a slave uprising on the island, in 1768. This makes for a unique experience of the festivities, which include plenty of traditional local food, music and performances.