[nectar_slider location="Self-drive Garden Route" full_width="true" arrow_navigation="true" slider_button_styling="btn_with_preview" overall_style="classic" parallax="true" loop="true" slider_transition="slide" button_sizing="regular" slider_height="550″]
Explore the magnificent Garden Route - considered to be one of the world's greatest coastal drives.
Hiring a car in South Africa gives you great flexibility and freedom to stop off anywhere along the way. Take the drive at you own pace as you experience and explore the stunning scenery of South Africa.
Don't miss!
Mossel Bay
Garden Route National Park
Goukamma Nature Reserve
Knysna Lagoon
Plettenberg Bay
Prepare to be amazed by the spectacular scenery and dramatic contrasts of the idyllic beaches, rugged mountains and lush forests, as you journey between Cape Town and Port Elizabeth.
Cape Town is a lovely city and a trip to South Africa wouldn't be complete without a visit here. Discover the historic buildings, take a cable car up to the iconic Table Mountain, enjoy a trip to the infamous Robben Island or relax amid the vibrant shops.
Don't leave Cape Town without:
Shopping at Greenmarket square for some unique souvenirs
Visiting Robben Island, South Africa's Alcatraz
Enjoying sundowners on the Atlantic seaboard
Standing on the end of the peninsula at Cape Point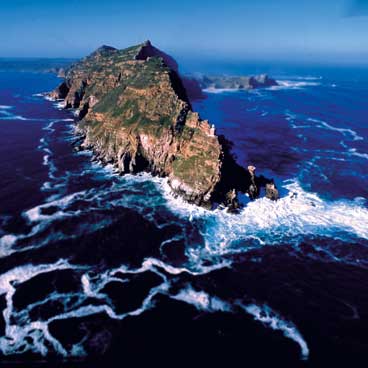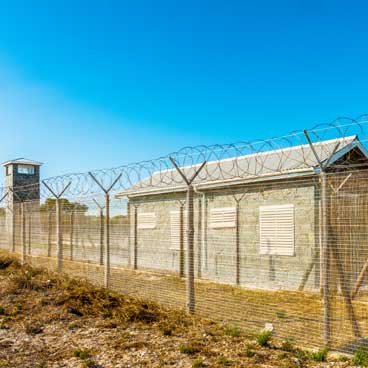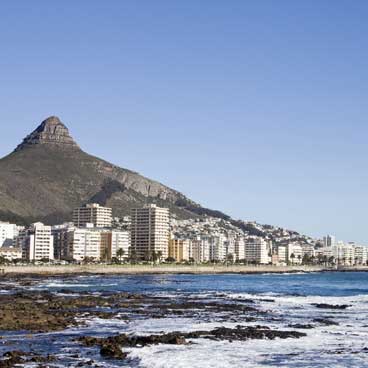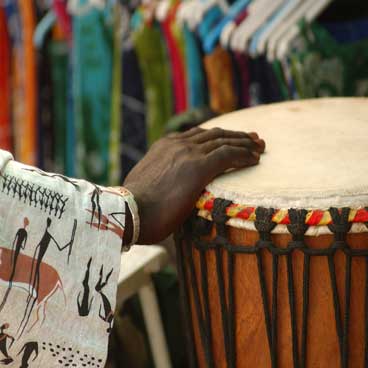 The Cape Winelands are a major tourist attraction in South Africa. Amble through wine trails, explore quaint and historic towns, dine on mouth-watering cuisine as you sample stunning vintage local wines. The Cape Winelands region is the home of the famous Cape wines, here you'll fine row upon row of grapevines planted over a hundred years ago. The Cape Winelands are great for a day trip, but if you can spare a night or two we'd highly recommend a stay over in the area.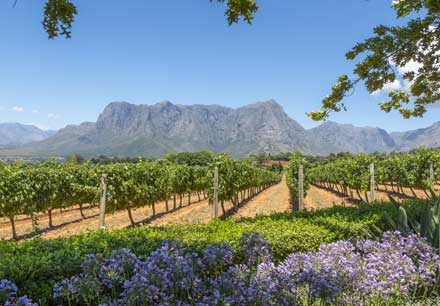 Don't leave the Cape Winelands without:
A behind the scenes tour at a local winery
Devouring a French-style picnic in the lovely gardens of Boschendal
Dining at one of Franschhoek's first class restaurants
Enjoying local art exhibitions at one of the many galleries and craft shops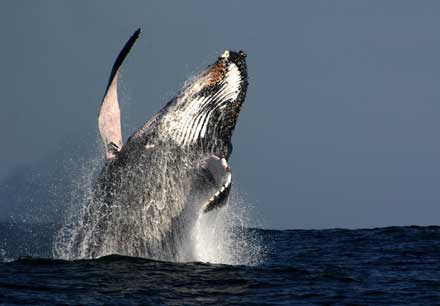 Hermanus offers great attractions, including some of the finest land-based whale watching in the world. Southern Right whales have been sighted on many occasions between July and December (peaking in August and September), when the whales come right into the bays to give birth. At that time, enthralling sightings – both from land or sea – are a daily occurrence with spectacular breaches and other acrobatics hence its colloquial name, the Cape Whale Coast.
Don't leave Hermanus without:
Taking a trip to the Old Habour, an excellent spot for whale watching
Great White Shark Diving
Taking a stroll down one of the stunning sandy beaches via the coastal trail
If you looking for sunshine, stop off at Outdshoorn. Outdshoorn sees the most sun per year out of the whole country. 365 sunshine days, 4 summers plus sunny, dry winters await the visitor to the Klein Karoo. You'll love windless days at Klien Karoo as it's shielded by the mountain ranges.
Oudtshoorn is the ostrich capital of the world. The world's biggest bird is just one of the many attractions in this area of exceptional contrasts and natural beauty.
This region is also home to the spectacular Cango Caves, Africa's largest show cave system; an ecological hotspot.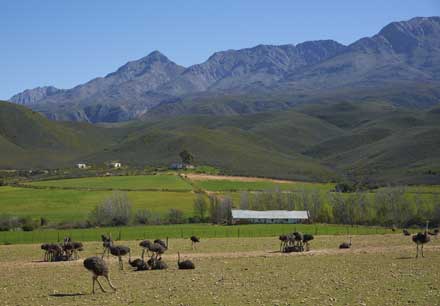 Don't leave Oudtshoorn without:
Visiting the Cango Caves
Visiting an Ostrich farm
Visiting Oudtshoorn Golf Club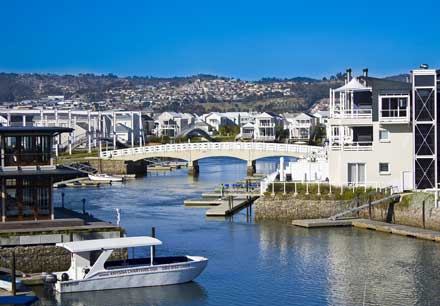 Nestled between beautiful indigenous forest and the shores of the pristine Knysna estuary, Knysna is a beautiful holiday destination. Not only has Knysna become synonymous with its magnificent oysters, but visitors can explore its natural beauty through its many mountain biking / hiking trails, whale watching and boating charters.
Don't leave Knysna without:
Walking along the lagoon and taking a coffee at one of the many shops at the waterfront and head straight on for The Heads
Visiting Knysna Elephant Park
Sampling Knysnas' delicious Oysters
You will never forget the first time you see Plettenberg Bay. Once named Bahia Formosa, or 'Beautiful Bay' by early Portuguese explorers, Plett is also called the 'Jewel of the Garden Route' – an Internationally recognised Natural Heritage area in South Africa, stretching from Storms River on the border with the Eastern Cape to the town of George. Surrounded by a mountain backdrop as far as the eye can see, Plettenberg Bay offers the best of nature, beaches and coastline, along with excellent accommodation, dining and tourist attractions. Plettenberg Bay is South Africa's premier holiday resort with magnificent beaches and weather to match!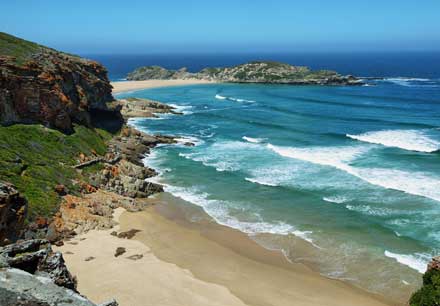 Don't leave Plettenberg without:
Visiting The Robberg Nature Reserve
Seeing the Keurbooms Lagoon
Making a stop at a Wildlife Sanctuary
Port Elizabeth offers visitors a choice of stunning beaches, interesting museums and memorials, award-winning wildlife destinations, plus cultural and historical sights. Port Elizabeth is also home to some of the countries friendliest people.  Also known as the Windy City, Ibhayi ('the bay' in isiXhosa) or the Friendly City – Port Elizabeth is a coastal hub in the Eastern Cape where locals proudly proclaim that everything lies within 15 minutes' drive of the airport.
Don't leave Port Elizabeth without:
Visiting the award-winning luxury Shamwari Game Reserve
Going on Safari
Going on a Raggy Charters Boat Trip
Start planning your self-drive Garden Route holiday with Netflights.com today. Book your South Africa car hire with us and discover the best low prices.