The glitz and glamour of Hollywood, fabulous weather, extravagant shopping, hidden gems and the chance of spotting an A-lister; yup you're in Los Angeles.
But with so much to see and do it's easy to get lost in 'la la land.' Which is why we've compiled an A – Z of everything L.A., comprising of well and lesser known things to assist you on your travels.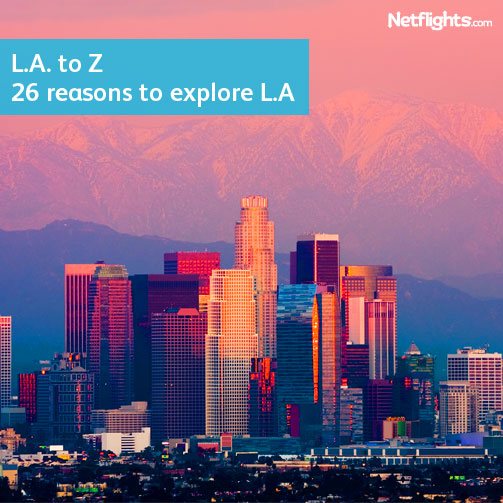 A is for Amir's Garden
A well-kept secret of L.A., this garden is tucked away in Griffith Park, providing the perfect private escape. Maintained by volunteers the garden is filled with colourful flowers and palms, provides excellent views and is home to various birds and lizards.
B is for Bran Van 3000
Drinking in L.A.? Ok so the song only shares a name with this wonderful place, but don't your travels need a soundtrack? Well here you go; enjoy.
C is for Cemetery
This may seem a little morbid but The Hollywood Forever cemetery is the final resting place for many tinsel town veterans. The tranquil surroundings of the lakes, palm trees and green grass make for a peaceful stroll in the otherwise busy city. You may even spot a peacock.
D is for Dodgers
Watching baseball is something everyone visiting America should do. Here in L.A. you can visit the Dodger Stadium and catch a game. Make sure to appreciate the views, with downtown Los Angeles to the south, the Elysian Hills to the north and east and the San Gabriel Mountains beyond.
E is for El Pueblo
This colourful neighbourhood is the heart of the Mexican community. Observe a unique history as music fills the air, and restaurants and street vendors sell delicious Mexican food on the Calle Olvera promenade.
F is for Fairy Tale Homes
Living in L.A. may be described as a fairy tale, and some took that literally when they built their houses to resemble those in a child's story book. The cottages in Los Feliz are what inspired the dwarf's house in Snow White.
G is for Griffith Park and Observatory
This 3,000 acre park is filled with so much to see and do, including a Greek Theatre, horseback riding, hiking, an observatory and excellent views of the Hollywood sign. This is the largest municipal park with urban wilderness area in the United States.
H is for Hollywood Boulevard
This is possibly the most famous boulevard in the world. Act like a true tourist and take in all the fabulous landmarks, such as the Chinese Theater, Capitol Records Tower, the Walk of Fame and Grauman's Egyptian Theater.
I is for Institute of Abnormal Arts
Prepare for the weird and wonderful at this freak show of a museum. Here you'll find everything from shrunken heads to old carnival props, amongst other strange artefacts; you can even stop for a drink.
J is for JR in L.A
Not the one that got shot, the TED Prize winning street artist. Throughout the city you'll find a number of his works on the sides of buildings, think Banksy for L.A.
K is for Killers
The Museum of Death may sound terrifying, and in a way it is. Here you'll find an array of strange artefacts that have been collected from murder scenes alongside paintings created by serial killers. Interesting but not for the weak stomached.
L is for Little Tokyo
The social, cultural, religious and economic hub of Japanese-American residents; the area features insightful museums, delicious and authentic restaurants and beautiful Japanese gardens.
M is for Missiles
During the Cold War, Bel Air concealed something other than celebrity scandals; missiles. Just off Mulholland Drive you'll find an abandoned missile silo; great for exploring and getting an alternative look at something you've never heard about in L.A.
N is for Nazis
If you venture to Rustic Canyon in the Pacific Palisades, you'll find Murphy Ranch. Hidden amongst the hills are a number of eerie buildings and staircases, left behind from World War II, where Nazi sympathisers hid to await the German invasion.
O is for Oscars
And the academy award goes to … well no one. But if you visit the Dolby Theatre on the corner of Hollywood and Highland, you can take a tour of one of Tinsel Town's most prestigious venues.
P is for Pizza
Los Angeles may not be renowned for their pizza like New York, but restaurant's like Apollonia's, Gjelina and Hollywood Pies could very well give some NYC restaurants a run for their money.
Q is for Queen Mary
Situated on Long Beach is one of the area's best known tourist attractions. The Queen Mary of the Sea has sat here longer than it sailed, and provides daily tours where visitors can learn about the ghosts and legends of this majestic ship.
R is for Ruins
At San Pedro you'll find the Sunken City. What was once a beautiful suburban neighbourhood is now six acres of wasteland, that wouldn't look out of place in a post-apocalyptic movie. Tourists can take a nature trail around the graffiti covered former suburb that collapsed into the sea.
S is for Sculpture
Act like a local, grab a picnic basket and spend the day in The Franklin D. Murphy Sculpture Garden and observe the beautiful sculptures scattered throughout.
T is for Tar Pits
This National Natural Landmark has basically become known as a grave yard for mammoths and other animals. The tar has seeped up over thousands of years, and bones of animals once trapped have been unearthed over time. Some of these can be seen at the Page Museum.
U is for Universal Studios
An obvious choice but one you need to visit none-the-less. If you think the UK has brilliant theme park rides, then you wait until you go here; you've not experienced anything like it.
V is for Viper Room
Once part-owned by Johnny Depp, this hangout for the Hollywood A-List became infamous for the death of River Phoenix. Due to its history, The Viper Room is a nightclub you simply need to visit when in L.A.
W is for Watts Towers
A National Historic Landmark and a California Historical Landmark, these 17 towers were created over a period of 33 years from the 1920's to the 1950's. Marvel at the grand scale of these fantastic pieces of architecture made from scrap; one even stands at 99 feet tall.
X is for X-treme Sports
One thing Los Angeles is known for is a love of health and fitness. Because of this there are various extreme sporting activities to partake in such as, paragliding, bungee jumping, skydiving, surfing, go-carting and many more.
Y is for The Yards
The yards of Hollydale Asylum are a great place to visit for those who like things creepy. Once a place where poor people were put to work, this place lives on in many people's nightmares. Complete with a painful atmosphere of suffering, this is a great place to check out for an alternative side to L.A.
Z is for Zoos
Rather than visit the zoo filled with animals, why not check out the ruins of the abandoned old zoo. Explore the fake caves and cages that once housed many animals for the ultimate alternative zoo visit. The grounds here are the perfect place to have a secluded picnic.