Everyone loves love. And it turns out, a lot of us are quite keen to find it at the airport. TikTok is full to the brim with videos tagged #airportcrush, and now Netflix has just wheeled out its latest romcom, Love at First Sight, based on the Jennifer E. Smith novel, The Statistical Probability of Love at First Sight about two people headed to London from New York who meet by chance at JFK, thanks to a missed plane and a phone out of juice.
We thought we'd round up a bunch of films with airport meet-cutes to make you melt, and the best bit is you can watch them whilst waiting for that airport crush to show up in the departure lounge…
In the vein of Chandler from FRIENDS, could this movie be anymore airport-y? It's based on a novel of the same name by Walter Kirn, and follows corporate "downsizer" (AKA the guy who politely fires you) Ryan Bingham, played by George Clooney.
Flying across the country firing people means he racks up a lot of airline miles along the way, with his ultimate goal being to become the 7th person to attain the fabled 10 million miles with American Airlines ("More people have walked on the moon," he's quick to stress), and the lifetime executive status and chance to meet the chief pilot that comes with it, as well as a plane named after him.
But what about the meet-cute? That's where Alex (played by Vera Farmiga) comes in, another business professional collecting frequent flyer miles like it's fun. They meet in an airport hotel bar (okay, not strictly the airport but its close enough!) and swoon over their car hire preferences and loyalty cards, especially Ryan's American Airlines Concierge Key ("Oh god, I love the weight of that.")
It's a classic! A man sees a woman across the bar, asks her "Are you satisfied with Maestro?" and the rest is history.
Okay, maybe there is one more film that's even more airport-y – and that's gotta be The Terminal (2004), starring Tom Hanks. Based on the absolutely mental (but completely true) story of Mehran Karimi Nasseri, who had the layover of layovers when he stayed at Paris Charles de Gaulle Airport's Terminal 1 for 18(!) years after he lost his refugee passport and France denied him entry.
The film turns it into a comparatively short layover of just 9 months, and follows the story of Viktor Navorksi who gets stuck at JFK after his fictional home country of Krakozhia undergoes a coup. There he befriends all sorts of airport workers, from a janitor to an immigrations officer, but most importantly he meets Amelia Warren (Catherine Zeta-Jones), a United Airlines flight attendant who's bummed out when she discovers that after travelling around the world for 27 hours on 4 back-to-back flights that her boyfriend has chosen to spend the weekend with his wife instead. Typical. "One man, two womens. Crowded." Viktor tells her after he gives her a hanky to dry her tears.
They commiserate under the departures board, and she asks him "You headed for home?" "No, no," he tells her, "I am delayed…a long time."
This is more of an…unusual airport meet-cute, but it happens in an airport so it counts!
In Warm Bodies (2013) it's been 8 years since the world underwent a zombie apocalypse – the most romantic of settings. A bunch of these zombies, including one called 'R' (he can't remember his name, being a zombie and all) have made an airport their home. One day, Julie and a group of other people are sent to the airport (turned into a makeshift hospital in the early days of the apocalypse) to scrounge for medical supplies.
Cue meet-cute. It's another classic: Zombie sees girl from across the terminal and it's love at first sight. To stop her brains from becoming lunch for his zombie pals, he smears blood on her face, teaches her the basics of how to act like a zombie, and takes her back to his pad – the cabin of an abandoned plane – to keep her safe from the hordes. Ah, we could only hope to meet someone like that!
We'll admit, this one isn't mega airport-y, but it does start in one, and there is a meet-cute – only this time the meet-cute involves a man (Tom Cruise) bumping into a woman (Cameron Diaz), sleight of hand, and a toy figurine hiding a battery with enough juice to run a small city.
Cruise plays a rogue CIA agent doing a runner from Kansas with a mega powerful battery, and to get this small but mighty power source through airport security, he targets June, a woman who's restoring her dad's '66 GTO and just happens to a have a whole bunch of bits of metal in her suitcase to hide it in. Kansas has the best scrap, apparently.
It's a match made in Wichita.
Friends with Benefits (2011)
Friends with Benefits (2011) follows the story of Jamie Rellis (Mila Kunis) a headhunter from New York, and Dylan Harper, a Los Angeles art director that she's trying to nab for a role with GQ.
They first meet at Newark Airport, where Jamie fangles a welcome sign for Dylan using the back of someone's pre-used card and some lipstick, but wind – there's always a gust of wind at some point in a love story – blows it out of her hands, leading her on a wild goose chase along the conveyor belt, dodging luggage (and occasionally helping people collect theirs, because if you're already up there…), when at last she's finally almost got it, and she reaches for it at the same time that Dylan does andddddd, well, the rest would just be spoilers.
Fancy finding some love at first sight at the airport? You'll need a ticket then, and we've got loads of cheap flights waiting for ya.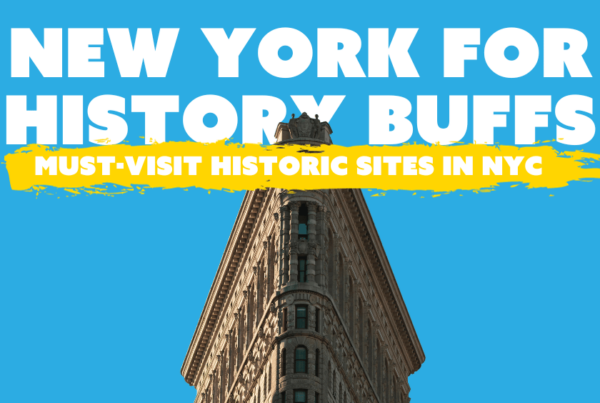 New York might have a lot of shiny new things, but it's also got a whole load of history behind…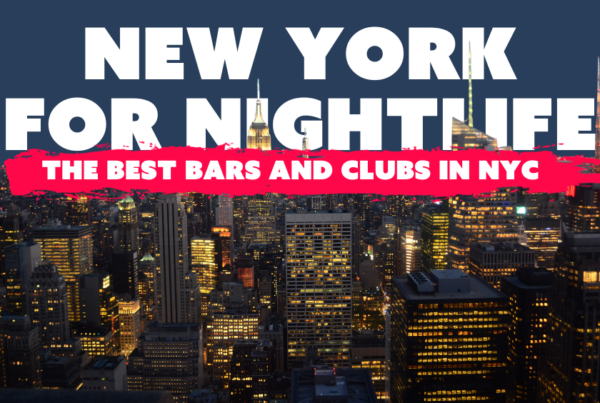 It's literally the city that never sleeps, so if anywhere is gonna have some decent nightlife, it's New York. Grab…
New York is well known for its daze-inducing department stores and big brand names, so we reckon there ain't anywhere…