Although you might associate San Francisco first and foremost with its iconic cable cars and the Golden Gate Bridge, the city is also much loved for its pedestrian walkways and commercial corridors designed to encourage pedestrian traffic.
24th Street – Noe Valley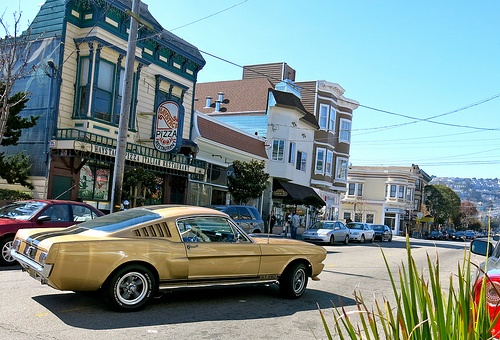 At the geographic centre of San Francisco lies Noe Valley, a green neighbourhood nicknamed "Stroller Valley" for all the baby strollers, dog walkers and general foot traffic in the area. 24th street is the main commercial thoroughfare. It is dotted with Victorian homes, restaurants and excellent local eateries. The area is also a mecca for small business. You'll find everything from nail salons and local clothing retailers to retailers of Persian rugs, wine and jewellery – a true shopaholic's heaven.
Union Street – Cow Hollow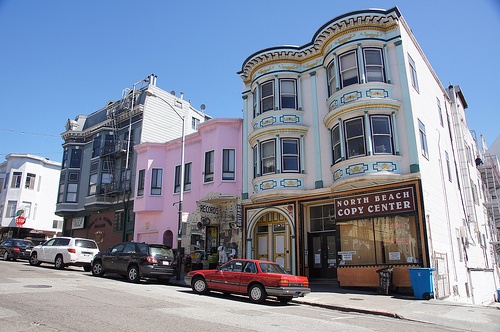 Originally the land at Cow Hollow was used for cattle grazing. Now this affluent neighbourhood, located between Russian Hill and The Presidio, features a vibrant and eclectic mix of single's bars, spas, eateries and boutiques. A young and trendy area, Union Street is where night-time merrymaking happens. For the best walking experience, visit Union Street during the day and stop at one of its many sidewalk cafes.
Chinatown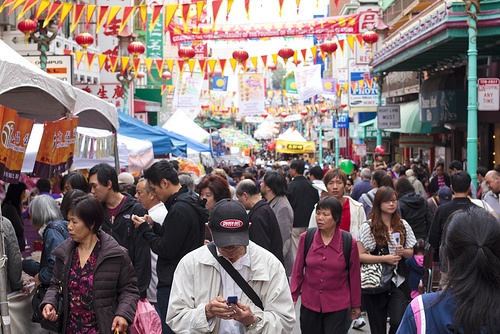 Established in 1848, San Francisco's Chinatown is the oldest Chinatown in North America. The Chinese community here is the largest outside of Asia, and its historic and cultural identity survive in the neighbourhood's architecture, food, shops and places of worship. Visitors will quickly find themselves immersed in a world of herbal shops, noisy butcher shops, pagoda roofs and dragon parades, which fill the street with colour and music. Any walking tour of San Francisco's Chinatown should begin with Dragon Gate, an arch that was gifted to San Francisco by the Republic of China in 1969.
Downtown – Financial District
The incredible architecture in the financial core of the city is not to be missed. When the concrete jungle gets too much for you, find a guide to the downtown POPOS, or "Privately Owned Public Open Spaces". These are green oases amidst the bustle of the city, many offering incredible views. If you're passionate about historic buildings, be sure not to miss the Hallidi building at 150 Sutter Street. Although it may not look like much from the outside, it's one of San Francisco's most historically significant buildings, and is considered by some to the world's most important building for its innovative use of entire walls made of glass. The building has come to be known as the "glass curtain".
Valencia Street – Mission District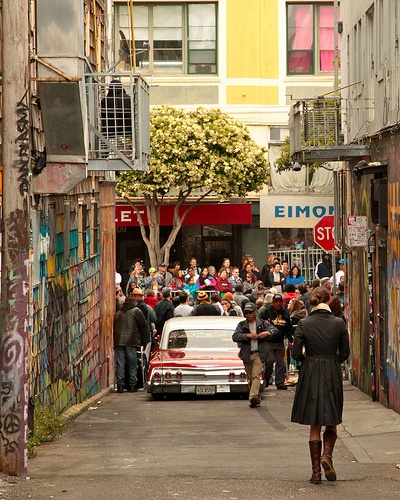 With a decidedly alternative atmosphere, the Mission District has a history as a bohemian village. It's also home to several Latino cultural institutions, and hosts the annual Carnaval Parade, which usually takes place in late May. The Parade showcases cultures from around the world, with lavishly dressed performers and musicians to entertain you as you stroll by. Valencia Street is known for its beautiful murals, inspired largely by the Mexican paintings of Diego Rivera.
South Park, SoMo – "South of Market"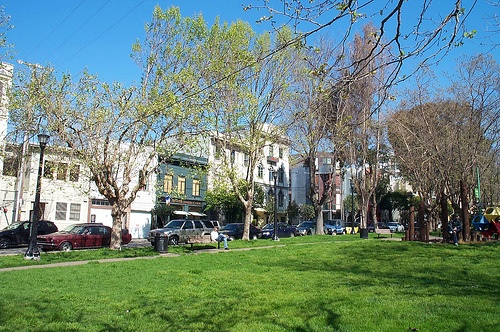 South Park is named after the oval-shaped park at its centre. Dating back to 1855, the park was originally intended to be the centre of an exclusive residential community. The area is now a mixed-use neighbourhood, with local businesses and restaurants dotting the sidewalks that encircle the park, as well as many large apartment buildings, giving the area a distinctive urban garden atmosphere.
For the latest deals on flights to San Francisco use the links below.
London Heathrow to San Francisco
London Gatwick to San Francisco
Manchester to San Francisco
Birmingham to San Francisco
Newcastle to San Francisco
Edinburgh to San Francisco
Glasgow to San Francisco