Despite living on a planet more fascinating than we could ever begin to imagine, the human race continually look to the stars and ponder about what could be out there. It's this pondering that gave rise to the genre of Science Fiction, where time travel, little green men, space ships and far away planets, filled with mystery and high tech gadgetry are the norm.
Look around
The most famous Sci-Fi films might have depicted life far-away, but some of the most startling locations are of course here on earth. In fact you can visit many of them by hopping aboard a flight, and getting there without the need of time or space travel.
Here are our top five places you can visit from the fascinating world of Sci-Fi.
1 – Lake Powell, Arizona/Utah – Planet of the Apes
One of the most popular science fiction films of all time, Planet of the Apes not only had one of the biggest twists in cinematic history, but also contains one of film's most iconic lines.
But when the crew crash-land on an unknown planet at the beginning of the film, which in all fairness turns out to be earth, it may be surprising to know they actually landed in the stunning and placid Lake Powell; which can be found straddling Utah and Arizona.
This breathtaking location is the second largest man made reservoir in the US, and is home to amazing sights such as Rainbow Bridge and Padre Bay, making it a lovely place to visit. The lake also featured in two episodes of Doctor Who Series Six.
2 – Carlsbad Caverns, New Mexico – Journey to the Centre of the Earth
Ok so this one may be in the title, it's on earth, but it's a science fiction/adventure classic none the less. Whilst journeying to the centre of our own earth the adventurers did encounter dinosaurs, giant mushrooms and such like, so science fiction does play heavily here.
However it's not the centre of the earth would you believe? It's in fact the Carlsbad Caverns, which are found in their own national park in New Mexico.
You can wander and explore this fascinating area, which consists of 46,000 acres of tunnels and caves; including a 4,000 foot long, 625 foot wide and 255 foot high natural limestone chamber. This happens to be the third largest chamber in North America and the seventh in the world.
3 – San Rafael Swell, Utah – Star Trek
In fact, the planet Vulcan (actually the San Rafael Swell) is a beautiful landscape filled with sedimentary rock that's formed amazing canyons, gorges, valleys, mesas and buttes making this an excellent place for those who love a bit of adventure involving camping, hiking, biking and rock climbing.When J.J Abrams rebooted Star Trek back in 2009, many of us looked on in despair as Spock's home planet Vulcan was destroyed in an act of revenge. However all you Star Trek fans out there needn't worry, as the real life set used for Vulcan is still intact and sitting pretty in Utah.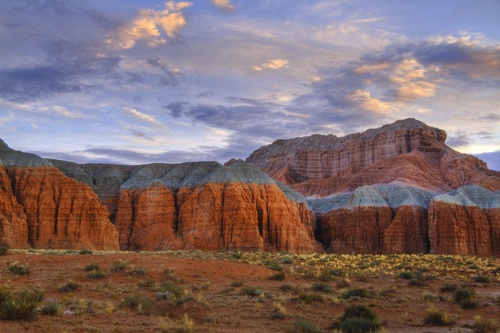 4 – Chott el Jerid, Tunisia – Star Wars: A New Hope
Back in 1977 a little film called Star Wars was released, and has filled the lives of many science fiction fans ever since.
One of the most iconic images to come out of the film was the double sun on Luke Skywalker's home planet of Tatooine. However it would appear that Luke's home planet isn't orbiting two stars in a faraway galaxy.
The Chott el Jerid is actually a large salt lake in southern Tunisia. You may not want to stay there as it's a bit of a desert wilderness, but that that doesn't mean you can't visit. Interestingly the area is studied by scientists quite frequently due to it being the most mars-like place on earth.
5 – Keahua Arboretum, Hawaii – Avatar
When James Cameron unleashed his Sci-Fi epic in 2009, it soon became a world favourite, and it wasn't long before it toppled Cameron's previous epic, Titanic, to become the highest grossing film of all time.
However if you thought Pandora was a utopian style planet filled with stunning landscapes, and giant blue-skinned tribes people; you'd be both right and wrong. Right in the fact it's what you see in the film, and wrong by the fact that Pandora is actually a beautiful tropical rainforest found in Hawaii.
With stunning flora and fauna throughout, with towering trees and an abundance of natural beauty, Keahua Arboretum, is just as stunning as it looked in the film. The fact you can visit without being attacked by Pandora-esque creatures, is an added bonus you should grab with both hands.