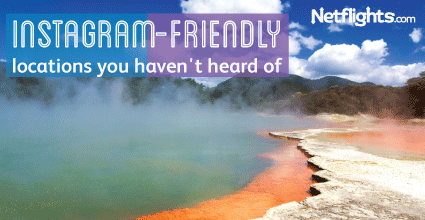 With over 400 million users, the photo-sharing app Instagram has become one of the world's most popular social networks. Finding the perfect photo spots to share online has become a holiday obsession for many travellers with the word's most Instagrammed locations including Disneyland, the Eiffel Tower in Paris, Tower Bridge in London and New York's Times Square. If you're looking for something a bit more unusual, here are five lesser-known locations around the world that have a uniquely beautiful landscape just waiting to be Instagrammed.
Plitvice Lakes, Croatia
Surrounded by the lush forests of central Croatia, the Plitvice Lakes National Park is a watery wonderland made up of vivid shades of green and turquoise. Its 16 perfectly clear lakes are connected by tumbling waterfalls with hidden caves and ever-changing rock formations. Wooden boardwalks carry you between the lakes and through clouds of butterflies, leading you to a lookout point with perfect views of the lakes below.
White Sands National Monument, USA
The White Sands National Monument is located in the deserts of New Mexico and is a mesmerising 275-square mile patch of pure white sand. It is given its unique colour by being made up of thousands of gypsum crystals. Among the dazzling whiteness are rippling sands, giant dunes and a few plants and animals that have adapted to this harsh environment. It's especially beautiful at sunrise and sunset when the white turns to pink and gold as the sand glows with the sky.
Ashikaga Flower Park, Japan
Japan might be better known for its cherry blossoms but at the Ashikaga Flower Park, it's another floral display that steals the show. For a few weeks each spring the park is covered in a cascade of pink, purple and white blossoms as its wisteria trees (known as Fuji in Japanese) come into bloom. The oldest tree dates back to 1870 and it's so big that it has to be supported by beams to keep it upright, creating an umbrella of flowers above you.
Cappadocia, Turkey
The landscapes of Göreme National Park in the Turkish region of Cappadocia could have come straight out of a fairy tale. It's a world of 'fairy chimneys' (thin towers of rock with boulders perched precariously on top), twisting underground passages and cave houses cut into the rock, some of which have been converted into hotels. For the perfect shot, get up at sunrise to watch the hot air balloons drift across this magical landscape.
Wai O Tapu, New Zealand
Located on New Zealand's North Island, Wai O Tapu is a geothermal hotspot near the city of Rotorua. The name means 'sacred waters' in Maori and it's where the earth comes to life. The landscape looks like something from another planet, with mineral deposits transforming the waters to lurid shades of yellow, green or red. It's a riot of colour and activity with erupting geysers, clouds of steam and bubbling lakes all around you.