Ancient temples, glass skyscrapers, dramatic landscapes, China is a country of contrasts. It's modernising fast, with internal flights, high-speed trains and sleeper buses connecting cities across the country. But what about within the cities? How difficult is it to travel around by public transport? Here's my guide to the best ways to get around China's most popular cities.
Beijing
China's capital is a fascinating mix where ancient meets modern, with remnants of the country's imperial history side-by-side with 21st century life. It's a huge place, so you'll need to make use of public transport to get around. Easiest is the subway, with signs in English and tickets costing the equivalent of 30-90p. There are 17 lines – take Line 1 for Tiananmen Square and the Forbidden City, Line 3 for the Bell and Drum Towers, and Line 5 for the Olympic Park and Temple of Heaven. If you want a real local experience, and can speak some Mandarin, then buses run throughout the city centre; though they can be packed and slow. The best option above ground is the taxis, they're cheap and plentiful, but it's a good idea to copy out the Chinese name for where you want to go.
Shanghai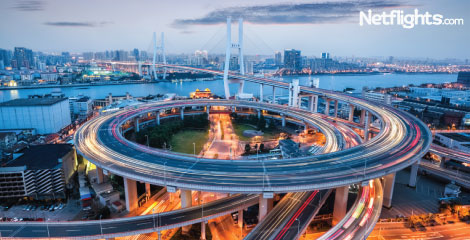 China's largest city is a buzzing metropolis of 27 million people, with a skyline that's an ever-growing forest of skyscrapers. If you're in the city for a few days, it's worth getting a Shanghai Jiaotong Card, which can be loaded up with money to use on the metro, buses and taxis. Shanghai's metro has 14 different lines, with four more being built. It's air conditioned and has bilingual signs. The Shanghai buses also announce their stops in English. But for a major city it's surprisingly walkable, especially in the older parts like the waterfront area of the Bund, with its colonial architecture. From there you can catch the pedestrian ferry across to the Lujiazui financial district. You can also join the locals and travel around by bike (there's one bike for every two people in China), you can hire everything from a vintage 1920s style bike to a motorised e-bike.
Xi'an
At the start of the Silk Road, linking the east and west, the historic city of Xi'an is best known as the home of the Terracotta Army. The city centre is surrounded by walls, with four main streets running north, south, east and west. City buses cost just a few pence and you can pick up a map showing the different routes from the tourist office. One of the most useful is no 610, which connects the Bell Tower, Small Goose Pagoda, Xi'an Museum and Big Goose Pagoda. The Terracotta Army isn't in the city itself, but takes 80 minutes by bus. Take bus number 306 from outside Xian Railway Station for the equivalent of 80p each way. The rest of the main sites are fairly close together, so you can easily walk or hire a bike and cycle between them.
Hong Kong
Hong Kong mixes influences from the east with its colonial British past to produce something unique. It's a modern, high-energy city of skyscrapers and shopping malls, but its compact size makes it easy to get around. The quickest way is using the clean and safe Mass Transit Railway (MTR), with nine underground lines criss-crossing the city. If you want to check out the scenery as you travel, take one of the historic double-decker trams. Known to locals as 'ding dings', they're slower but are a bargain, at the equivalent of 20p, however far you travel. Or you can get a prime view of the city skyline on the Star Ferries between Tsim Sha Tsui on Kowloon, to Central Pier on the island. Other ferries connect Hong Kong to other islands, like Lantau, where you can take the panoramic Ngong Ping 360 cable car into the mountains for stunning.
Discover these amazing far east cities for less when you book your Asia flights through Netflights.com