Not your average hotel… Not by a country mile! From "jailhouse charm" to underground luxury, here's our pick of the most weird and wonderful hotels around the world.
The Propeller Island City Lodge in Berlin is probably one of the creepiest hotels in the world, so if you like creepy, this is the place to go. Each room is a work of art created by German artist Lars Stroschen. Sleep in a coffin in the aptly named Coffin Room, where you can close the lid, literally speaking, on your day. Even Dracula would be envious of these cool digs.
There are more than thirty mind-bending rooms to choose from, including the Upside-down room, the Prison Room, and what vacation would be complete without staying in a Padded Cell!
So you say you want to sleep in the belly of a god. Look no further than the Tianzi Garden Hotel in China. This ten-story hotel is located in the Son of Heaven Garden, about twenty minutes from the World Trade Centre of Beijing. This is not just a building with a facade of three giant gods standing side-by-side. It is a three-dimensional building of the gods Fu, Lu, and Shou, so you might want to be on your best behaviour while you're there. It holds a place in the Guinness Book of World Records for being the "biggest image building."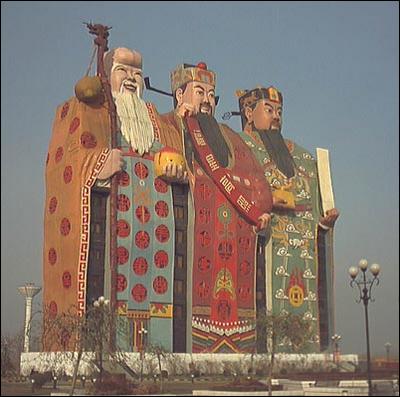 For the latest deals on flights to Beijing use the links below.
If you plan to stay at an underground hotel, you might as well pick the world's only four-star underground hotel located at Coober Pedy in Outback South Australia. Who knew? Even many of the locals live below ground in this, the opal capital of the world. This hotel is striking and beautiful in sandstone surroundings and comes complete with a pool, cafe, and shopping. Even gophers and prairie dogs don't have it this good.
Have you ever wondered what it would be like in prison? Sure you have, and the Liberty Hotel in Boston, Massachusetts offers a bit of that jailhouse charm with luxury accommodations. The former Charles Street Jail maintains the jail cells within its decor while offering stunning and spacious rooms with floor-to-ceiling windows. Ironically, they even have in-room safes. Here, when your "Alibi" might land you in the "Clink" or the "Yard", bail will be the last thing on your mind.
Staying in one of these hotels just may be the highlight of your entire holiday and what fun it will be to tell everyone about it!