Do you need some holiday inspiration on where you should head to next? How about somewhere tropical, with sweeping sands, tongue-tingling cuisine and plenty of gentle elephants? We are, of course, talking about Thailand. You probably don't need much persuasion, but here are top 10 reasons why you should visit Thailand.
1. Beautiful beaches
Have you ever seen a picture of a white-sand beach with crystal blue waters that look too good to be real? Well those beaches are what you can expect to find in Thailand.
Spend your days lounging about under the radiant sun, and go for a cooling dip in the refreshing waters. You'll soon work up an appetite with all of that relaxing and chilling out.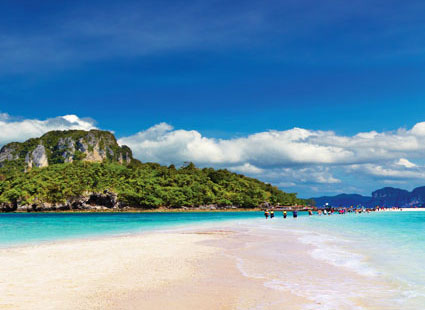 2. Mind-blowing food
After a long journey one of the first things many travellers do when they touch down in a different country is get something to eat. Well, trust us, this is definitely something that you need to do first in Thailand. Get rid of your bags, have a quick change and go get something to eat!
Local markets are filled with stalls serving up mouthwatering dishes including Thai Curry, Tom Yum and Pad Thai. Yum!
3. Scenic islands
Thailand is home to hundreds of outstanding islands. You need to see them for yourself to experience the true views. Photos really don't do them justice. If you wanted to, you could totally avoid the mainland and stick to the islands, thanks to flights to Koh Samui and flights to the country's largest island, Phuket.
Get some comfy shoes on and go trekking and exploring around as many islands as you possibly can during your stay. Or push the boat out and hire a canoe. Who knows where you'll end up, but that's half the fun.
4. Temples
When you visit Thailand, consider learning about the fascinating culture. There's no better way to do this than taking a trip to one of the country's stunning temples. But make sure you dress appropriately, as temples are obviously a place of worship.
With over 40,000 Buddhist temples located across Thailand, you're sure to come across a few on your travels.
5. Shopping
If you are a big shopper you will enjoy the choice of clothes and gifts available from the local shops and markets. Not only is everything cheap but you can find exciting products that you probably wouldn't find back home.
Some of the markets are also located on water! Some of the most popular floating markets are Amphawa, Tha Kha and Bang Nam. Make sure you give them a visit.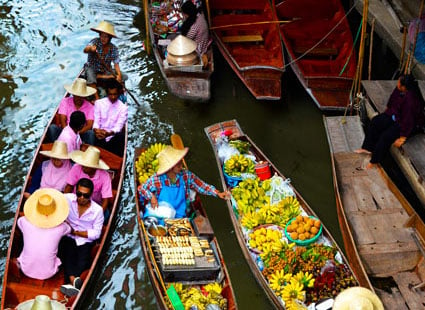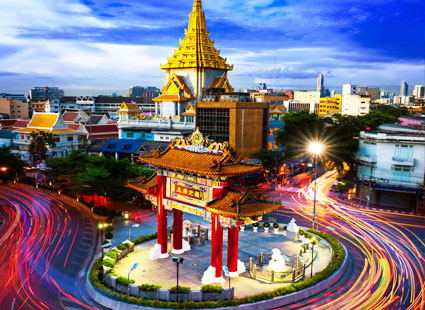 6. Vibrant city nightlife
The nightlife in Bangkok is definitely unique, and it's one of the main reasons why people visit Thailand. From sky-high cocktails, clubs, live music, theatrical shows and after dark shopping you will never not find something to do whilst you are there. Once the sun sets, the locals wake up and the tourists appear, so you can imagine that things get lively.
7. Wildlife
Thailand's well known Khao Yai National Park is definitely worth a trip! Whilst you are there you might come across wild elephants, tigers, boars, gibbons and many more exotic animals.
Take a dip in the sea and swim with the unusual fish and turtles that live there. Even better, the beaches are home to wild monkeys.
8. Weather
Another reason to visit Thailand is the weather. You can expect to see warm weather and mostly clear days. The seasons are quite similar to ours, with hot, cool and rainy stages.
The best time to visit Thailand is from November to February, also known as the 'cool season' where the temperature can reach 18-32 degrees during the day. However early morning and nights can be quite chilly. Try to avoid April as this is the hottest month.
9. Cheap travel
Once you're in the country, you'll find it easy and cheap to get around Thailand. You can book a plane ticket from Bangkok to Phuket for as little as £75 using one of the local airlines like Bangkok airways.
If you're in the city and want a tour, jump on a Tuk Tuk. It's a great way to tick off the big sights – the Grand Palace is a must-see – while soaking up the atmosphere.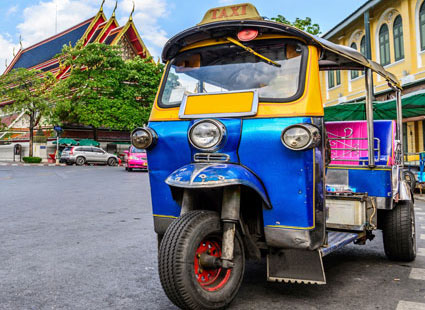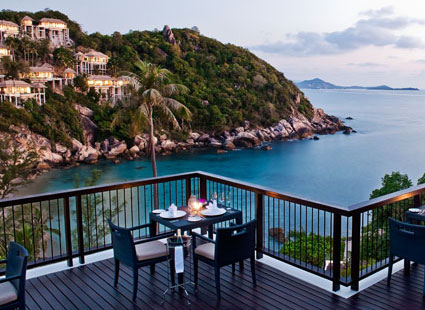 10. Luxury hotels
If you're looking for luxury, you're sure to find it in Thailand's hotels. And you get much more bang for your buck, since the prices are so reasonable. In a five-star resort, you can expect to find infinity pools, mouthwatering food, traditional Thai massages and much more. Find your perfect hotel in Thailand here.