We <3 Disney, but we also know that Disney can be a LOT – especially for first timers. And for most families, a trip to Disney is a once-in-a-lifetime sorta thing, so when you do it you really wanna do it right. Making your holiday the best it can be is literally what we do here at Netflights, so to help take the pressure out of the planning, we've rounded up 12 hacks for making Disney do-able as a family.
[heading]
1. Before you even book, get that crowd calendar out!
[/heading]
[image_with_animation image_url="27998″ alignment="center" animation="None" border_radius="none" box_shadow="none" max_width="100%"]
Yep, you should be doing this when your Disney trip is still a twinkle in the eye. We hate to break it to you, but Disney World is always busy. However, some times are less busy than others. The best thing you can do to get your trip off to the best start is to have a look at some of the crowd calendars available (just have a quick Google for one!), because though we'd all love to be jetting off outside of the school holidays, sometimes you just have to go with the herd.
Having a look at a calendar will give you a rough idea of what the crowds will be like at any given time throughout the year.
[heading]
2. Where to sleep? You've gotta do a Disney Resort!
[/heading]
There's loads of places to stay in the wider Orlando area that could save you a lot of money on accommodation costs, but you really can't beat staying on site in one of the Disney resorts for the sheer level of convenience that they offer in spades. That, and they're also just really, really cool places to stay in. And don't think you have to shell out either!
Disney resorts come in three categories – Value, Moderate and Deluxe. So staying on site doesn't mean it has to cost a lot. Each resort is fully themed, down to each individual bedroom, and depending on how much you're willing to spend you'll have food court dining options all the way to multiple sit down service venues.
But the best thing about the resorts? The proximity to those shiny golden gates that'll take you into the parks, duh!!! Being close to the parks means more time spent having fun and less time traipsing home half asleep at the end of the day, plus you can take advantage of Extra Magic Hours.
[heading]
3. Trust us, download the app
[/heading]
We know, we know! There's never enough space in your phone for all the apps you need, but make space for this one, seriously. The My Disney Experience App is full of handy features, from Disney Genie (more on that below!) and pre-ordering your food in park, to maps, attraction wait times and virtual queues.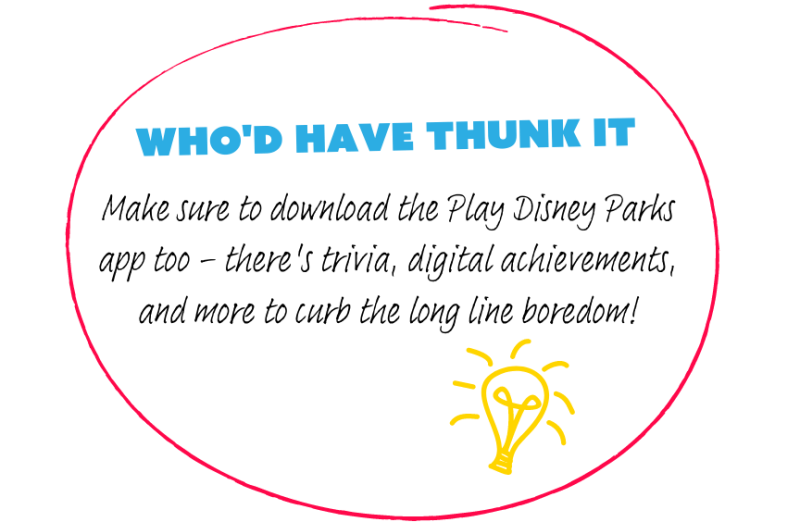 If anything on this will make your trip smooth sailing, it's this!
[heading]
4. Yes, you can bring your own snacks into the parks!
[/heading]
We know that Disney has some of the best snacks on the planet – er, hello Cheshire Cat Tails, Kringle Kringle Holiday Cookies and DOLE WHIP – but we also know that noshing on all that goodness all day long adds up pretty quick! The good news is, unlike your local cinema, Disney is fairly lax about what you can bring into the park food wise. As long as it's not in a glass container or really pungent in smell (can they make that a rule at the cinema too?) then pretty much anything goes.
An easy way to save some money (and sugar consumption.)
[heading]
5. When you arrive, turn LEFT!
[/heading]
[image_with_animation image_url="28004″ alignment="center" animation="None" border_radius="none" box_shadow="none" max_width="100%"]
Most people when entering the parks immediately turn right – any psychologists want to chip in and tell us why? We're all, ahem, ears – so instead of following the crowds, try going against them by making a left. The idea is that by working counter-clockwise, you'll actually find it easier and less stressful navigating the parks and – this is the important bit – lines for the rides should theoretically be shorter! Word has it that this is one of the big tips Disney folks give when leading people on their extra fancy VIP tours.
[heading]
6. Dude, where's my pram?
[/heading]
Freya, one of our marketing whizzes, went on a trip to sunny Italy recently. Whilst on the plane, she noticed that there was no less than three suitcases that were the exact same make and colour as hers – and that was just in the overhead bins above her!
Prams at Disney are the same. You'll find pram parks all over the place, especially outside the rides. However, getting off a ride and trying to relocate your buggy amongst the masses can all get a bit too similar to leaving the supermarket and forgetting where you've parked your car.
That's why we 100% recommend jazzing your pram up a bit with a brightly coloured scarf, towel, or even a balloon. You think you know your pram. A day at Disney will teach you otherwise.
[heading]
7. Don't lug your souvenirs around with you
[/heading]
As hard as you try, at some point you'll succumb to the pleading of your children and indulge them in a Disney souvenir (or two, or three…). But one thing you reaaaally don't want to be doing is dragging your purchases across the parks all day. Lucky for you, you don't have to.
You can have all your purchases sent directly to your resort if you're staying on property (ooo, swish!), but even if you're staying outside of the parks themselves you can still have them sent to the front of the park where'll they'll be kept by Guest Relations until you're ready to pick them up at the end of the day. Genius!
[heading]
8. Go on, buy that souvenir popcorn bucket
[/heading]
This one is worth the investment! Not only will you end up with a souvenir, these popcorn buckets only cost around $2 to refill and they make for a great pick me up snack whilst you wander the parks – especially when waiting around in line.
[heading]
9. Celebrating a special occasion? There's a badge for that
[/heading]
[image_with_animation image_url="28005″ alignment="center" animation="None" border_radius="none" box_shadow="none" max_width="100%"]
So this tip doesn't really make your trip more do-able, but it will make it extra good. If someone in your family happens to be celebrating a special occasion whilst you're on holiday, then pop into a park's Guest Relations and pick up a badge. They have them for all sorts of things – your first visit, your birthday, your engagement… If you have something super specific to celebrate, then you can grab a generic badge and then customise it.
This totally free service means that characters will give you extra, personalised shout outs throughout your trip – a totally priceless moment that is literally priceless!
[heading]
10. We've said it before, we'll say it again: portable charger!
[/heading]
Look, it's gonna happen. With all that photo taking, you checking the app about a thousand times, and giving your phone to the kids to amuse them in line, your phone will most likely run out of juice during the day. So if you want to be mega efficient and stick to your schedule, whack a portable phone charger in your bag so you can recharge as you go.
But if you don't have one or forget to bring it (or, worst case scenario, the portable charger runs out of juice!) then all is not lost! Across all the parks you'll find phone charging kiosks, but this does mean you'll have to stop and wait for a bit. On the other hand, if you reckon you can go without it for a couple of hours, drop it off at Guest Relations to charge and come back for it later.
[heading]
11. Disney Genie is, er, genius
[/heading]
The best thing since sliced bread? This just might be! Disney Genie is a little piece of wonder that sits in your phone, aka another mega feature of the My Disney Experience app that'll help you with just about anything to do with your Disney trip. One of the best things is that it will give you all sorts of tips on how to cut down line waiting time, but if you plump for the paid service, Genie+, your trip will be levelled up.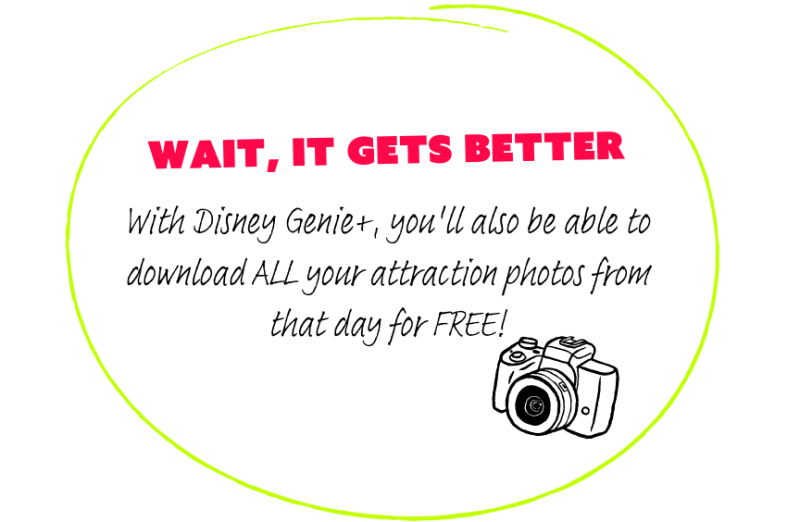 Starting at $15 per day (this goes up depending on what time of year you're visiting), Genie+ is a service that basically acts as the new version of Disney FastPasses. For each day you pay for, you'll be able to skip the lines on your chosen attractions and use the much quicker Lightning Lanes. You can pick one ride every two hours, but spots are snapped up – ahem – lightning fast, so you'll have to be speedy to nab 'em! Fail to prepare and prepare to fail, right?
[heading]
12. Scope out the best photo spots beforehand
[/heading]
For a lot of families, a trip to Walt Disney World Resort, Florida is a once-in-a-lifetime sort of thing, so this really is a moment to take alllll the photos. No one wants to come home and realise that the only footage of the trip they've got is some blurry photos and shaky videos! So do the prep beforehand and map out where you wanna get some iconic shots. Main Street, USA? Tick. Cinderella's Castle? TICK!
Deciding these sorts of things can be stressful when you're right there in the park, but do it before you go and you're guaranteed to have the best looking mantlepiece in the neighbourhood.
Feeling prepared? Great, because we've got loads of Disney holidays ready and waiting!
Race you to Space Mountain?
[divider line_type="Full Width Line" line_thickness="1″ divider_color="default"]
[image_with_animation image_url="27009″ alignment="center" animation="None" border_radius="none" box_shadow="none" max_width="100%"]
[recent_posts style="default" category="all" columns="3″ order="DESC" orderby="date" blog_remove_post_author="true" blog_remove_post_comment_number="true" blog_remove_post_nectar_love="true" posts_per_page="3″]