In the first part of our blog series covering the recent trip to Thailand one lucky member of the team, Freya, go to go on courtesy of the Tourism Authority of Thailand and EVA Air, we saw her gallivanting around Pattaya on yacht excursions, saying hello to a very big Buddha, and checking out a World Wonder (well, in our books, anyway) made of wood.
We left her half way over the Gulf of Thailand on her (very) merry way to Koh Samui, so grab a piña colada – or a cup of tea – and settle down for part two, which'll see her feeding elephants, having lunch in really high places, and learning how to have a night out, Chaweng style.
Day 3: Pattaya to Koh Samui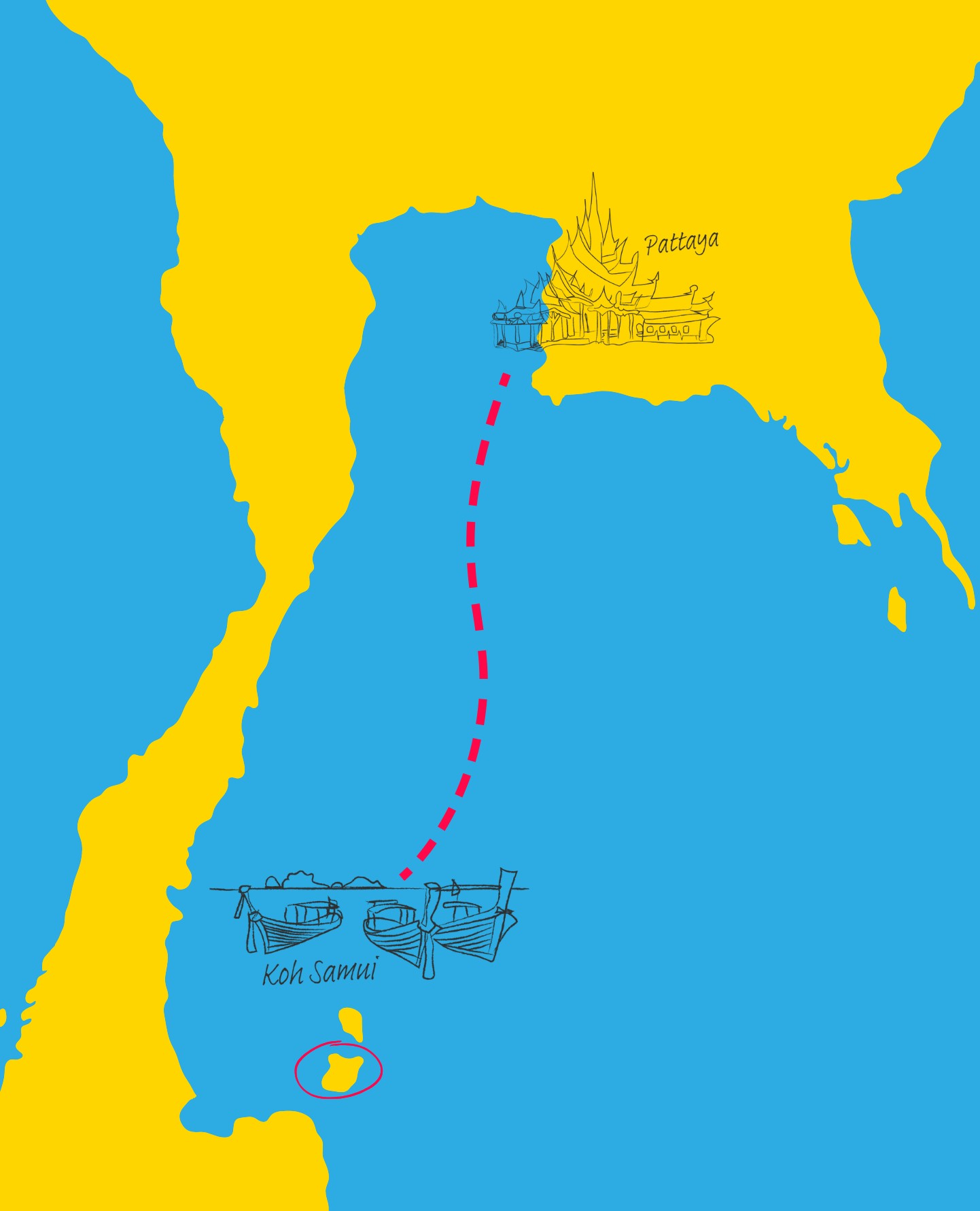 It was a quick hop from U-Tapao International Airport in Pattaya over the Gulf of Thailand to the island of Samui, which sits in the south of the country, just beneath Ko Pha Ngan. Just as popular with the thriftiest of backpackers as it is with the ultra wealthy, people love Koh Samui for its incredible beaches and for its nightlife (which more often than not happens on the beaches.)
We landed before night fell, which actually happens sooner than you think in Thailand – because of its location close to the equator, sun set happens around 6pm here all year round. It meant we could get a proper look at Koh Samui's airport – quite possibly the prettiest airport you'll ever see. To be honest, you'll probably sit there on the plane as you taxi in and wonder if you've actually landed in the right place.
All bamboo and thatch with a heavy feel of the tropical about it, this tiny airport has more going on outside than in! It's less than a 1/3 of a mile between arrivals and departures, the shopping portion of it looks more like a market, and there's an actual canal full of fish flowing right through the middle of it. Consider it the McDreamy of airports.
Check in to Bandara Resort Koh Samui
After we'd picked our jaws up from the ground, we hopped in another gloriously AC controlled minivan and set off on our way to the next place we'd be catching 40 winks – Bandara Resort and Spa.
Set on the north coast of Koh Samui, amongst fisherman villages and the quieter beaches of the island, Bandara Resort and Spa is a laid back tropical retreat set right on its own stretch of sand and is the sort of place that makes you feel relaxed the moment you flop onto your bed in starfish formation.
I stayed in the Tropical Deluxe Room, a warm but airy space and which comes with a pretty big balcony overlooking the gardens. It had all the good stuff like robes, slippers, flip flops – even a big umbrella for when you inevitably get hit by a shower (June is the rainy season, after all). The vibe here is definitely a more classic beach-side feel. And who doesn't love a good old four poster bed?!

There's two dining options at Bandara, one of which is the beachfront Chom Dao – this is where you'll grab breakfast with a stunning sea view and, if you're lucky, catch a traditional wooden Thai fishing boat bobbing just off the coast. Come evening the roof can be pulled back for dinner under the stars. Then there's the 4 pools, the gym, the spa (there's even a nail salon!), as well as Monkey Club for the kids. So laidback Bandara might be, but it's still got plenty going on.
Being on the north coast does mean you're a little further away from the heart of the nightlife in Koh Samui, which can be found alive and well in the Chaweng area of the island, about 20 minutes away by car, but that also means you'll be staying in a much quieter area – so it depends what you're looking for in your holiday.
Jungle Club & Samui Elephant Sanctuary
Jungle Club
If you fancy lunch with a view whilst you're in Koh Samui, you've gotta do Jungle Club. Steady the nerves first though, because it's reached by a very steep drive up a lush hillside to one of the best viewpoints on the island, with Chaweng Beach and the Gulf of Thailand stretching out beneath you.
The Jungle Club restaurant is actually part of a boutique resort where you can stay in a thatched bungalow and make use of the pool, which is strictly for guest use only. But we were just here for a slap up lunch with a belting view to boot. The menu is a mix of Thai, French, Italian and Mediterranean grub, so you're pretty likely to find something you fancy on there (and, if you're a spice wuss like me, more on the mild side…).
Sprawl in one of the red bean bags or make for a table under a covering like we did, that way if you happen to sit down to lunch at the same time the rain swings into town, you won't have to do a runner with your pizza to a dry spot.

Samui Elephant Sanctuary
After lunch we were headed on another hair-raising drive back down the hill to Samui Elephant Sanctuary, the first of its kind on the island. Its original site, in Bophut, was so successful that they've now been able to open another sanctuary, over in Chaweng.
Our tour at the original Bophut site was led by a guide and allowed us to prepare food for the elephants, as well as feeding and walking with them. We got to watch them bathe in their pool and spread mud and sand all over their bodies like they were in a Herbal Essences advert – a natural exfoliant, we learned.
For a lot of us, it was our first time seeing elephants up close, and it felt like a real privilege to see them in a stress free environment. Always choose your activities wisely when in Thailand, especially when it involves elephants – your money can inadvertently help support cruel practises without you realising it.
Check in to Centara Reserve Samui
We had to say goodbye to the elephants eventually, but not before they'd ransacked our bags for all the bananas we possessed. We needed to get a move on because it was check in time for our next and last hotel on the island – this time we'd be having a short but very sweet stay at the Centara Reserve Samui, an ultra luxe resort set right on the beach, just a sandy hop, skip and jump down the coast from the heart of the nightlife on Samui, Chaweng.
We dropped our bags off and made a beeline for our rooms like a bunch of excited teenagers. I'd barely had a moment to acquaint myself with mine – one of the Reserve Pool Suites – before there was a knock at the door and a mini garden made from chocolate was deposited into my hands. Yes, it was delicious. And yes, I scoffed it immediately.
The Reserve Pool Suites are mega light and airy, with their own terrace, shielded by a wall or a hedge for extra privacy. It's got all the usual perks in spades, like robes, slippers, beach bags, even his and hers amenities kits. It goes a step further with a full on cocktail station with a selection of gin, vodka, and whiskey to play with! My second fave thing was the private plunge pool, but my favourite favourite thing? The mini bar! It comes chocka with juices, soft drinks and snacks, and – drum roll, please – all of it's complimentary. And replenished. Daily. Yup.
Enough about my gorgeous room, though. What else does Centara Reserve Samui have on offer? Well, there's the 5 restaurants and bars, including the Gin Run, with over 35 handmade gin concoctions crafted with herbs from the resort's own herb garden. Try the wasabi one, I dare you. Then there's the gym, Yoga Pavilion, and spa. Oh, and the pools! Can't forget the pools. There's a free form one, as well as a Pool Bar, but I was partial to the Infinity Pool myself – it's got a perfect view of the ocean, and I may or may not have had a sneaky dip at 3AM…
Thanks to the resort being set back within its own lush gardens, you never feel caught in the thick of it despite being so close to the most popular area on the island – just close enough for a slow amble along the sand back to the resort after a night spent at one of the beach clubs. Top tip: keep an eye out, and if you're lucky you might just catch a glimpse of some bioluminescence like we did!
ARK Bar Beach Club & Koh Samui nightlife
Speaking of beach clubs, it'd be rude not to check one out on your last night in Samui, so that's what we did. We tried ARK Bar, just down the beach from the resort. One of the most famous beach clubs on the island, it's smack bang in the centre of Chaweng Beach and practically a Koh Samui institution.
There's live music here from 12.30PM everyday, and they don't pack up until 2AM. Our fave thing was the fire show, which runs every night from 8pm until midnight. Not only do they perform on the beach and out on the water on barges, they'll even come into the crowd and swing some flames around your head if you ask them – defo not for the faint of heart!
Chaweng is pretty lively during the day, but it really comes to life after sundown, which is what makes it the go-to place for nightlife on Samui. Unsurprisingly, you're not short of a beach club or two. Alongside ARK Bar, there's also the retro-themed SEEN Beach Club, Cha Cha Moon Beach Club with its sleek neons, and the mega popular Coco Tams.

Besides beach clubs, there's also a fair few Thai boxing stadiums, where fights run until Midnight, as well as a night market – and if anyone knows a thing or two about night markets, it's Thailand. The Chaweng Night Market is basically an open air food market with a couple of bars thrown in for good measure where you can grab some classic Thai dishes or have some more western grub.
Soi Green Mango, meanwhile, is Koh Samui's version of your typical Thai walking street – it's all about the cheap as chips drinks, loud music, and some eyebrow raising nightclubs. You can't miss it because the mega bright signs everywhere give it away, and you'll find the Green Mango Club, where the street gets its name from, at the end of it – a Koh Samui staple for decades.
Day 5: Koh Samui to Bangkok
There was no time for hangovers the next day because we had another flight to catch, this time to the final stop on our whirlwind tour of Thailand – Bangkok, baby! With just one night in one of the most visited, biggest, and craziest cities on the planet, where do you start?!
Come back for part 3 to find out what we get up to in Bangkok, or skip to the best bit and bag your Cheap Thailand flights today.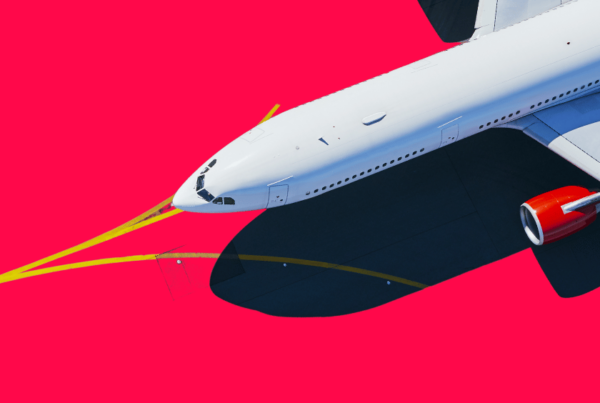 Everyone loves love. And it turns out, a lot of us are quite keen to find it at the airport.…
More and more of us Brits are getting on board with a winter break each year, with some skipping trips…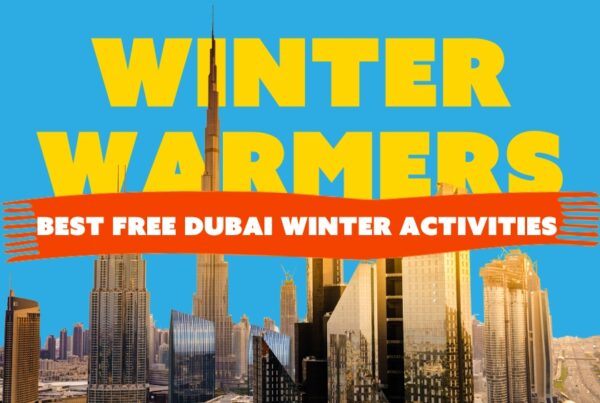 More and more of us Brits are getting on board with a winter break each year, with some skipping trips…