We're Brits, so we like to talk about the weather. A LOT. We especially like to talk about the weather when we're going on holiday. And complain about it when we're on holiday. And then long for it wistfully when we're back in Blighty. So, what's the weather like in Dubai? You know, that dead fancy city famous for being, well, hot. Like, really hot.
Well, there's a bit more to it than just being hot. Depending on your tolerance for heat, it's actually really important that you time your Dubai holiday right, and not just so that you don't melt into the tarmac – prices and the kind of activities on offer fluctuate widely depending on the time of year.
So, what's the weather like in Dubai?
In a word? HOT. All year round. That being said, there is still a distinct winter and summer season. Realistically, the lowest temps you'll ever really face come, just like for us Brits, in January. However, unlike us, the winter weather in Dubai only drops to around a perfectly lovely 20°C. These balmy temps actually mean that Dubai is at its best in the winter, as come summer those temps rack right up to 30°C and above between June and August!
Because it never really gets cold in the city, light, loose clothing is where it's at (make sure it's modest for those mosque visits!) But if you're planning on heading out to the desert, like nearby hill town Hatta, then you'll really want some layers as hot, hot, hot it may be in the day, but as soon as night falls so do those temps, and fast.
Now, let's break it down month by month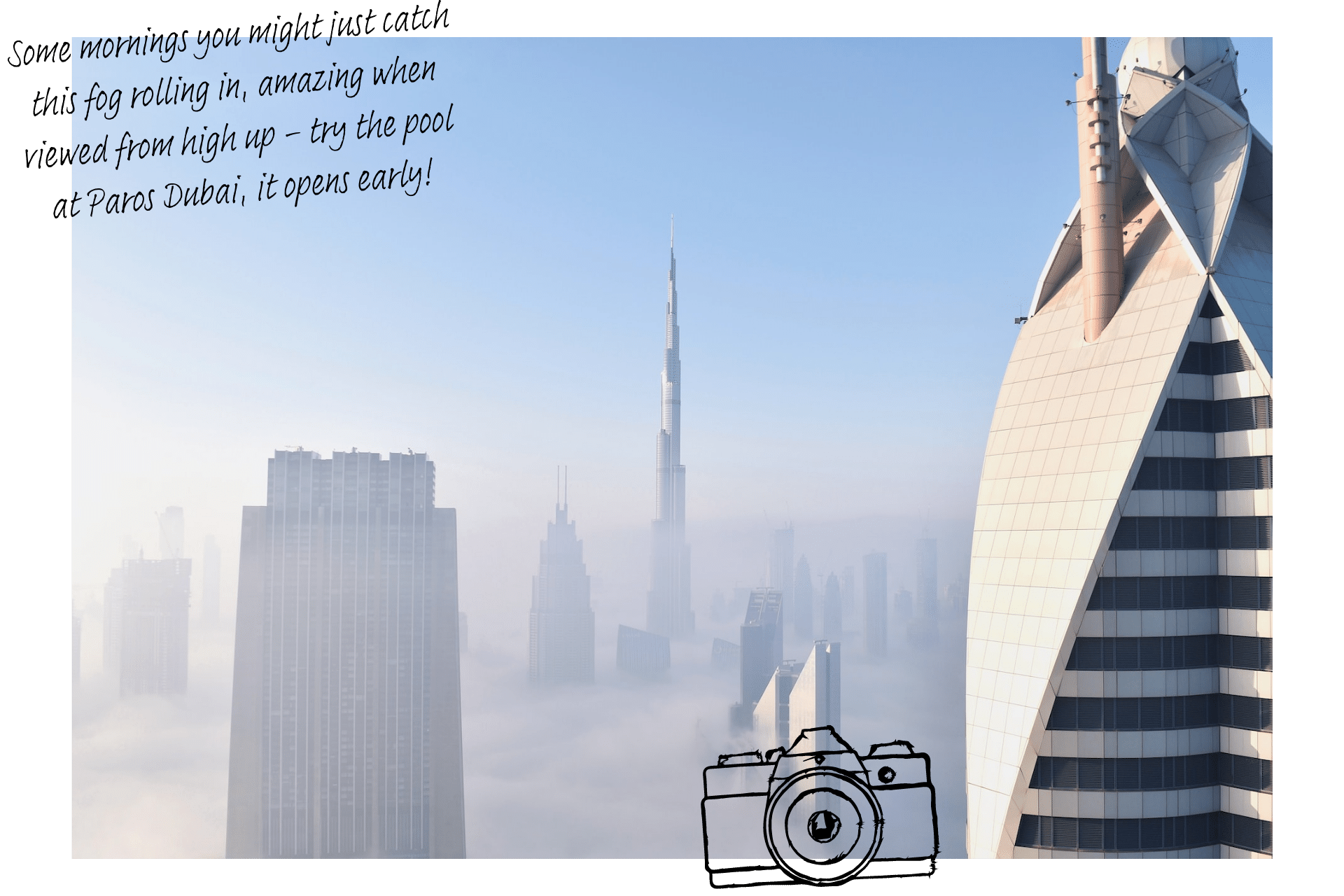 January to February
When Dubai is at its coldest it's still perfectly lovely for us Brits, making it one of the most popular times to visit. Rain, if you're very unlucky, may hit but only once or twice, and only in short bursts. The temps start to rise a little in Feb, between 17°C and 26°C. Another lovely month to visit, it's often busy.
March to April
The average for March is 23°C but it does come with increased humidity. This is your last shot at the easier temps before summer hits next month – April temps can reach the mid 30s. The sea is lovely in April though, a balmy 25°C – perfect for a dip, grab your trunks and brush off your breaststroke skills!
May to June
Can you feel the sweat under your collar? In the wise words of Nelly, it's getting hot in heeeeeere! But maybe don't take all your clothes off. Yep, May is when you can really start to feel the heat creeping in. Temps can hit  37°C, so make full use of that sweet, sweet air con – Dubai is very good at it. June brings with it more high humidity and a very toasty high of 38°C. It's okay if you wanna steer clear of this month, this heat is defo not for everyone!
July to August
July sees some uncomfortable highs of 40°C, temps that even the locals struggle with. The same goes for August. If we were in Dubai at this time of year, we'd be getting around with our mum's sunhat and a strip of suncream on our noses with zero shame. If you struggle with high heat, this time of year really isn't the time to go.
September to October
September is still hot, hot, hot! But those temps are starting to fall a little, if only to the mid 30s and opposed to the high 30s. Take what you can get! You'll also get some rare fog rolling in in the morning – a great Insta shot. Temps continue to drop in October as – in your best Jon Snow, we've all got one – winter is coming.
November to December
The temps are starting to get less jaw-dropping now, falling to more comfortable figures again. But the sea is still an unbelievably warm 27°C – trunks in December!
Right, so when's the best time to visit Dubai?
As with all destinations, the answer to this question is led by two things: what you reckon you'll be wanting to get up to when you're there, and what your budget looks like.
When to book your Dubai holiday based on budget
Generally speaking, you can expect hotels to increase their rates during the mega popular (and cooler) months of winter. November to April is pricier, but especially between December and February. If you're keen to travel when it's cooler, then keep an eye on our Dubai holidays page because we're always serving up some belting offers. On the other end of the spectrum, because of those high temps the summer months tend to be cheaper, and you'll get discounts at a lot of attractions too. Hotels are desperate to get some footfall, so they'll often throw in some freebies too like spa treatments, room upgrades, and more. We mean it's hot, but maybe it's not that hot afterall…
When to book your Dubai holiday based on activities
Now, when it comes to activities, you'll want to pick a time that works well for whatever you have in mind. Travelling with kids and envisioning lots of waterpark days or time spent lounging around at the beach? Or maybe you're wanting to push the dhow out and give dune bashing a go. This sound like you? Then we reckon you should plump for those cooler months, that way you'll really enjoy your time and not spend it trying not to turn into a puddle on the floor (or turn into a lobster).
But if you've got less high octane thrills on the mind and just fancy having a gander at the culture and history that Dubai (despite its futuristic AF look) has in spades, like the Etihad Museum, Museum of the Future, and the Pearl Museum, as well as the famous souks or even if you're just here for a right good round of shopping, then coming in the hotter months shouldn't throw too much of a spanner in the works as you'll be spending a lot of time hanging out in the shade or indoors where the air con is on MAX.
Whether you stick to winter or brave it in summer, find your next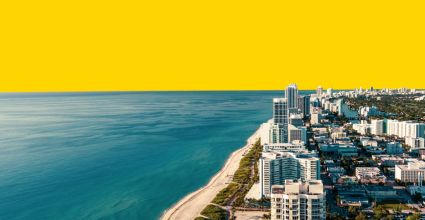 We're Brits, so we like to talk about the weather. A LOT. We especially like to talk about the weather…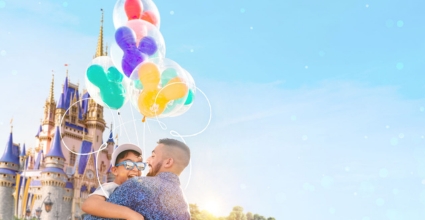 Disney's Early Booker Package for 2024 is here! Not sure what it is? No problemo, because we're about to lay…
Disney World resorts can be daunting if you're a first timer, so we're here to make it easy. Keep on…