If you're heading to Orlando, chances are you'll spend most of your time at Walt Disney World or Universal Studios. And don't get us wrong, we think thrills and spills are great. But at some point you might fancy a change of scene. If you do decide to hire a car and explore further afield, these are 10 of the best day trips from Orlando.
Kennedy Space Center
This is one of the most popular day trips from Orlando. The famous NASA facility, less than an hour away, is a must-do for anyone with even the slightest interest in space travel. For 50 years, it's been the epicentre of the US space programme – it's from here that rockets are blasted off into orbit. Allow a full day at the Kennedy Space Center to explore the exhibits and watch the two IMAX films before strapping in for lift off at the Shuttle Launch Experience. This simulation ride lets you experience first-hand what it's like to be an astronaut.
Clearwater Beach
Consistently voted one of the best beaches in America, Clearwater Beach attracts visitors all year round. A coastal gem on the Gulf of Mexico, it's famed for its idyllic stretches of powdery white sand and near-constant sunshine. There are opportunities for parasailing, paddle boating and jet-skiing. And there's even a family-friendly, pirate-themed cruise. Away from the beach, you can check out the dolphins at the Clearwater Marine Aquarium – or stay to watch the sunset from Pier 60.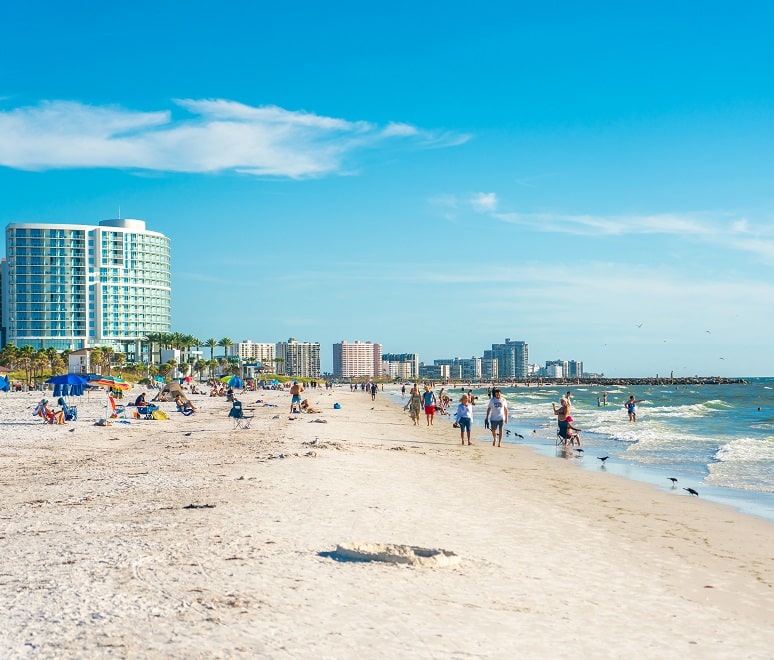 Everglades National Park
Everglades National Park is the largest subtropical wilderness in the United States – and the biggest mangrove forest in the western hemisphere. A designated World Heritage Site, it's called the 'River of Grass' by the Native American tribes which still have a sizeable presence here. It's an important habitat for a number of rare and endangered species, and the only place on the planet where alligators and crocodiles coexist. Most people opt to explore the Everglades by airboat, but that's by no means your only option. There are also trails for hiking, biking, horse riding and kayaking, making it one of the best day trips from Orlando if you're the outdoorsy kind.
Miami
Ah Miami. A city whose reputation very much precedes it. And for good reason. Known as the Magic City, it's home to more than 150 ethnicities, inventive global cuisine and beautiful Art Deco architecture. Although it's one of the longest day trips from Orlando – the drive takes about three-and-a-half hours – it's definitely worth it. Turquoise water laps its legendary beaches, and many of them have some seriously ritzy beach clubs. There's also an eclectic arts scene, excellent shopping, and possibly the best nightlife anywhere in Florida.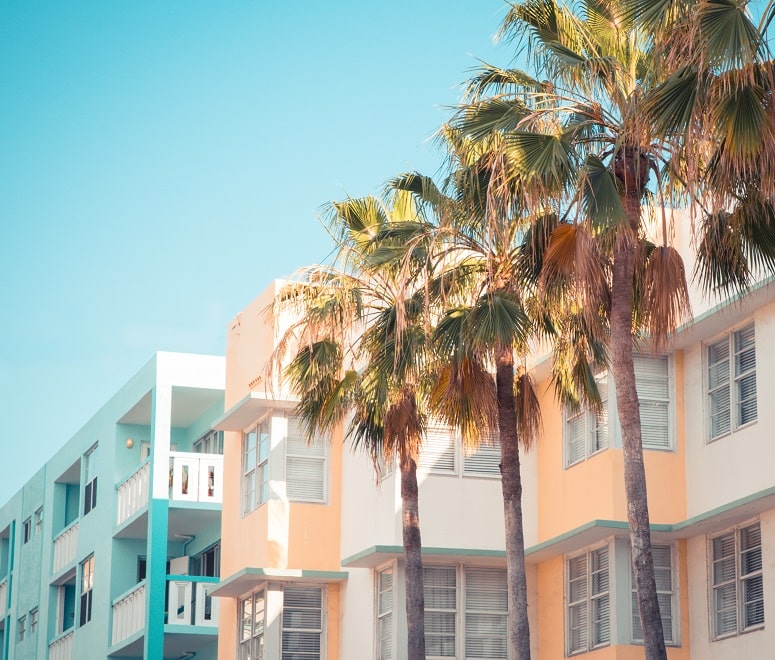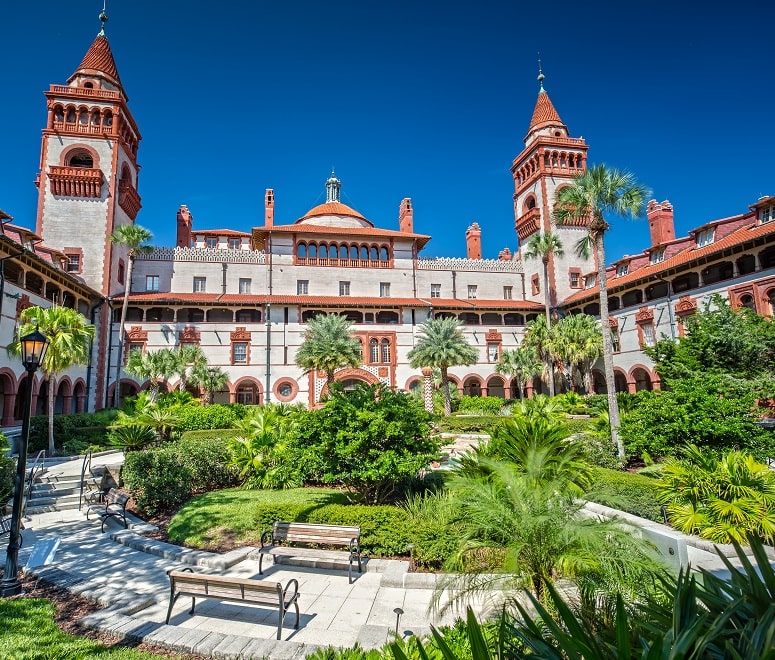 St Augustine
St Augustine is America's oldest city. Located on the Atlantic Coast, about 40 miles south of Jacksonville, it has a number of beautiful beaches. But that's not the reason to visit. Instead, you should come for the history. Founded in 1565 by Spanish explorers, it's renowned for its colonial architecture and quaint atmosphere. Centuries-old buildings, cosy restaurants and hidden courtyards line the narrow lanes of its National Historic Landmark District. Its main attraction, though, is the Castillo de San Marcos. Built between 1672 and 1695, this imposing structure on the shores of Matanzas Bay is the oldest masonry fort in the country. Make sure you climb to the top and check out the views.
LEGOLAND Florida
Most day trips from Orlando are about getting away from the theme parks. But this one's so good we just had to include it. Spread across 150 acres, it's essentially an homage to all things LEGO. So if you're holidaying with kids, or you're a fan of the brick yourself, you should definitely find time to visit. There are more than 50 thrilling rides, creative play areas, botanic gardens and even a waterpark.
Devil's Den
This prehistoric underground spring is one of Florida's most unique dive spots. It's a karst window, formed when the roof of a subterranean river collapsed, exposing the water below. The water here remains at a balmy 22oC all year round and on cool winter mornings you can see steam rising from the cavernous depths. Swimming is prohibited at Devil's Den but you can explore by snorkelling. Or, if you have an open-water diving certificate, you can go as far at 54 feet below the surface. You'll likely come across fish, fossils and the resident turtle, Nelson.
Daytona Beach
If you're something of a petrol head, Daytona Beach needs to be on your list of day trips from Orlando. Famous as the birthplace of NASCAR racing, it plays host to the annual Dayton 500. About 160,000 people cram into the Daytona International Speedway every February to watch the 500-mile race. Bike Week in March and Biketoberfest in October are equally as popular. But even if motorsports aren't your thing, you'll still find things here to keep you entertained. There are watersports galore on the beach, and Daytona Lagoon is the area's premier waterpark. As well as endless slides, it has go-karts, mini-golf, an arcade, laser tag and a climbing wall.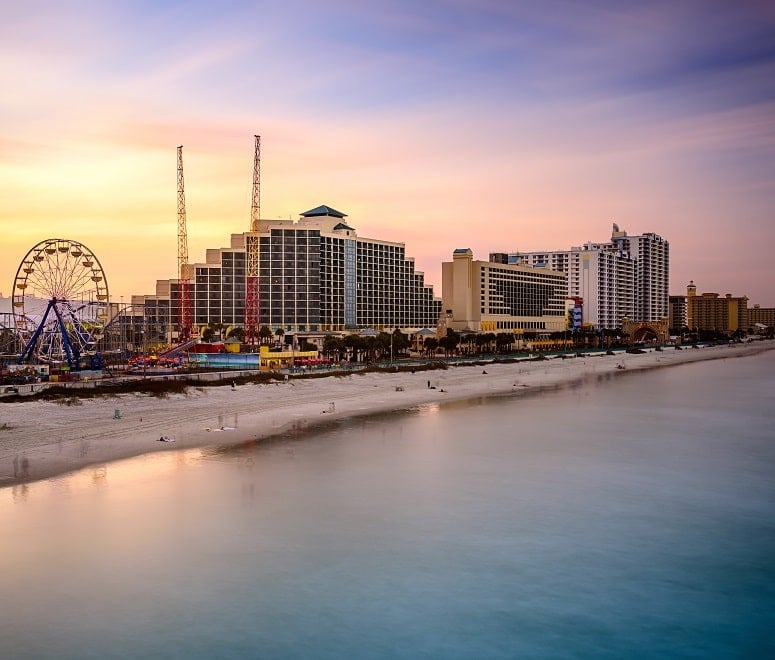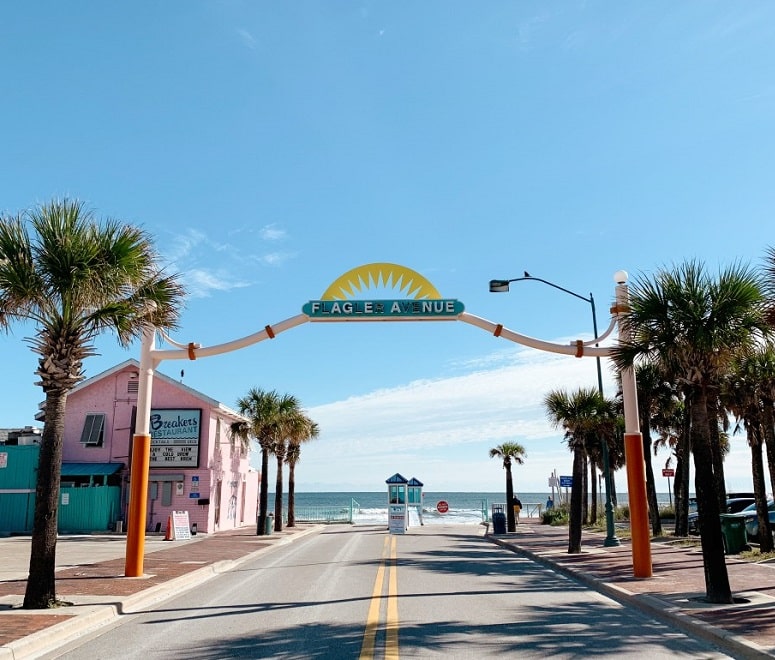 New Smyrna Beach
This tiny beach town is one Florida's prime surf spots. The waves are generally quite small but significant rock ledges offshore mean it has one of the most consistent surf breaks on the East Coast. Away from the water, New Smyrna Beach has a historic downtown, a vibrant arts scene and a refreshingly laidback atmosphere. If you're looking for souvenirs, there are independent boutiques at every price point, and the great selection of cafes and restaurants should satisfy any food cravings.
Crystal River
If you're an animal-lover, Crystal River is one of the best day trips from Orlando that you can imagine. That's because it's one of very few places where you can come face-to-face with manatees. From November to March, when the water temperature drops in the Gulf of Mexico, nearly 20 percent of Florida's West Indian manatee population head to the Crystal River National Wildlife Refuge. It's not unusual to see almost 800 of them on a single day. Tours led by wildlife experts include a chance to swim or snorkel alongside these gentle giants in their natural habitat. But you might prefer to stay on dry land and spot them from a distance.