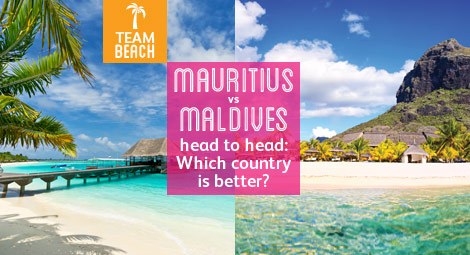 If you're planning an exotic beach holiday, you can't go wrong with either Mauritius or the Maldives. Both have powdery white sands, crystal clear seas, swaying palms and an abundance of hotels to choose from. These are two idyllic countries that tick every box for the perfect luxury holiday, but which one is best for you? Find out who wins the match of Mauritius vs Maldives.
The Maldives
The Maldives is made up from 2,000 islands in the Indian Ocean, 250 miles south-west of India. The majority of the pristine islands are uninhabited and many are home to resorts and hotels. The Maldives has an air of barefoot luxury with many 5* resorts that combine excellent facilities with laidback relaxation.
Male is the capital city of the Maldives; a brightly coloured and crowded city. Many visitors enjoy exploring Male's markets but the peaceful islands are the main attraction.
Scuba diving is a popular activity in the Maldives thanks to the warm, calm water and abundance of life in the underwater world. Bright coral and tropical marine life provide some of the best scuba sites in the world. Many resorts have PADI qualified instructors to help both beginners and experienced divers enjoy the wonders of the sea.
When you're not swimming, you'll mostly be swaying gently in a hammock, relaxing on the beach, soaking up the views from an infinity pool or reading in the shade of a palm tree. Resorts provide delicious dining options that are usually enjoyed beside the pool or beneath a canopy of twinkling stars.
Mauritius
Mauritius is also in the Indian Ocean, located 1,200 miles off the southeast coast of Africa. Mauritius is part of the Mascarene Islands and made up from the islands of Mauritius, Rodrigues and Reunion.
Mauritius is an ideal destination for anyone who would like to combine beach relaxation with exciting activities. Mauritius is the busier and more bustling of the two countries with more entertainment and activity options.
The capital and largest city in Mauritius is Port Louis, a vibrant and multicultural city and the wealthiest city in Africa. Dining in Port Louis can be a real adventure thanks to the Chinese, Indian, French and African cuisine on offer. The people in Mauritius are friendly and relaxed and make many visitors' experience extra special, thanks to their welcoming charm.
There are so many things to do in Mauritius such as tours, attractions and excursions. Visit waterfalls such as the Seven Cascades, go hiking, cycling, kayaking, rafting, horse riding and even quad biking. Black River Gorges National Park is a great place for outdoor adventures in a beautiful, natural setting. If you would like to see the cultural side to the country then there are plenty of historical attractions, temples and museums too.
Mauritius vs Maldives: who wins?
The bottom line is, it depends what you're looking for. The Maldives provides more of a Robinson Crusoe, private island experience that is perfect for luxurious relaxation. But Mauritius is best for those who get itchy feet after a few days on the beach. Mauritius is a good option for budget-conscious travellers too, as there's usually a more affordable option due to the higher range of accommodation and restaurants on offer. Whichever country you chose, you are sure to have an unforgettable experience.
Or maybe you're torn between the Maldives and the Seychelles? Find out which is better.