New York has got so much going on, and so much you wanna try out whilst you're there, that the purse strings can start to cringe before you've even left for the airport. But it turns out you don't actually have to look all that hard to find a whole bunch of free things to do, as well as a load of stuff that's cheap as chips.  So, close the banking app, put your feet up, and note down these 15 free things to do in New York. 
Well, most are free, and if they're not, then they're pretty bloomin' cheap.
12. The Staten Island Ferry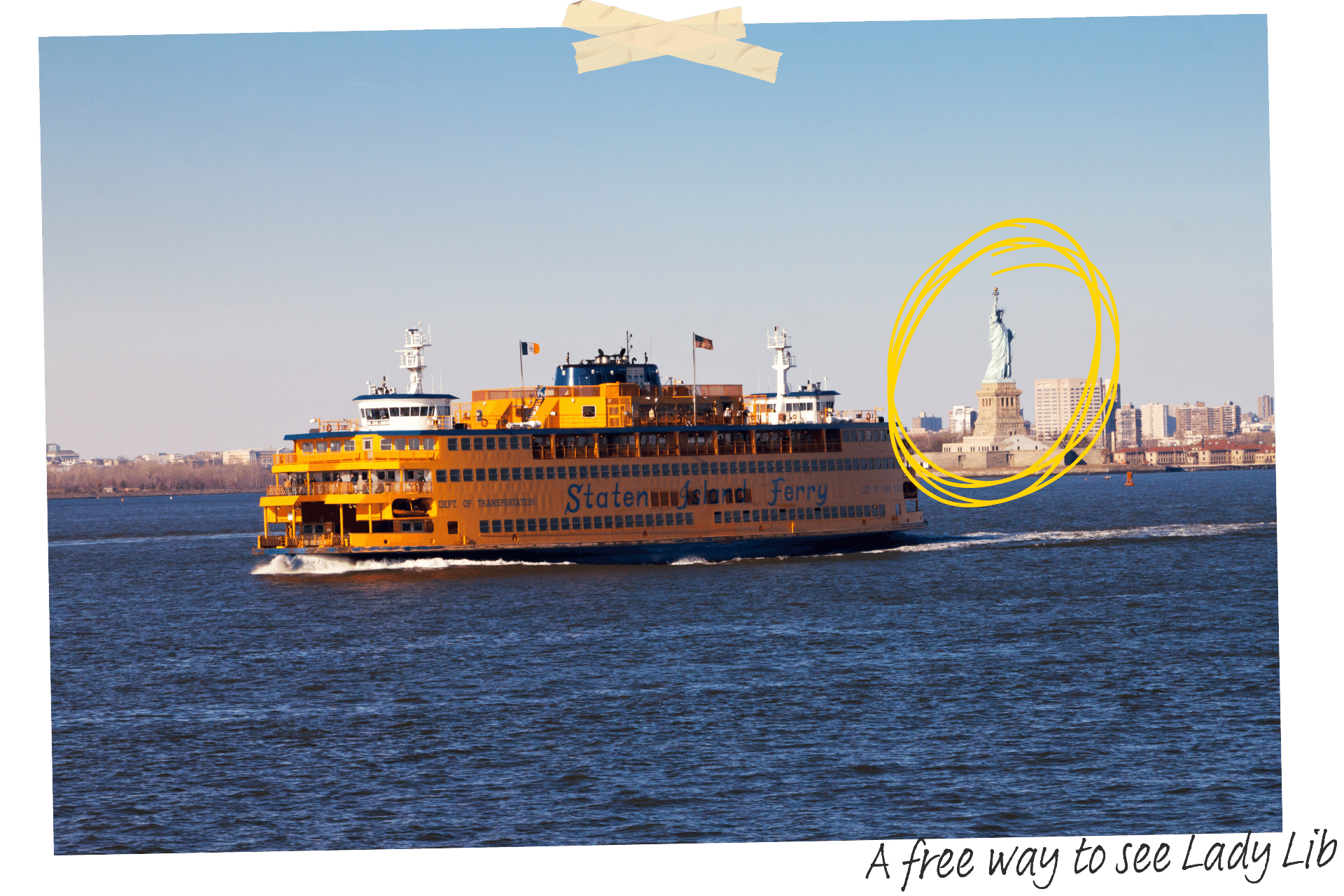 This one's a classic, and most people still can't believe it's free. Don't fork out for a ticket to visit Lady Lib, instead just hop on the Staten Island Ferry that runs a 5.2 mile route through New York Harbor between Manhattan and Staten Island. Alongside mega views of Lady Lib (and she looks even better when she's free free), you'll also get some of the best views of the New York skyline. One of the absolute must do's when it comes free things to do in New York for a concrete jungle first-timer.  
Catch it from the St. George Ferry Terminal on Staten Island or from the Whitehall Ferry Terminal if you're in Manhattan. Oh, and best avoid rush hour… 
11. The Empire State Building
Okay, so you're not gonna be heading up to the 86th or 102nd floor of the Empire State Building without parting with quite a few $$$, as their viewing decks do not come cheap, but you can access and enjoy the building's  Art Deco lobby for free. Plus, for the price of just one subway swipe ($2.75), you can take one of the Manhattan ferries that take you from Lower Manhattan or Brooklyn and drop you off at 34th Street, with some of the best views of the building from the water along the way.  
The High Line is creeping up on Central Park to become one of the cities most loved green spaces, situated on an old, elevated railway line. Start on 34th Street (after your free visit to the Empire State Building, maybe?) at Hudson Yards, and snake your way along the High Line between skyscrapers, sculptures and lush vegetation that feels more jungle-jungle instead of concrete jungle.  
You can walk the whole length (don't miss the High Line Observation Deck at 10th Avenue in Chelsea) or hop off at one of the park exits along the way and divert to different neighbourhoods. 
Speaking of Hudson Yards, before you start marching along the High Line, give this new neighbourhood a look-sy. Especially check out the fancy-sounding Vessel – 154 intricately interconnected (try saying that 5 times fast) flights of stairs, consisting of 2,500 individual steps and 80 landings, that are designed to be an "interactive experience" that you "climb and explore together".  Ooooh.
It's open from 10am to 8pm weekdays, and from 11am to 7pm on Sundays, and if you visit during the first hour of opening, it's free! 
The concrete jungle is really feeling more jungle than concrete these days. If Central Park and the High Line wasn't enough, you've also got Little Island to play with on this list of free things to do in New York. Found within Hudson River Park, this futuristic artificial island park is supported by 132 'tulip' structures, filled with walking paths that'll take you up to highest points and offering up some seriously stunning views of Manhattan and New Jersey. 
Don't miss the Secret Garden and the Amph – a 700-seat amphitheatre. Events are held here in the summer and, at the moment, they won't cost you a dime. 
7. New York Public Library
Nope, you don't need a library card. The main branch of the New York Public Library system, the one that you'll instantly recognise from all the movies, is free to visitors, and you don't need the excuse of borrowing a book to swing by this historical gem. Don't miss Patience and Fortitude, the two lions (stone ones, not real ones) that stand watch outside, the Rose Reading Room, and the Public Catalog Room.  
Astor Hall, the first room you step into upon entering, is a proper corker. No wonder people get married here, where do we put our names down? Just being organised, à la Monica Geller…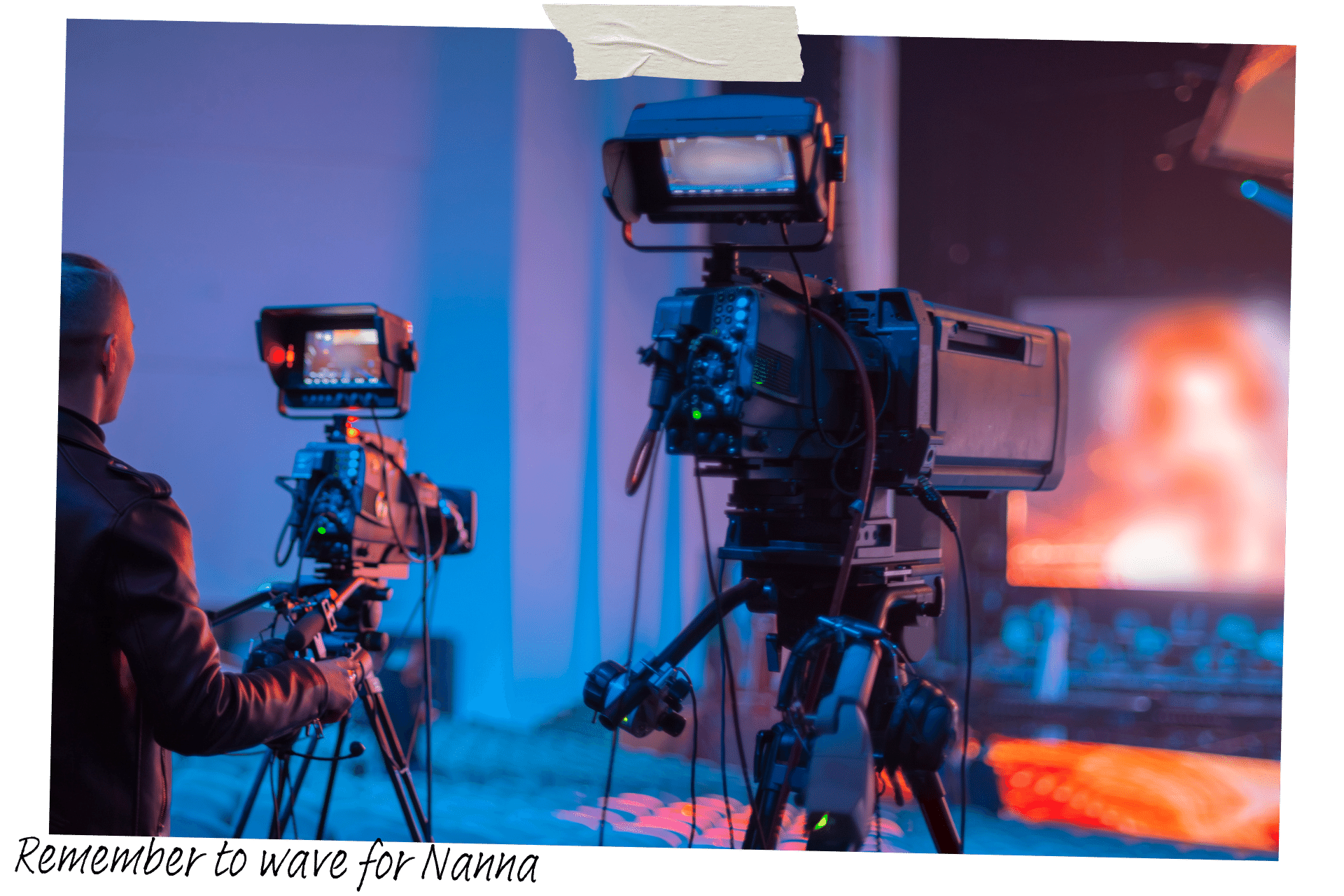 Possibly the easiest way to see a bunch of celebs is to score free tickets to a TV show taping. This is where you get to be a part of the audience for all your Late Shows, and Tonight Shows, and Late Night Shows and, er, Late, Late Shows. It doesn't just have to be late night talk shows though, you can attend daytime ones too.  
This is obvs a pretty popular activity, so you're going to have to roll your sleeves up if you wanna nab tickets. Some you have to request months in advance, others are same day. A lot of shows use 1iota to handle ticket requests, so your best bet is to have a look there. Just remember that it'll probably take a big chunk out of your day to go through the whole filming process, so plan accordingly.  
5. Broadway ticket lottery
Okay, so this isn't free, but in comparison to the price you'd normally be paying for the same thing, our maths says it is! Loads of Broadway shows actually release tickets via digital lotteries, both for same day performances and ones in advance, and if you're the lucky devil that wins a couple, you can score some seriously top notch seats for a fraction of the price – we're talking around $30-40 for something that would usually set you back $200. 
Aladdin, Back to the Future, Hamilton, Harry Potter and the Cursed Child, Little Shop of Horrors, and Moulin Rouge are all up for grabs.  
4. Enjoy a Julliard performance for free
More performances than you'd think at Julliard, one of the world's leading performing arts education centres, can be experienced for free, from piano recitals to violin, clarinet, and chamber music. You can browse their performance calendar here, and filter the results to those that are free.
An easy win when it comes to free things to do in New York.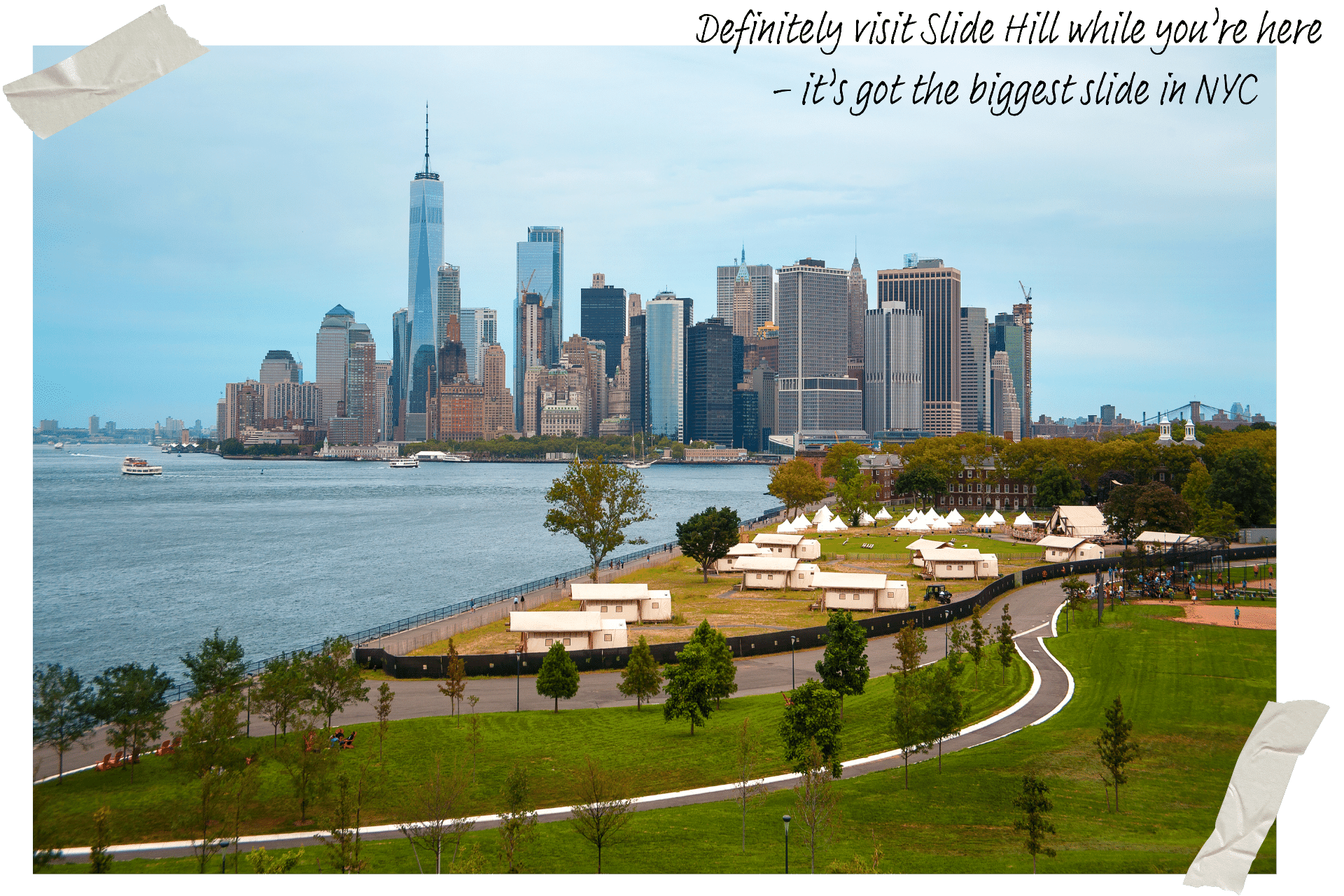 A former abandoned military base in the heart of New York Harbor and just minutes from lower Manhattan and Brooklyn by ferry, Governors Island's got an award-winning park, dozens of historical buildings, and arts and culture programme and even a 22-acre National Monument. The Hills is a collection four different hills and  is described as New York's "newest landmark", with rolling landscapes, grassy overlooks, and mega views. One of them even has slides, so we know which way we're going. 
You'll have to catch a ferry to reach Governors Island, and if you catch a service at the weekend before 11.30am, it's free. At other times it's $2 for a round trip for adult, and kids under 12 go free. 
2. Explore on two wheels with Citi Bike
There's 1500 miles of bike lanes in New York City, so get your backside on two wheels. You don't need to fork out for a proper bike rental either, when you can just hop on a Citi Bike as and when you need one. Citi Bikes are a bike share company that keep docks of bikes all over New York.  
They're dead simple to use too – just download the app, make an account, find a docking station using the in-app map, choose your ride (old-school or electric), scan the QR code, and you're off! It's $4.49 for a 30 minute session, and then $0.26 per minute thereafter. If you're struggling to find a free docking station but don't want to be charged extra, don't worry because you'll get a fifteen minute grace period. 
1. Free New York museums and art galleries
If there's one thing New York's got in spades, it's museums. Really, really good museums.  And really great art galleries too. And we've got them coming in hot at no. 1 on our list of free things to do in New York because a surprising number of them are exactly that – free.
These ones are always free (or pay what you wish):
Bronx Museum of the Arts
Queens Museum
The Cloisters
The National Museum of the American Indian
The Museum at FIT
And these ones are free during certain hours or days in the week:
The 9/11 Memorial Museum (Tuesdays, 5-8pm)
Bronx Zoo (Wednesdays, pay what you wish)
Museum of Chinese in America (Thursdays)
Morgan Library and Museum (Fridays, 7-9pm)
Nueu Galerie New York (First Friday of the month, 5-8pm)
Aren't you culture vultures a lucky bunch.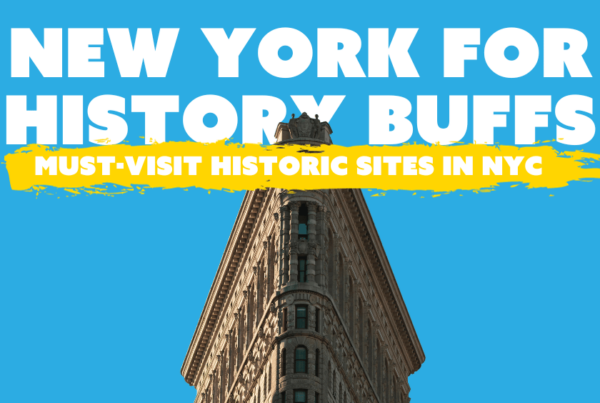 New York might have a lot of shiny new things, but it's also got a whole load of history behind…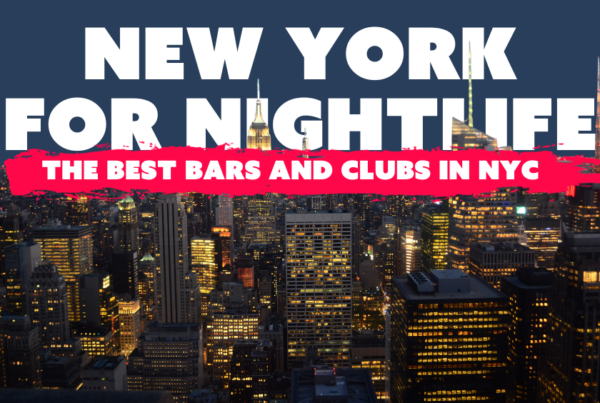 It's literally the city that never sleeps, so if anywhere is gonna have some decent nightlife, it's New York. Grab…
New York is well known for its daze-inducing department stores and big brand names, so we reckon there ain't anywhere…