Ok, ok, we're not going to lie, New York is pretty spenny! There's definitely cheaper places in the world you could visit but, to be frank, nowhere else in the world is New York. So sod it, book that flight and then keep this guide close as it's jam packed full of ways to do New York on a budget and save some dollar in the city that never sleeps.
Hotels in New York on a budget
Speaking of sleep, where should you stay in New York if you're on a tighter budget?
Many hotels in the city are a bit… dated, it's true. You'll have some serious 80s flashbacks when you walk through the doors of many. They're also notorious for being tight on space. But in a place like New York, you don't need to worry too much about what your room looks like, or if you're bumping elbows more than you'd like, because you won't really be spending all that much time in it.
A good hotel for its location is The New Yorker. The rooms are a little bit on the tired side, but it's right across the road from Maddison Square Garden and Penn Station – a perfect spot if you want to save money getting from the airport. Another good budget choice is the Kixby, a boutique hotel just round the corner from the Empire State Building and minutes from Bryant Park, Times Square, and Grand Central. It's recently had a face-lift (so no more 80s nightmares), plus you can make use of The Lookup, their rooftop bar with incredible views of the city skyline.
A general rule of thumb though for keeping accommodation prices down in New York is to visit in the winter months, from January to around March, as well as the hottest months, like July and August. Hotel prices dip during these periods.
Getting from the airport to New York on a budget
So let's start with getting from the airport. Taxis and transfers can cost you in excess of $80 and the traffic is so bad into the city it can take you hours too. Don't be a chicken and give public transport a go – from the airport it's really cheap and really easy (trust us!)
JFK to the city
If you land at JFK, you wanna take the AirTrain to Jamaica Station, then change on to the Long Island Rail Road (LIRR), which'll get you to Penn Station. The trip takes about half an hour and it'll cost you about $20 – loads better than a taxi!
Newark Airport to the city 
If you land at Newark Airport, you can catch the AirTrain directly from your terminal which'll take you to Newark International Airport Train Station in about 10 mins, and from there you can catch a train to New York Penn Station – the whole trip will take less than half an hour and cost you about $15.50 for an adult.
LaGuardia to the city
LaGuardia largely deals with domestic flights, so you're unlikely to land here unless you're stopping off somewhere else in the States first before heading to the Big Apple, but whilst it might be the smallest of New York's three airports, it's also the closest to Manhattan as it's only over in Queens. Take the free LaGuardia Link bus to the nearest subway station, then take the E, M, F, R, and 7 lines into Manhattan – tap in using your card or phone, and it'll only cost you $2.90!
Getting around New York on a budget
Whilst we're talking transport – how do you get around New York on a budget?
Well, the obvious option is to walk. You'll easily clock up 15,000 steps a day seeing the sights, and sometimes the best way to see a new place is just to explore the old-fashioned way, because you never know what you might just stumble upon. Like Mandy, Netflights' marketing head honcho, who came across Firehouse, Hook, & Ladder Company 8 completely by chance when wandering around last time she was in the city. For the uninitiated amongst you, that's the fire station from Ghostbusters. 
Renting Citi Bikes
But if walking's not your thang (and, let's be honest, eventually your feet will give up on you) then you can always give one of the Citi Bikes a whirl, a bike share company that keeps docks of bikes all over the city. They're dead simple to use too – just download the app, make an account, find a docking station using the in-app map, choose your ride (old-school or electric), scan the QR code, and you're off! It's $4.49 for a 30 minute session, and then $0.26 per minute thereafter.
The subway
The subway is the most affordable way to get around New York. A single ride costs $2.90, and you can purchase a 7-day unlimited MetroCard pass for $32. The MetroCard is being phased out though, and will soon be fully replaced by OMNY, the subway's contactless payment system. You can either just tap in with your phone or contactless card, or you can buy an OMNY card from a local newsagent like 7-Eleven and preload it with money – a good way of tracking your spend if you've got a strict budget.
What to eat in New York on a budget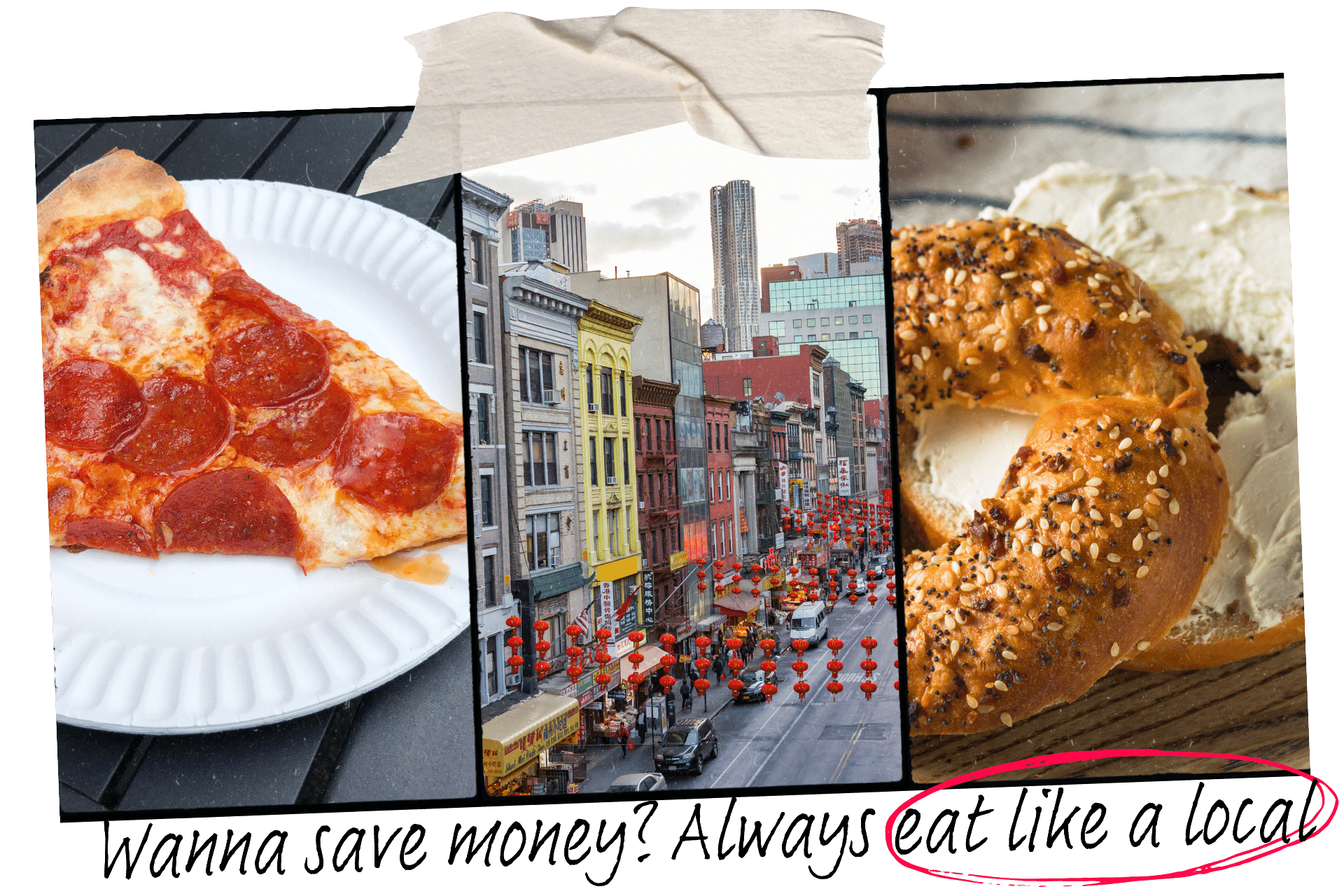 Eat like a local
Avoid tourist traps and chain restaurants, and instead opt for local eateries and food trucks. You can find affordable and delicious food in all of NYC's neighborhoods. Head to Manhattan's Chinatown and get 10 pork and chive dumplings for $3.50 at North Dumpling, or try the pierogies at Ukrainian diner, Veselka, in the East Village – home to both immigrant and artistic communities. Hell's Kitchen, meanwhile, has got Thai, Mexican, Cuban, Afghan, Haitian, and Peruvian grub up for grabs.
Just, please, we beg you – don't head straight to McDonald's.
Pizza slices
New York is famous for its pizza, and you can find affordable slices all over the city. Try Joe's Pizza in Greenwich Village, John's of Bleecker Street, or Lombardi's in Little Italy. 
Bagels
Another NYC staple is the bagel. For a quick and cheap breakfast or lunch, grab a bagel from a bagel cart or deli. Some popular spots include Ess-a-Bagel, Russ & Daughters, and Murray's Bagels. 
Dumplings
Try some dumplings from Chinatown. Some popular spots include Joe's Shanghai, Vanessa's Dumpling House, and Prosperity Dumpling. 
Food trucks
Food trucks are a great way to try a variety of different cuisines at affordable prices. You can find food trucks all over the city, but some popular areas include Bryant Park, Midtown Manhattan, and the Financial District. 
Cook your own meals
If you're staying in an Airbnb or apartment with a kitchen, cooking your own meals is a great way to save money. New York's got a variety of grocery stores and markets where you can buy fresh, affordable ingredients. 
Take advantage of free food days
Many restaurants in NYC offer free food on certain days of the week. For example, Shake Shack offers free fries every Monday, and Insomnia Cookies offers free cookies every Wednesday. Be sure to do some research before your trip to see if any of your fave restaurants are offering free food deals. 
Attractions in New York on a budget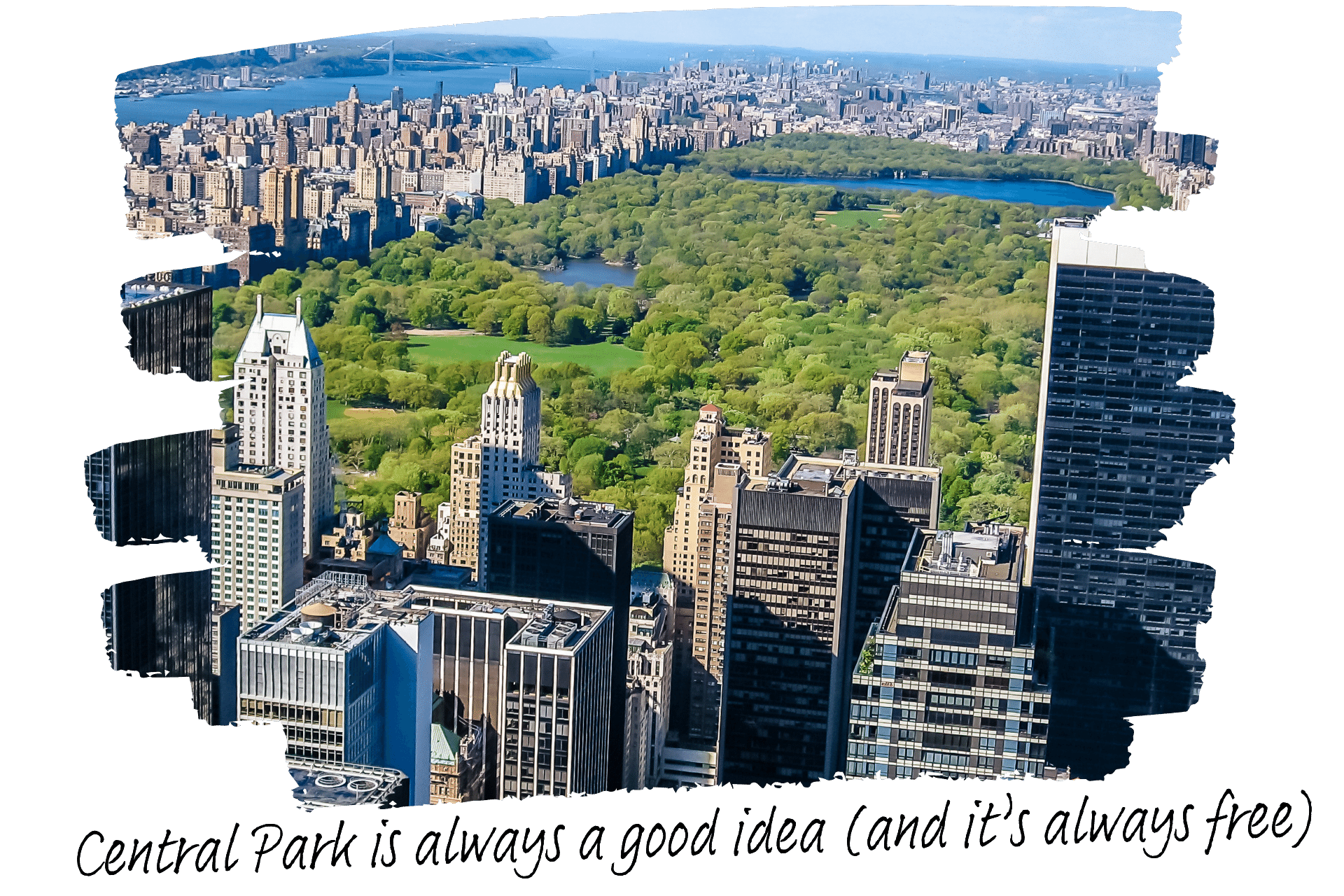 Take advantage of free activities
There's way more free things to do in New York than you think. There's Central Park, of course, and then there's the Brooklyn Bridge, and the Staten Island Ferry too (an absolute must-do). You can also check out many of the city's museums on certain days of the week (or during certain hours) for free, like the 9/11 Memorial Museum (Tuesdays from 5 – 8pm), MoMA (Fridays from 4-8pm), and the Guggenheim (Saturdays from 5.45 -7.45pm).
Look for discounts and deals
Many of New York's attractions offer discounts for students, seniors, and military members. You'll also find deals on tickets and tours online and at discount ticket booths. There's the Broadway online ticket lottery too, where loads of big-name shows give you the chance to score tickets that should set you back hundreds of dollars for as little as $30 each!
Plan your activities in advance
Once you know what you want to do in New York, start planning your activities in advance. This will help you to avoid impulse purchases and save money. 
Extra tips for New York on a budget
Bring your own water and snacks
Bottled water and snacks can be expensive in New York. Bring your own from home or purchase them from a grocery store instead. And don't forget to pack that reusable bottle – in the summer, the Department of Environmental Protection (DEP) provides portable Water-On-The-Go fountains in all five boroughs for drinking and filling up water bottles.
Take advantage of happy hour deals
Looooads of bars and restaurants in New York offer happy hour deals on drinks and food – an easy way to save money on a meal or night out. Sanford's in Astoria has one every day from 4-6pm, with $1 oysters and $7 whiskey pours. Tile Bar, in the East Village, is loud and proud about its status as a dive, with cheap as chips drinks even when it's not happy hour – we like the sound of that! Joey Roses do a buy 2 sandwiches, get one free deal, so that's dinner sorted. Try the Fat Kid, made with peanut butter, grape jelly, and potato chips.
Or maybe don't.
Avoid tourist traps
This one goes without saying, but it's still tempting to fall into one when you're hungry and lost. Remember, they're often overpriced and always underwhelming. Identify those traps beforehand, and then avoid them like the plague. 
Budget for tipping
Tipping is customary in this town. Be sure to budget for a 15-20% tip when dining out or taking a taxi. 
With a little planning, it's defo possible to have a mega time in New York without breaking the bank. Follow these tips to save money on food, transportation, and activities, and job's a gooden.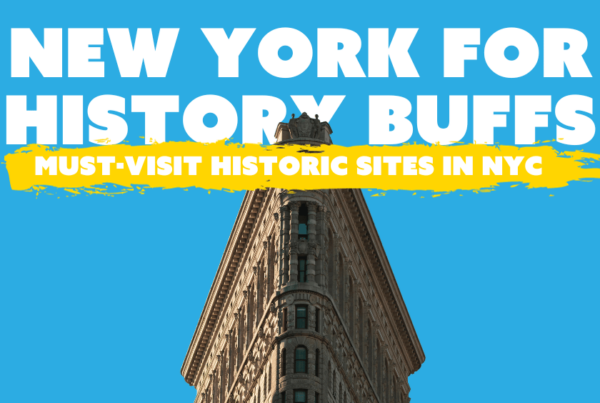 New York might have a lot of shiny new things, but it's also got a whole load of history behind…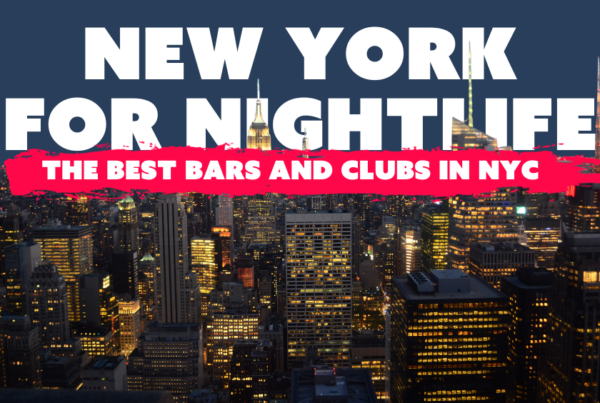 It's literally the city that never sleeps, so if anywhere is gonna have some decent nightlife, it's New York. Grab…
New York is well known for its daze-inducing department stores and big brand names, so we reckon there ain't anywhere…