Top tips for staying cool when things start heating up.
Sightseeing on a New York holiday is much more fun when you're not constantly wiping the sweat off your brow. Here's how to avoid those dreaded sweat patches…
New York's continental climate can result in long, sweltering summer days. While the locals will sometimes use the closest fire hydrant to cool down, you're probably going to want a few less extreme options for keeping cool if the mercury starts climbing.
We've therefore put together a few easy ways for visitors to counter the heat, whilst enjoying New York's many attractions this summer.
Head for indoor public spaces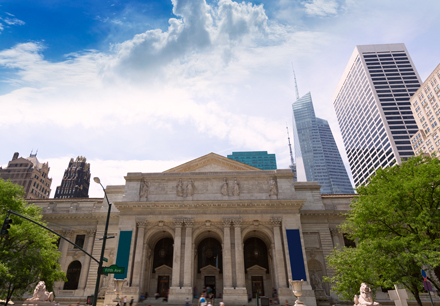 The simplest method is to head for your nearest climate-controlled environment. Many of New York's famous shops and malls have air-conditioners installed, and department stores like Macy's or Bloomingdale's can keep you busy for hours.
If you prefer more highbrow cultural attractions, the Metropolitan Museum of Art is guaranteed to soothe you with its climate-controlled interior. Or you can head to the New York Public Library and while away your day reading in its cavernous reading hall.
The New York Aquarium is also air-conditioned, and there's always the option of catching a film in the refreshing darkness of a local cinema. New York boasts a fantastic range from historic movie houses to giant multiplexes. There's always a plethora of live theatre, dance, ballet and Broadway shows to choose from too.
There are pools and ponds located all over New York City. If you're staying in a hotel, taking a refreshing dip could be just as easy as walking out to the hotel swimming pool. If you're in search of a public pool, head over to the Astoria Pool at Astoria Park, which has an Olympic sized splash pool – but make sure to get there early to avoid the crowds. You'll also find an outdoor basin and indoor pool at the Riverbank State Park.
For something different, try the Floating Pool Lady, a pool on a barge. Finally, if you want to get off the beaten path and swim in a natural reservoir, head to Trout Pond in Southampton.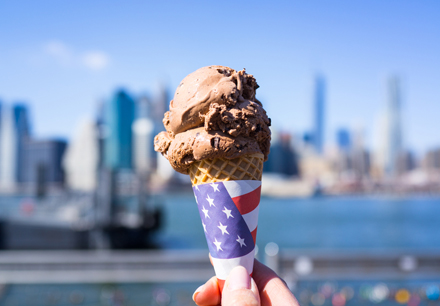 You won't get cooler than an ice skating rink, and the Chelsea Piers Sky Rink is the perfect place to have fun on ice. Located at Pier 61 at 23rd Street and the Hudson River, this ice skating rink is open four days a week during the summer between noon and the early afternoon.
If you prefer eating your ice to skating on it, then you're going to be spoiled for choice. You'll find ice cream served in every way you can imagine – and many ways you haven't – all across the city. From frozen yoghurt at the American Yoghurt Company, to gourmet ice cream sandwiches at Amorino, you can refresh yourself from the inside out. The quality is generally excellent, partly due to New York's strong Italian connections.