Monuments, memorials & so much more
A place like no other, come to Washington, DC – the capital of cool! With historic sights, outstanding attractions and a colourful culture. There's culinary surprises, bars, clubs, sports and so much free stuff to discover. So come and enjoy all that this great city has to offer.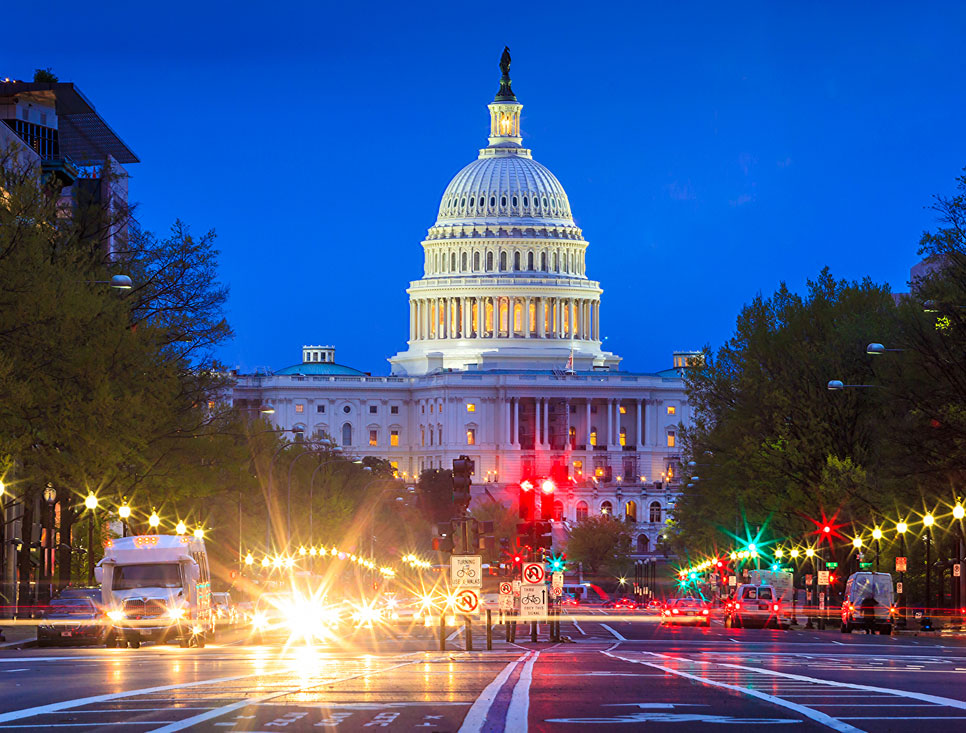 Good to know
Flight time: Fly from London Heathrow to Washington Dulles International Airport non-stop with United Airlines and get your holiday off to a great start, it takes just 8 hours.
Climate:  With sunny summer days and mild winters, this place is great to visit all year round.
Local currency: US Dollar ($)
GMT: -4 hours
Monuments and memorials
Get ready to tick all the must-see sights off your list as DC is packed with monuments and memorials that celebrate the USA. With so many monuments that pay homage to the forefathers of the birthplace of the USA and the history that has shaped this fascinating country, these memorials truly celebrate what this powerful country is today. And, with all these fascinating sights in such close proximity to each other, you'll get to know the heart of the city in no time.
Don't miss!
• The National Mall
• The Lincoln Memorial
• Jefferson Memorial
• Martin Luther King Jr Memorial
Culture
Washington, DC is the capital… of culture! From the welcoming people, amazing arts and must-see museums there is something to discover wherever you turn.
Don't miss!
• The White House
• National Air and Space Museum
• National Gallery of Art
• International Spy Museum
FREE stuff!
Everybody knows the best things in life are free! Come to Washington, DC and do all this cool stuff… for nothing!
• Free admission to National Zoological Park with 1,500 animals, birds & reptiles
• Visit Rock Creek Park with 32 miles of trails to explore
• Watch an outdoor movie in local neighbourhoods during the summer
• Free arts space show at The Kennedy Center
• Outdoor jazz at the National Gallery of Art Sculpture Garden
• Free lecture at the Supreme Court of the United States
Food
With more than 2,100 restaurants in Washington DC, you'll have the pick of the crop. With a great choice of dining Washington DC offers a wide selection of places to eat, whether you fancy a sit-down meal, a quick bite to eat or a meal on the go, there is something for everyone in DC.
Don't miss!
• Michelin dining
• Family food
• Soul food
• Market catches
Entertainment
Looking for some action? For a day or night out with a difference, Washington, DC has you covered! From big sporting action to a big night out there's a venue that's got your name on it!
Don't miss!
• Big name gigs
• U Street Music Hall
• Outdoor movies
• Sports