Airlines come and airlines go, literally and metaphorically speaking. For every British Airways celebrating 100 years of service, history is littered with examples of brands who look at the sky and think, 'Yeah, it's nothing to do with our brand, but we should do it anyway!' Their excited plans to 'disrupt air travel and bring a different way of doing things to the sky' have invariably disappeared in a puff of their own pride – but it's usually a lot of fun watching them try.
So we were dismayed when Disney was quick to deny rumours last week that it was launching its own airline – complete with cabin crew in Disney character costume. But while the reality of getting checked-in by Mickey, having Buzz deliver the safety briefing, and Simba serving your in-flight snacks may have to wait, it has at least given us the opportunity to celebrate some of the world's weirdest airlines.
Hooters Air
The American restaurant chain is first up on our list of the weirdest airlines. Known for their hot wings and uniforms that really show off their servers' personalities, Hooters took a foray in to the airline industry back in 2003 with the launch of Hooters Air.
The airline primarily offered flights to Myrtle Beach and was geared towards bringing in golfers who could enjoy the many courses the area has to offer. The fleet of 737s was advertised as providing low-cost services, but the aircraft were kitted out with a very generous 34-inch seat pitch and offered complimentary meals on flights over one hour.
The cabin crew themselves wore regular uniforms but each flight also carried two 'Hooters girls' who wore the traditional restaurant-style uniform. However, the Hooters girls were there strictly for entertainment purposes and weren't allowed to serve food or drinks, nor perform any safety-critical jobs.
Hooters Air sadly collapsed in 2006 with $40 million of debt citing rising fuel costs as a major factor for their demise.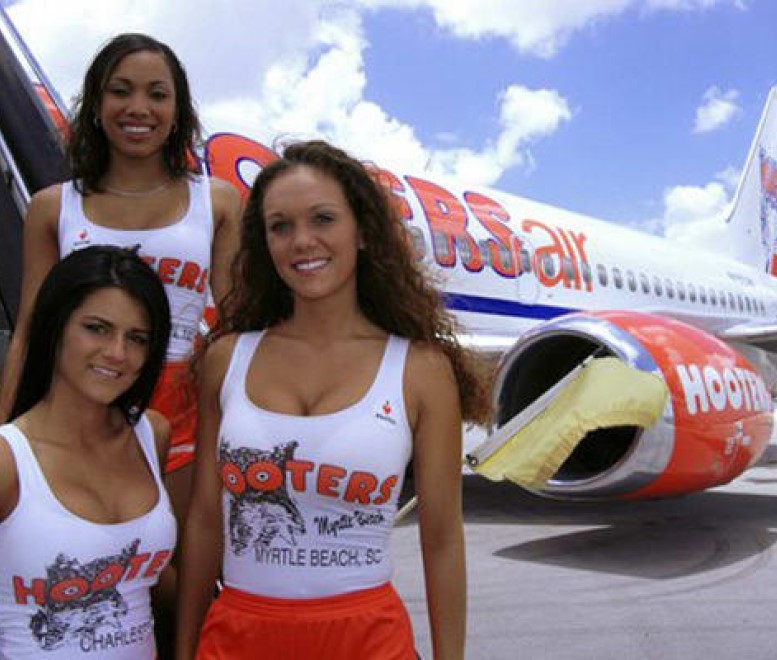 'Hello Kitty' on EVA Air
If you're looking for a truly unique travel experience, then Taiwanese carrier EVA Air's 'Hello Kitty' themed services absolutely are for you. Centred around the much-loved Japanese cartoon character, the flights are a full immersion in to the Kawaii (cute) world.
Operating on 10 select routes from Taipei, including to Bali, Singapore, Los Angeles and Chicago, the flights feature eye-catching aircraft painted in Hello Kitty themed liveries – but that isn't even the start of it. Passengers are first catapulted in to the make-believe world at the check-in desks, where cherry blossom pink ticket machines, surrounded by a world of stars and bows, are used to print Hello Kitty embossed boarding passes.
Step onboard the aircraft and you'll find cabin crew in special pink aprons with everything imaginable – toilet roll, air fresheners, menus, napkins and cutlery – sporting a Hello Kitty theme. And if you're in business class then you can expect your Champagne to be pink too!
Trump Shuttle
Trump Shuttle existed from 1989 until 1992 and had previously been the only division of Eastern Airlines that was still profitable in the late Eighties. Bought by Trump for $365 million, Eastern Shuttle was soon renamed Trump Shuttle. It started operating flights up and down the northeast corridor between Boston, New York and Washington, providing hourly services with a fleet of B727 aircraft.
Trump took what was once a profitable, no-frills operation and turned it in to a luxury service with maple veneered fixtures and gold plated taps, with complimentary steaks, Champagne and fine wines offered throughout the flight.
Trump Shuttle ran out of cash and defaulted on its debts in September 1990. The assets were purchased by USAir and by 1992 had become the USAir Shuttle. Following a merger in 2015, the shuttle now operates under the American Airlines brand.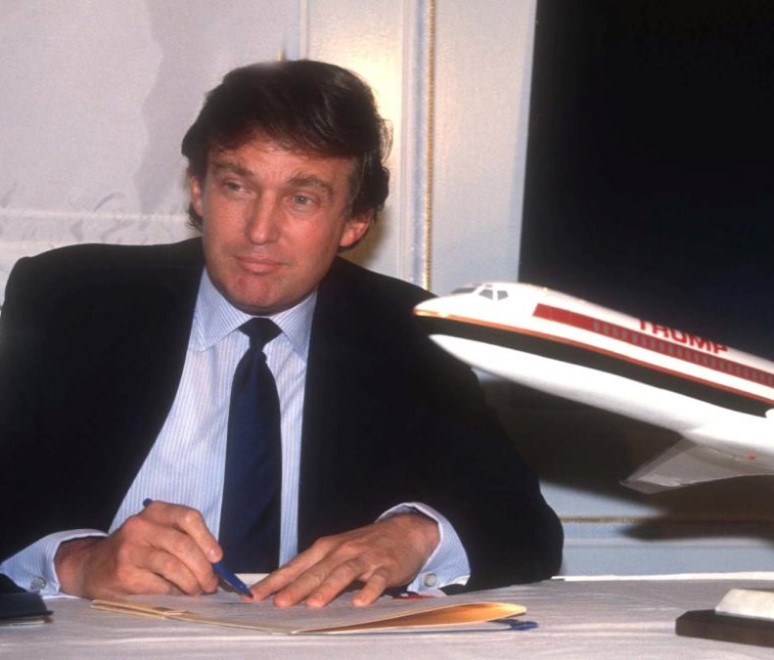 Air Koryo
North Korea anyone? No? Well, about 6,000 Western tourists actually visit the isolated kingdom each year. And the only way you can enter the Democratic Republic of Korea, to give its proper title, is via China or Russia, usually by air. I for one can attest to this as, quite possibly on a dare, I once took a four-day 'holiday' to Pyongyang.
Flights on Air Koryo, the national carrier of the DPRK, leave regularly to Pyongyang from Beijing, Shenyang and Vladivostok, with August 2019 seeing the resumption of flights from the gambling capital of Asia, Macau.
My own flight was from Beijing and was operated by a sturdy Russian Tupolev TU-204. Whilst I have to admit my expectations for the flight were very low, I landed feeling pretty impressed. Firstly, we landed safely. Secondly, we were served complimentary beer and beefburgers onboard (at least, they claimed it was beef). And thirdly, seat assignments and hold baggage were included with the basic fare. Now be honest – raise your hand if you've had a flight around Europe recently that included any of those as standard?
Four Seasons
If you thought Four Seasons were only a hotel chain, then think again. Since 2015 the group has been offering luxury around-the-world travel adventures on their own private B757 with all the opulence and pomp that discerning style travellers would expect.
You'll be assigned a Travel Manager upon booking who will help organise your visas, and even help you with your packing. You'll be chauffeured to the airport and will never have to carry your bags, not even once, until you enter you Four Seasons Hotel room.
The jet takes-off on numerous trips each year, complete with its own  onboard doctor. In 2021, there's an epic 24-day journey from Miami to Madrid, via Mexico City, Easter Island, Bora Bora, Australia, Koh Samui, Jordan, Egypt and Athena. This particular adventure takes in 10 world wonders, including Petra, the Great Barrier Reef and the Pyramids – all for the bargain price of £135,000 per person…!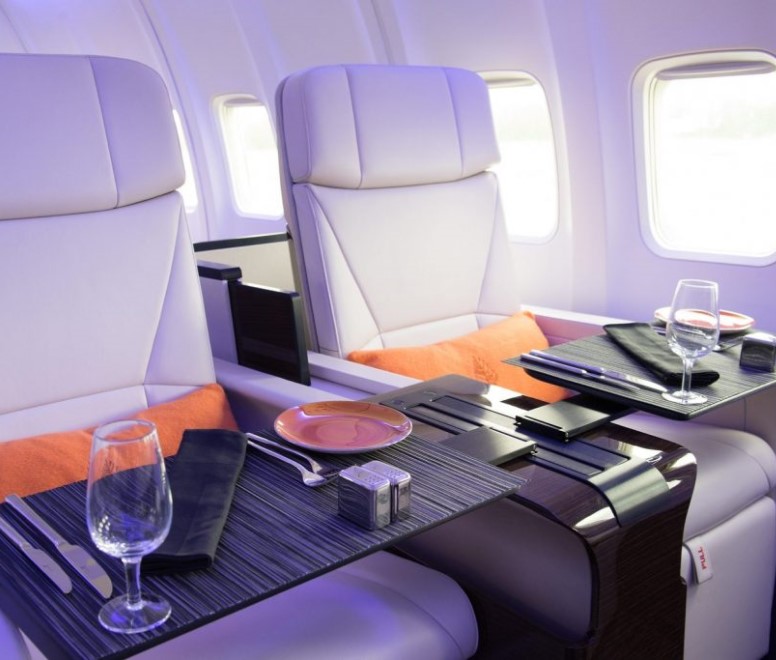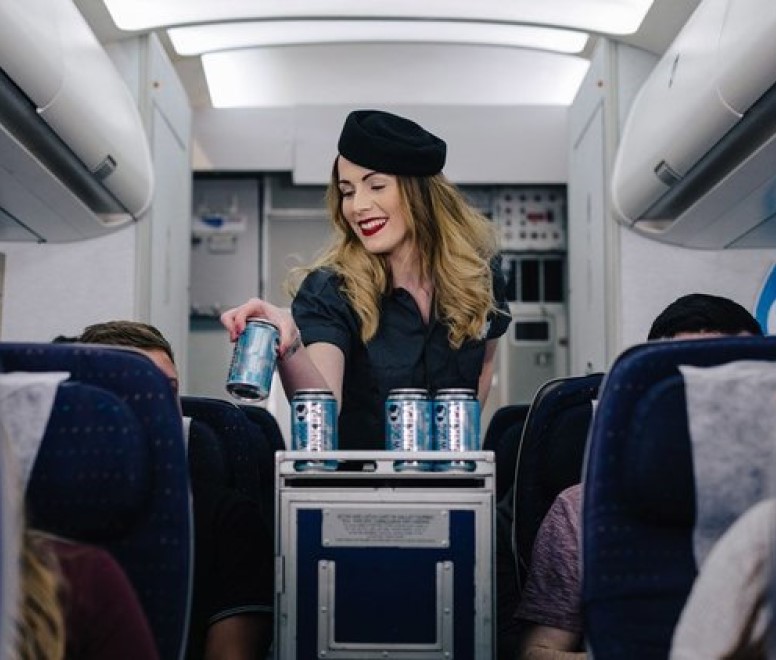 Brewdog Air
The Scottish brewery really seems to have a thing for flying. Brewdog recently partnered with British Airways to produce the special 'Speedbird 100' IPA as part of the airline's centenary celebrations. But that's not all. Building on the success of a similar trip last year, October 2019 sees Brewdog Airlines back in the skies with a special flight to the USA, which will be full of Brewdog fans, staff and beer.
The flight to their Columbus, Ohio brewery will take in mile-high beer tastings, including the debut of a new beer being produced just for the trip. All of this is paired with Brewdog-inspired onboard dining with special flight merch available for purchase. Plus, transfers, accommodation and brewery tours in the US are included. It might be one of the weirdest airlines, but it certainly sounds incredibly fun. Indulge a bit too much, however, and you may find yourself needing that Four Seasons travelling doctor.