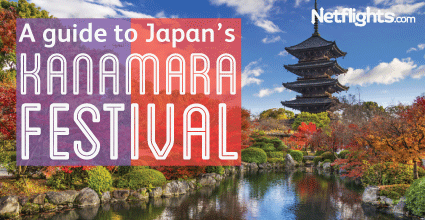 Japan really takes the biscuit for slightly crackers festivals and Kanamara Matsuri (Festival of the Steel Phallus) is one of the most bizarre.
What is it?
On the first Sunday of April, revellers young and old, male and female gather to celebrate the male phallus. Although it may seem like quite a modern notion, the roots of the festival actually date back to the 1600s when prostitutes would pray for protection against STDs at Kawasaki's Kanamara Shinto shrine.
There's also a truly horrifying myth linked to the festival. Legend tells of a woman with a toothed vagina, which unwittingly unmanned young grooms on their wedding night. The woman visited a blacksmith to see if she could break the curse. He made her an iron instrument to shatter the teeth, and it is to this clever man that the temple is dedicated. It's thought that the fable was a metaphor for syphilis, albeit it a disturbing one.
The Festival
Today, the festival – which began in 1977 – is about fertility, healthy childbirth and successful marriages, as well as promoting STD awareness; with all the profits going to HIV research.
There are no holds are barred at this flamboyant festival: penis-shaped lollipops, costumes, props and floats are everywhere. Men and women dress in women's kimonos, and it's also a popular LGBT event.
On the Saturday evening, everyone eats rice yin and yang-shaped snacks. The next day, there's a bonfire which signals the beginning of the festival, after which there is a Shinto ceremony with sake and sardines served for good luck. The parade is the main event, which takes place in the early afternoon. Festival-goers carry three alters with phallus' through the streets, around which crowds gather, chanting and shouting.
Be Polite and Other Things
Although the vibe is fun and playful, this is no time to forget Japanese manners: there are no flesh -and-blood penis' here, and sexual acts are definitely not practised at the festival.
Other events include a radish carving competition (no prizes for guessing what shape the carvings take) and costume competitions. Riding the penis-shaped seesaw is thought to improve fertility.
If you need a break from it all, slip off to Kawasaki's hot springs to unwind.
Those planning to visit next spring – a trip which has the added advantage of catching Japan's famous cherry blossoms – should fly to Narita International Airport in Tokyo, before catching the bus to Kawasaki Daishi Station, a short journey of about 30 minutes.